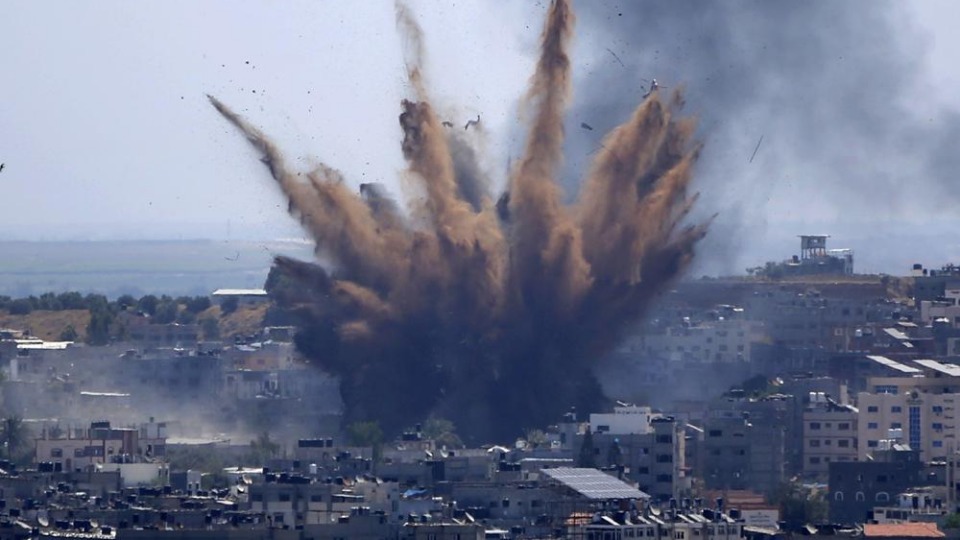 The right-wing extremist Israeli regime of Prime Minister Benjamin Netanyahu is sending more bombers into skies over Gaza, toppling buildings, and killing growing numbers of innocent civilians as the Islamic holy days of Ramadan draw to a close. The relentless escalation of attacks continues to defy what many Palestinians and others in the Middle East characterize as last-minute and nothing more than half-hearted attempts by the Al-Sisi regime in Egypt to negotiate a cease fire.
Many previous attacks by Israel against Gaza, including the infamously cruel and devastating attacks in the 2014 war, focused on inflicting maximal damage on the poverty-stricken and blockaded Palestinian territory. But this round of attacks on Palestinians is the worst since 2000 when the second Palestinian intifada (uprising) began. The current attacks threaten to destroy the entire Palestinian infrastructure.
The United Nations and a host of international observers have characterized the Israeli bombings as being completely out of proportion to the retaliatory rocket attacks Israel itself is sustaining. While only a very few rocket attacks launched by Hamas militants have reached the Tel Aviv area,  right-wing Israeli mobs have rampaged through the streets, savagely beating Palestinians and other Arabs and setting fire to cars and buses.
War weary, sick, and hungry Palestinians, meanwhile, sadly marked the end of the Muslim holy month of Ramadan under barrage after barrage of missiles and airstrikes coming from Israeli air force jets. Since Monday, Israel has toppled three high-rise apartment buildings in the Gaza strip.
Gaza's Health Ministry said the death toll has climbed to 83 Palestinians, including 17 children and seven women, with more than 480 people wounded. The Netanyahu government is bragging that it has actually killed far more than that.
Israel claims it has lost seven people, but it is not clear how many of them were soldiers in tanks hit by anti-tank missiles or civilians killed by Hamas rockets.
Last night, as on other nights recently, air raid sirens went off in southern and central Israel but there were no reports of damage or injury.
Netanyahu visited the site of the Iron Dome missile defense system, which the Israeli military says has intercepted 90% of the rockets fired from Gaza. The facility visited is also believed to house the country's nuclear weapons.
Related:
Israeli TV reported Netanyahu's Security Cabinet has authorized an intensification of a campaign the military says has already hit 600 targets.
In Gaza, meanwhile, the dark clouds of war cast a shadow over Eid al-Fitr, the holiday at the end of Ramadan's month of daily fasting. It is usually a festive time when families shop for new clothes and gather for large feasts. But now people are conducting communal Eid prayers inside their homes or at nearby mosques instead of out in the open, as is traditional.
Religious leaders tried to lighten the mood by passing out candy after prayers. The candy for Palestinian children could not sweeten the horrors of the airstrikes and their ensuing destruction and devastation, however.
The Associated Press reported that in Gaza's southern town of Khan Younis, dozens of mourners marched through the streets carrying the bodies of an 11-year-old and a 13-year-old killed when an Israeli airstrike hit near their home Wednesday.
U.N. Secretary-General António Guterres condemned the "indiscriminate launching of rockets" from civilian areas in Gaza toward Israeli population centers, but he also urged Israel to show "maximum restraint." U.S. President Joe Biden signaled support for Netanyahu, calling him to support Israel's "right to defend itself." Secretary of State Anthony Blinken said he was sending a senior diplomat to the region to try to calm tensions. Former President Donald Trump amplified the U.S.' traditional backing of Israel, specifically offering strong political and military support for the right-wing Netanyahu government.
The current violence began when Israeli police, during Ramadan, began expelling Palestinian families from the Sheikh Jarrah neighborhood of East Jerusalem at the behest of illegal Jewish settlers and landlords. Palestinians note that they are being steadily driven out of East Jerusalem.
Israel regards Jerusalem in its entirety as its capital, while the Palestinians want East Jerusalem to be the capital of their future state. Trump inflamed tensions by moving the U.S. embassy from Tel Aviv to Jerusalem in an explicit endorsement of Israeli government claims to the city.
Read more: