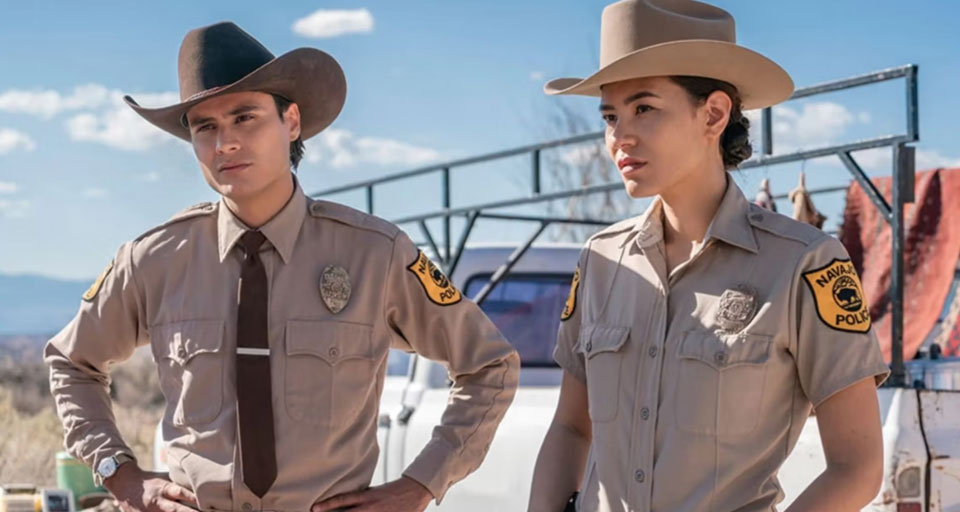 Gallup, New Mexico, 1971. In a brazen midday helicopter robbery of a security money transport truck two guards are killed. The masked bandits escape into the sky. Segue to three weeks later in the great Southwest desert, Navajo Police Officer Joe Leaphorn forces a relics poacher to rebury stolen treasures.
AMC+'s smart new police procedural begins with bold, sure-handed strokes. In a quick sweep, the overarching crime and the potential agency of its resolution have been introduced.
When Officer Leaphorn is called to the Big Rock Motel on a dark, rainy night, a further mystery is encountered and an edgy supernatural tone is set. The blood-spattered motel room yields two mutilated corpses, killed under inexplicable circumstances. Could these circumstances be connected? Are there evil spiritual forces at work? Or could there be red herrings this far into the desert?
To unravel these mysteries and solve the murders which lead to his doorstep, Leaphorn must navigate his own difficult personal relationships and martial the conflicting resources of law enforcement. But his family relationships look intractable. And the careerist impulses of FBI agents and recalcitrance of native tribal police and culture maintain a high-collision impact course. So the slow reveal of baked-in family feuds and the constant overlay of institutional racism threaten to go from simmer to boil at every plot turn testing his steely resolve.
Sharp writing and strong acting keep Dark Winds from the tired soap opera that recent neo-Westerns like the popular Yellowstone saga became mired in. Such traditional narratives look nostalgically too much like old-fashioned white hero culture for rescue.
Instead Dark Winds shows how Native American writing, acting and direction elevated what could have become another elegy for how the West was lost. The keen eyes and firm hand of those actually victimized by colonization show how Indigenous sensibilities may transcend fragile white sensibilities, solve crimes rooted in the economics of late capitalism and ultimately provide a vastly entertaining model for self-sufficiency rather than colonial patriarchy.
Graham Roland (Prison Break, Lost and Fringe) has well used Tony Hillerman's novel Listening Woman to shape-shift cultural observations and very human reactions. Zahn Tokiya-ku McClarnon (Westworld, Longmire, Fargo) is a steely presence as Joe Leaphorn. Kiowa Gordon (The Twilight Saga) and Jessica Matten are able deputies impeded by Noah Emmerich (The Americans) and Rainn Wilson (The Office) as a malevolent missionary misfit.
As much as Dark Winds presents us with human mystery, the grandeur of its settings in Monument Valley, Kayenta and the Navajo Nation stands as a reminder of the larger beauty and mystery of the world around us and the people who inhabit it.
Dark Winds is live streamed through AMC+. The trailer can be viewed here.