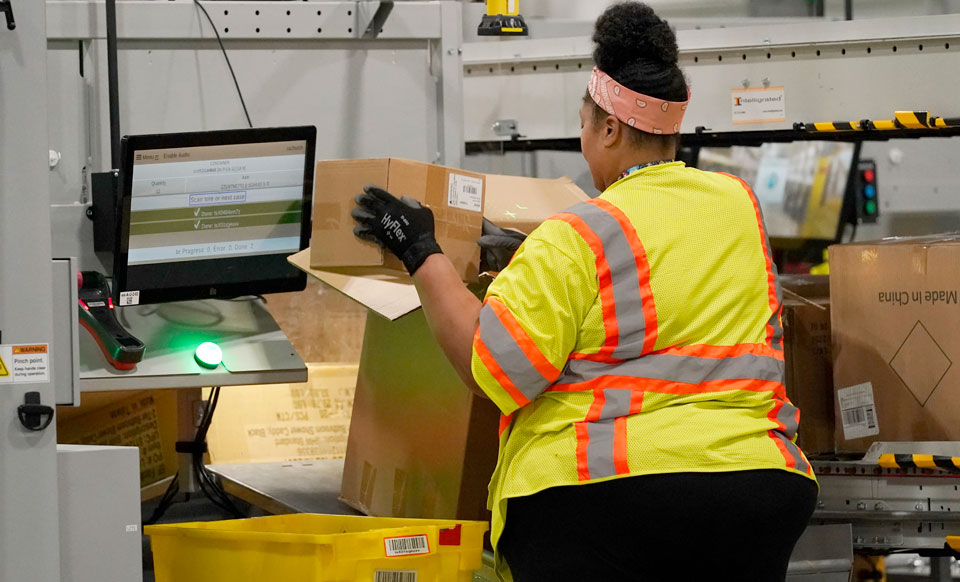 WASHINGTON—Amazon warehouse workers suffer double the on-the-job injury rates of their non-Amazon colleagues, an occupational safety and health expert for a labor-oriented research center told Congress.
The warehouse/retail monster's record is so bad that in 2021, there were more on-the-job injuries (24,945) in Amazon's 308 warehouses that cost workers time off the job or to be put on light duty than occurred in the nation's 4,184 non-Amazon warehouses (24,338), said Eric Frumin, health and safety director for the union-founded Strategic Organizing Center.
"Amazon's system—'The Injury Machine'—must be stopped before it destroys even more workers' bodies and livelihoods," Frumin declared.
Frumin was one of several pro-worker witnesses testifying at the early-November hearing of the House Workforce Protections Subcommittee, the last scheduled House panel session before the House becomes majority-Republican in January. Such oversight may go.
Frumin testified the overall injury rate for U.S. workers in all occupations was 3.3 injuries per 100,000 workers in 2021, according to the Occupational Safety and Health Administration (OSHA), and the rate for all warehouses was 4 per 100,000. Amazon's rate was 7.7 per 100,000. Its injury rates have been far above the national average for at least five years, he said.
And, using OSHA's own data, Frumin said some Amazon warehouses are worse than others. In 2021, the worst, with an injury rate of 20 per 100,000, was the ALB1 warehouse just south of Albany, N.Y.
Thus, it may be no coincidence that dangers at that warehouse were one issue the independent grass-roots Amazon Labor Union used in its organizing drive. After rampant company labor law-breaking, ALU lost the ALB1 vote but complained to the National Labor Relations Board about the firm's actions. That has led to an NLRB probe of Amazon.
Besides the high injury rates, Frumin described for the panel how Amazon has stonewalled investigators from state and federal OSHAs, flat-out lied about injury numbers, and, when confronted with government demands, responded with lawsuits.
That included one, still pending in U.S. District Court in Spokane, Wash., years after the injuries which prompted it occurred. There, Amazon is challenging a state law that requires companies, when found to have endangered workers, to "abate" the practices and machines that injured the workers, rather than waiting until the cases are finally decided.
And even before Amazon became the monster it now is, its warehouse conditions rang alarm bells in its home state, Washington—to the detriment not just of workers but competitors.
In the worst case, 23.9 workers per 100,000 were seriously injured on the job at the Dupont, Wash., warehouse in 2015. The OSHA inspection, in a unique finding, said the job safety dangers there were not just due to physical hazards it  found but to the very "pace of work."
"Employees are expected to maintain a very high pace of work. Information collected documented that pressure is put on workers to maintain that pace without adequate recovery time to reduce the risk of MSDs. There is a direct connection between Amazon's employee monitoring and discipline systems and workplace MSDs," OSHA's citation #317961850 said.
MSDs are musculoskeletal disorders, also as ergonomic or repetitive-motion injuries. They're rampant nationwide, but unregulated, thanks to a 1995 law pushed through the Republican-run Congress then, banning OSHA forever from regulating them.
And Amazon deliberately refused to protect workers unless and until it was forced to do so, Frumin testified. The coronavirus pandemic, ironically, exposed that.
"In 2020, as Amazon's COVID cases became a full-blown crisis, the firm temporarily eased its work speed pressures by suspending disciplinary action based on production metrics. And the company's injury rate in 2020 dropped significantly. So there is no secret to an immediate fix to help Amazon's workforce.
"However, as soon as Prime Day approached in October 2020, Amazon reimplemented its work rate requirement, and sure enough the injury rate in 2021 jumped up again."
The "horrendous (injury) results are no 'accident.' They are a predictable outcome of the company's business model, which prioritizes speed, production, and profit over worker safety.
"Amazon optimizes its production system to put workers' bodies under extreme levels of stress—far beyond any reasonable expectation of safety—while constantly reminding them Amazon will fire them if they don't keep up with the inhumane pace of work."
Frumin urged lawmakers to have OSHA step up its inspections of Amazon warehouses, levy higher fines, and treat the firm as a serious and willful violator of job safety law. Indeed, OSHA has launched a national investigation of Amazon, Frumin said.
If there is no crackdown, he warned, quoting another Washington state warehouse owner in 2020  hearings on separating fulfillment centers—all of which are Amazon-owned—out from other warehouses in the state for job safety reporting and data, the others will be forced to do the same thing Amazon does.
"Amazon is an industry type leader, but there will be others as it is the way of the future," warehouse executive Robert Mitchel told state regulators then.