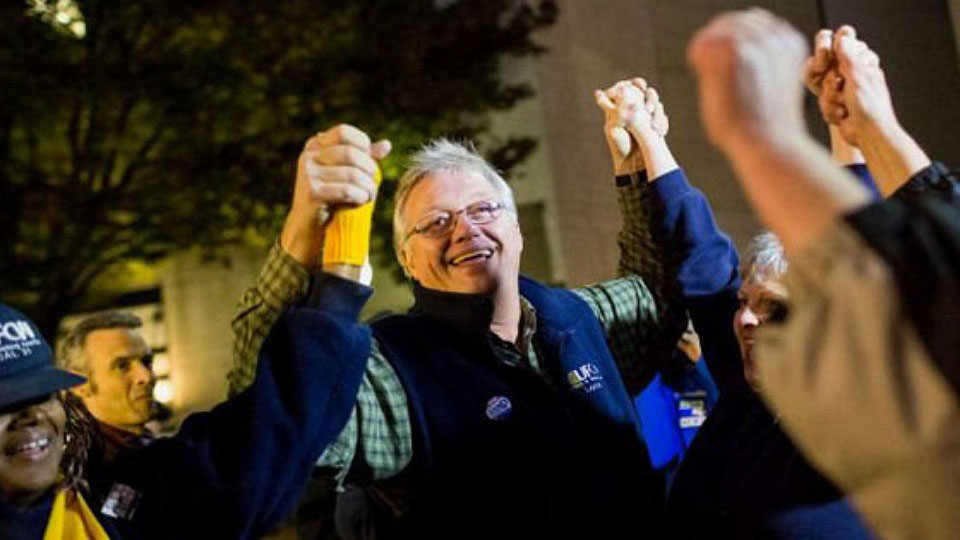 Dave Schmitz, a giant of the Pacific Northwest labor movement, passed away from pancreatic cancer in the early hours of June 20, 2021.
The long-time president of Local 21, United Food and Commercial Workers (UFCW), Dave was born in Portland on May 1, 1955, and raised in Spokane. His first job was as a stock clerk at Rosauer's, a local grocery store chain. He learned important lessons early on when Rosauer's engaged in a successful union-busting campaign.
After graduating from Eastern Washington University, rather than going to graduate school and an academic career as many of his professors advised, Dave instead chose to move to Seattle, getting a job at the QFC store in University Village working on the produce rack and becoming active in UFCW Local 1105. In 1981, his local sent him as one of its representatives to Solidarity Day, a national demonstration sponsored by the AFL-CIO and attended by over 500,000.
In 1982, he became a business representative and organizer for UFCW Local 1001, the retail workers local. When the local president was arrested for soliciting prostitution, Dave and a group of members and staffers began a successful six-month-long effort to force him out once he refused to resign. Later, Dave became the local's Organizing Director, with an impressive record of successful organizing campaigns during a period when many union certification elections were lost.
In 2000, Dave became President of Local 1001. Over 15 years, Dave led the local to become the largest in the UFCW and the largest single local in Washington State, with over 44,000 members. He accomplished this through aggressive organizing and a series of mergers, eventually transforming the organization into Local 21 in 2005. He served as an Executive Vice-President of the UFCW International.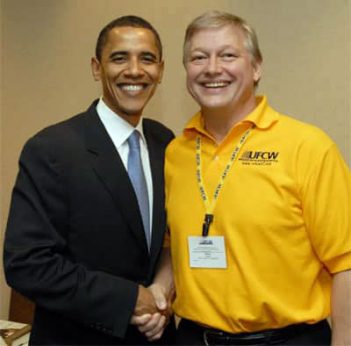 He led the local to found 21 Progress, a non-profit geared to increasing diversity in the labor movement and building alliances with community groups, continuing to serve on its board after his retirement as Local 21 President in 2015. Dave also helped found a number of other progressive organizations in Washington State, including Jobs with Justice and Puget Sound Sage.
On the occasion of his retirement, Dave said, "We have grown to be the largest UFCW local in the nation and are often seen as one of the most progressive and active unions in the United States. While we did not win every time, we have certainly had to struggle for everything we have won. Together, we made change happen.
"We have built a union that commands respect from employers, politicians, and other labor unions. We have helped start, and I am sure will continue to participate in, campaigns for equality in the workplace and in the community."
Dave played important roles in all the major labor struggles in Washington State over many years, from the initiative campaign to increase the minimum wage with a built-in cost-of-living adjustment to many strike struggles, from the passage of the country's first $15 an hour law in Seattle to winning guaranteed sick leave for grocery workers. He developed a reputation as a tough negotiator over many contract battles for retail, grocery, and health care workers, from the Battle in Seattle protests against the World Trade Organization in 1999 to personally castigating Governor Jay Inslee for his betrayal of Boeing workers by siding with the company to settle a strike.
Dave knew that success in negotiations, even against powerful employers, didn't start when he sat down at the bargaining table. It began years before, with establishing a shop steward system, including training and support for stewards, with broader membership engagement, with educating the members and polling them to find out what they most needed and were most ready to fight for. He grew the local's steward program from 300 to over 1,500 members. He saw engaging in coalitions with other unions and with progressive organizations as key to gaining public support for negotiation and strike struggles and winning a place for unions as an essential part of a broad progressive coalitions and movements.
Dave's vision was of a labor movement committed to fighting hard for the membership, engaging in coalitions with many community organizations and struggles, and fighting hard for public policies that would benefit all workers.
A decades-long reader and supporter of the People's World, Dave leaves a legacy of class-struggle unionism, intense partisanship on behalf of all workers, and a commitment to diversity and the struggle against racism. A life-long radical, Dave also loved music, mysteries, cooking, and gardening.
Dave's infectious smile, sense of humor, engaging personality, and passion for social and economic justice gained him a wide range of friends and admirers.
Long-time friend, co-worker, and Local 21 staffer Marc Auerbach said: "Dave had a burning hatred of injustice and fought all his life to create the conditions that would allow ALL people to thrive. He was a fearless person of action and a deep thinker who read voraciously in history, political theory, and fiction.
"Dave was a person of remarkable abilities and he could have put those abilities to use in selfish ways if he were that kind of person. But he chose to fight with us for a better world."
"I first started working with Dave in the late 1990s as we organized health care workers into our union so they could have a better voice on the job, better pay and working conditions," said Faye Guenther, current President of UFCW 21 and one of the youngest women union Presidents in the nation.
"He made our lives better and more meaningful. It was never about just one of us, but all of us together. He dedicated his life to bringing workers into a democratic force for change that we call a union," said Kyong Barry, a long-time Executive Board member of UFCW 21 and Albertsons worker who served on the grocery store workers' bargaining team alongside Dave for many years.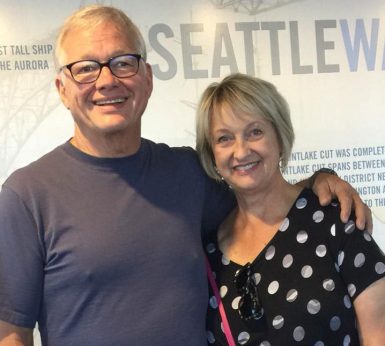 Todd Crosby, former President of UFCW 21 and current Organizing Director of the UFCW International Union said, "The reach Dave has is almost impossible to capture. Beyond my family, he impacted my life more than any other person. Many of us feel that way. He was one of those rare transformational people that you might, if you're lucky, be able to call a dear friend and a close colleague once in your life."
On a personal note, Dave and I were friends for 40 years, from first meeting each other on our way to Solidarity Day representing our locals. We shared a love of blues and jazz, of mysteries, and of the history of the labor and progressive movements. For all this and so much more, I will always be grateful to have known, worked with, and been friends with Dave.
Dave was diagnosed with Stage 4 pancreatic cancer in 2019, valiantly fighting the disease for two years. He is survived by his wife Pam Blauman Schmitz, herself a retired field representative for Local 21, and by siblings Diane, Alan, and Carolyn Schmitz.
A memorial will be held, time and place to be announced.
See also this obituary of Dave from his union sisters and brothers at UFCW Local 21.