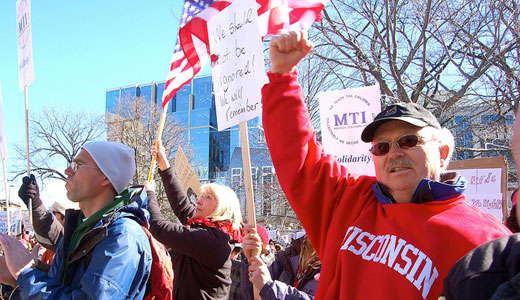 "The Republican Party is the party of the white working class," David Brooks, the New York Times' resident conservative "intellectual," declared in his Jan. 3 column.
Has he talked to Wisconsin's working class lately? Or how about Ohio's working families?
But having made his baseless assertion, Brooks goes on to anoint presidential hopeful Rick Santorum, the former Pennsylvania senator, as the (white) working class hero. And Is it coincidental that today we are seeing post-Iowa attacks on Santorum from Ron Paul and other Republicans, as being too "liberal" and "pro-worker"?
In reality Santorum is one of the most anti-working-family politicians around.
"Rick Santorum has a lifetime AFL-CIO congressional voting record of voting wrong on working family issues 88 percent of the time," the AFL-CIO said during the 2006 Senate race. Santorum was trounced in 2006 with the largest margin of defeat ever for an incumbent Republican senator in Pennsylvania, according to the Scranton Times-Tribune. Pennsylvania's majority-white working class pounded a lot of shoe-leather to ensure his defeat.
According to the AFL-CIO analysis of Santorum's record in the Senate, he:
* voted against the Family Medical Leave Act
* voted against the Patient's Bill of Rights
* supported moves to privatize Social Security
* supported $14 billion in cuts to Medicaid
* tried to eliminate the 40-hour workweek and cut overtime pay
Santorum is an avid opponent of women's reproductive rights, immigrant rights, marriage equality and LGBT rights, and science!
Guess what David Brooks? Those are working class issues! They are not "white" or "black" or "brown" issues.
But clever Brooks has insidiously introduced a loaded and twisted concept. Is there a "white working class" as he says? Despite his degree from the University of Chicago, it seems he doesn't have a grasp on the concept of "class."
Richard Trumka, president of the AFL-CIO, former head of the Mine Workers union and a former coal miner himself, does have a grasp. This white Pennsylvania worker gave a stunning definition of class during the 2008 presidential campaign.
Speaking at the Steelworkers convention July 1, 2008, Trumka declared:
"There is no evil that's inflicted more pain and more suffering than racism, and it's something that we in the labor movement have a very very special responsibility to challenge … because we know, better than anyone else, how racism is used to divide working people.
"We've seen how companies set workers against workers. They throw white workers a few crumbs, they discriminate against black workers or Latino workers, and we all, we all end up losing."
He continued, "When we've had the courage, the good sense, the trade union values, to cross the color line and stand together arms locked, no one, no one has ever been able to keep us down." (See video below.)
Well now, perhaps here's what Brooks – previously a long-time Wall Street Journal editor and writer – is up to: confuse and divide workers so as to "keep us down." Why else would he be boosting anti-labor Rick Santorum as the white working class standard-bearer – in contrast to the black, pro-labor, Barack Obama?
David Brooks, you may be slick, but what you're peddling is snake oil.
Photo: Madison, Wis., Feb. 18, 2011. Teresa Albano/PW