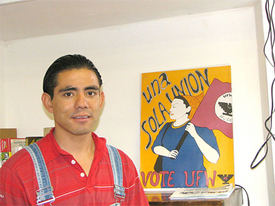 SAN FRANCISCO — Early on a chill, gray August morning, men seeking casual jobs pulled their jackets closer as they stood in little groups along the Mission District's Cesar Chavez Street.
There was something different about the group gathered in front of a cheerful, well-lit storefront that bore a sign, "Day Laborers Program: Hire Workers! Drop in or call." They, too, were waiting for work — and for their weekly meeting at the San Francisco Day Laborers Program. There, they would talk about their problems on the job and in daily life, and about broader issues like the national campaign for immigrant rights in which many of them marched last spring.
As the meeting got underway, conducted in Spanish by the laborers themselves, workers packed the room and crammed the hallway. On the agenda: a campaign for more bathrooms in areas where workers gather, announcements about available classes, and the sad news that an unidentified day laborer had been killed.
Everyone listened attentively as program director Renee Saucedo urged them to bring friends to the Labor Day immigrant rights march.
As the meeting ended and two workers brought in a large coffee urn, Josue Cobos said he has participated in the program for much of the time since its founding 15 years ago. A seven-year stint as a furniture restorer ended when his employer went out of business. Now he is seeking another regular job.
"The program provides a friendly, warm and comfortable place," he said, "where I can be with people I know." Cobos also likes the way the hiring hall distributes jobs fairly through a rotating list. He said he finds jobs doing moving, painting and construction work once or twice a week through the program, and sometimes also waits for workers on street corners.
Because work is so scarce, and housing costs are so high even for "single room occupancy" hotels, Cobos lives in a shelter run by a nearby church.
Alfredo Arellano — like Cobos originally from Mexico City — lives at the same shelter. He has come to the day labor program for the last two and a half months. "Someone came to my church and told me about the program," he said. He, too, wants a regular job, perhaps in a restaurant. Meantime, Arellano said, a class he found through the program has helped him do his occasional landscaping jobs better.
A landmark agreement signed last month between the AFL-CIO and the National Day Laborer Organizing Network of over 40 day labor centers around the country pledges the organizations to work together to advance the workplace rights of all workers, to oppose punitive anti-immigrant laws and press for comprehensive immigration reform with a path to citizenship and political equality. Renee Saucedo, who helped finalize the pact, said it "basically says we are sister organizations now. We stand for workers regardless of immigration status, we're going to help each other out to defeat the anti-immigrant and anti-worker legislation now before Congress."
Saucedo said workers in the San Francisco program "felt pretty good about what's going on" when they heard about the agreement at a recent Friday morning meeting.
The organizing by day laborers and undocumented workers generally around workplace and immigrant rights issues "is a sign that immigrant rights is being considered part of a larger movement for workers rights and human rights for oppressed people in this country, including people of color," she added.
Saucedo said the San Francisco program serves over 200 workers who come to its office each day, and works with "literally thousands of day laborers" through its outreach at sites throughout the city.
The program and the San Francisco Labor Council have worked together regularly in solidarity actions around day laborers' rights, she said.
The workers have set a rate of $50 for a minimum three-hour period, plus $15 per additional hour. Besides its hiring hall, the program offers classes in occupational health, job and life skills, and English as a second language. It has also helped workers reclaim thousands of dollars in unpaid wages. Its newest feature is the Women's Collective, whose members are largely immigrant domestic workers.