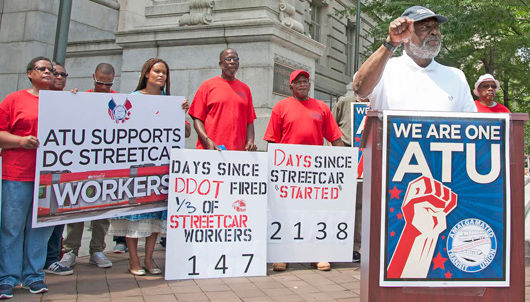 WASHINGTON – In a show of rock-solid unity, representatives of some 50,000 members of Washington, DC area unions rallied at DC's city hall to protest the awarding of more money to a multinational corporation that has failed to complete a streetcar line on time, has created many cost overruns and has illegally fired eight employees for starting to organize a union.
"The fired streetcar workers are heroes," Metropolitan Washington Council AFL-CIO President Joslyn Williams told the protestors. "They wanted the ATU – the Amalgamated Transit Union — to represent them. They stood up for the right of workers to organize a union. They stood up for the dignity of workers."
The ATU filed an unfair labor practice complaint on behalf of the workers with the National Labor Relations Board, but the charges have been difficult to process because of the complex system of management created by the District of Columbia. The District Department of Transportation (DDOT) oversees the streetcar project, but that agency contracted out the work to a joint venture of the RATP Development Group and McDonald Transit, an American subsidiary of an international public transit operator based in France. The corporation, in turn, contracted out the hiring of workers to The Midtown Group.
The streetcar project began almost six years ago. The goal: building a light rail system across DC starting with a pilot project covering what is known as the H Street corridor. Now, six years later, the proposed streetcar system is still stuck at the pilot project phase, which has been plagued by malfunctioning cars, crashes, fires, and mismanagement.
Nevertheless, the transit corporation requested an additional $5.5 million, which would bring the total cost of the project to $15 million more than the originally agreed upon price. ATU representatives urged DC officials not to sink more money into the project until the NLRB completed its investigation of the firings and until problems plaguing the project were addressed. However, two weeks ago, DC Mayor Muriel Bowser and the DC Council approved the funds.
"This is an insult to District residents," said Larry Hanley, ATU international president, "and it's a slap in the face to those workers who remain on the job but are scared of being fired if they demand union rights.".
At the protest rally, Germaine Wells, one of the workers fired for wanting a union, said "I was born and raised in DC and am proud of DC. I was fired for no reason except that I wanted a union. I have been waiting to be allowed to help complete the streetcar project."
ATU members delivered some 400 petitions to Mayor Bowser demanding that the fired workers be rehired and that safety reviews be completed before the project is expanded.
President Williams ended the rally by saying "workers have a right to choose who will represent them. No politician, no corporation will stop workers from organizing."
Photo: Metropolitan Washington Council AFL-CIO President Joslyn Williams: "The fired streetcar workers are heroes."