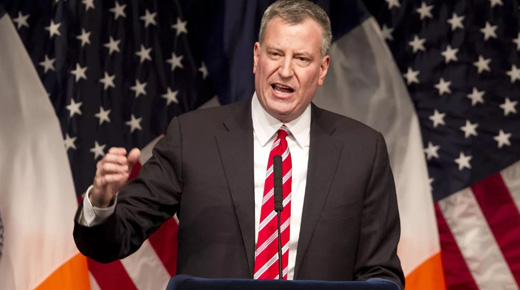 NEW YORK – In yet another win for low-paid workers, especially fast food workers and Hispanic-named construction workers, New York City Mayor Bill de Blasio has issued a "Labor Peace Agreement" executive order mandating employer neutrality in organizing drives for any business seeking or getting city funding in any way.
That particularly includes, the order says, Project Labor Agreements in city-funded construction, and retail establishments in city-funded malls and similar areas.
In essence, de Blasio's order extends the principles of Project Labor Agreements, which are common in construction, to other enterprises that get city funds. And city officials will write the labor peace clause into all city-funded development contracts worth at least $1 million.
The "Labor Peace Agreement shall mean an enforceable agreement that complies with" federal labor law requirements "between a covered employer and a labor organization" which "at a minimum, shall require" the union and its members "refrain from picketing, work stoppages or other economic interference."
To get the city money, the employer must sign a contract that includes the labor peace provision, where it "agrees to maintain a neutral posture with respect to" union organizing drives.
De Blasio's order, issued in July but not publicized for more than a month, drew no immediate reaction from local unions or community groups. It applies to organizing drives by groups – unions – recognized under the National Labor Relations Act.
Business-side labor lawyers denounced de Blasio's move, with one raising questions about whether virtually any organization could declare itself a labor group.
Though de Blasio did not estimate how many workers would benefit from his executive order, state data show bars and restaurants employed 273,900 New Yorkers at the end of 2014, with estimated growth of 30 percent by 2022. Specialty construction alone, one of the Big Apple's top 15 industries, employed 81,300, with projected 22.9 percent growth by 2022.
De Blasio said his executive order would mandate labor peace on construction and retail by "preventing disruptions" while benefiting the workers.
It will apply to any city-funded economic development project larger than 100,000 square feet or greater than 100 housing units "that has received or is expected to receive financial assistance" from the city. And it also covers "any retail or food service establishment" at a city-funded development with at least 10 workers or with at least 15,000 square feet of space. The labor peace agreement will be in effect for 10 years from the start of the project.
De Blasio's order does not have any fines for law-breakers. It leaves recommendations about "appropriate remedies" for violators up to to-be-named city compliance officers.
Photo: Mayor De Blasio.  |  AP