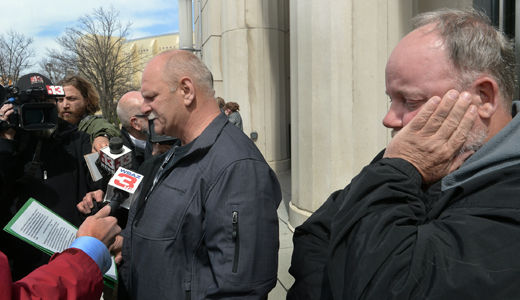 CHARLESTON, WV – Convicted coal criminal Don Blankenship appeared in federal court for sentencing before U.S. District Judge Irene Berger last Wednesday. His court appearance came one day following the sixth anniversary of the April 5, 2010 explosion that killed 29 miners in Raleigh County, WV.
On December 3, 2015, a jury found Blankenship guilty of conspiracy to violate mine safety and health standards at the Upper Big Branch Mine [UBB] of Massey Energy's coal operations in southern West Virginia. After many delays before Blankenship's jury trial and another before his sentencing hearing, the gavel finally sounded last week on this coal baron's fate.
Although Blankenship did sort of express some sorrow by stating, "the lost miners were great coal miners," his assertion before the court that "I am not guilty of a crime" tends to belie any remorse, or any appreciation of the gravity of his part in the deaths of those 29 miners who will never see their families again. Judge Berger handed down the maximum sentence allowed by law: 12 months in prison, $250,000 fine, and an additional year's probation after his incarceration. His attorneys promised to appeal and, to the disappointment of many, he walked from the courthouse free.
Before sentencing Blankenship, Judge Berger made a condemnatory statement regarding the responsibility of coal mining employers in general. She directed it specifically at Blankenship, saying that he was "ultimately responsible" for working conditions of the mine. She went on: "Each day and each shift that miners don their hats and boots and proudly go underground, generally without any trepidation to make a living for themselves and for their families, they necessarily rely on owners and operators and administrators of these mines to provide a safe workplace."
Dr. Judy Jones Petersen, who lost her brother, Steve, in the UBB explosion, seemed to accept that Judge Berger had done all within her power to hand down justice. She said of Judge Berger's statement that she said exactly "what needed to be heard" and further commented that it wouldn't have mattered what happened in court that day because it "wouldn't have been enough penalty" for what Blankenship deserved. She mused that the miners' families will have to accept what happened in court and be content with what Judge Berger had said. Dr. Jones Petersen also commented that Blankenship's apology was "too little, too late."
In our interview with Dr. Jones Petersen, she told us that she was glad the Judge gave Blankenship the maximum sentence. She explained that he was still not in jail because of his right to appeal. The appeal may be the reason that no report date [to prison] has been set.
Tommy Davis was one of the most outspoken family members as Blankenship left the courthouse. He had lost a son, Cory, as well as a brother and nephew at UBB. He shouted at Blankenship that he (Blankenship) didn't have a heart. He commented later that Blankenship never came to him or to his mom and dad in the six years since the UBB explosion. Davis said that his mom and dad grieved themselves to death and that Blankenship never came to apologize or say anything to him or his grieving family.
I asked Dr. Jones Petersen about Mr. Davis's statement and she said, to her knowledge, Blankenship never apologized to any of the families nor did he visit the funeral home, attend the funeral, or even send flowers.
She did recount that Blankenship expressed sorrow that the "families were hurting and emotions were running high." She remarked that, as he said that, he seemed "detached from taking responsibility." She took consolation from the sentencing hearing that, "more importantly, Judge Berger had said what needed to be said."
The problem with Blankenship's lenient sentence, though it is the maximum allowable by law, is that the laws themselves permit only a 12-month prison term and a $250,000 fine for conspiracy to violate mine safety and health standards. Yet such actions result in the deaths of those workers who must eke out a living underground digging coal.
The grief, disappointment, and even the righteous anger of those dead miners' families is understandable. While Blankenship is directly culpable for the deaths of those 29 miners, our system of justice has also failed those miners and their grieving families.
Photo: Clay Mullins, left, who lost his brother Rex Mullins in the Upper Big Branch explosion, reads the statement that he was not allowed to read during the sentencing of former Massey CEO Don Blankenship as Gary Quarles, right, who lost his son, takes in the emotion of the day, April 6, in Charleston, W.Va. F. Brian Ferguson/Charleston Gazette-Mail | AP