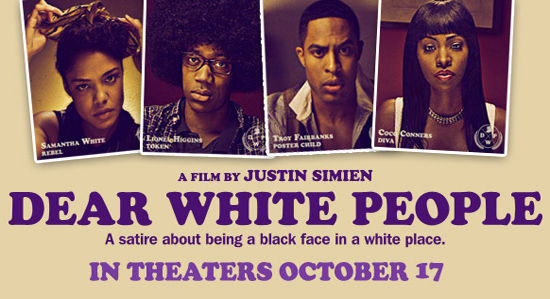 The most racially charged movie in 25 years is released around the time when the grand jury in Ferguson is expected to announce its findings regarding the shooting of a Black teenager, Michael Brown, by a white policeman. Dear White People culminates with what may be the big screen's most intense racial confrontation in a film set in contemporary America since Do the Right Thing. And the police play a role in the clash as they did in Spike Lee's 1989 drama.
In Dear White People, the mixed-race female protagonist Samantha White or "Sam" (Tessa Thompson) asks a white theater box office ticket seller: "Can we have a movie with, you know, characters in it, instead of stereotypes wrapped in Christian dogma?" Dear White People is arguably that movie. Scoring awards at the Sundance and Palm Springs Film Festivals, DWP is at the forefront of the cinematic surge of Black-themed films that propelled 12 Years a Slave to Best Picture, acting and writing Oscars last year.
In DWP Sam, a film student, screens her course project Rebirth of a Nation for stunned college cinema students. Featuring Black actors in "whiteface," the militant moviemaker's silent short subverts celluloid stereotypes, stirring classroom controversy with its deconstruction of movie minstrelsy. Sam's work references D.W. Griffith's 1915 racist Civil War-era epic The Birth of a Nation, which glorified the Ku Klux Klan. When screened at the White House, Pres. Woodrow Wilson supposedly exclaimed: "It's like history written with lightning!"
Writer/director Justin Simien's Dear White People is like current affairs written with enlightening ideas about the state of race relations in today's supposedly "post-racial" USA. DWP is an eerie motion picture prophecy of the current Missouri civil disturbances. With a soundtrack ranging from "Swan Lake" to hip-hop to bebop, DWP is so imaginatively rendered that at a screening Thompson gushed: "This is a new genre Justin has made. It's satire, but it's real. It's all those things."
There's nothing black and white in this complex comedy drama. Full of humor – in June, at its LA Film Festival presentation, Simien drolly reassured "white people in the audience… you have permission to laugh" — as well as ethnic angst, DWP is a cross between Animal House and Spike Lee's Malcolm X and Do the Right Thing.
Simien's sophisticated satire is set at Winchester University, a fictitious Ivy League school where Blacks are 2 percent of the student body. Sam is their strident, if conflicted, leader. A radio DJ, Sam delivers caustic commentaries over campus airwaves, from which the movie's title is derived, such as: "Dear White People, the amount of Black friends required not to seem racist has just been raised to two." (She adds that drug dealers don't count.)
Sam is elected house president of the historically Black residence hall Armstrong/Parker House, defeating her more accommodationist opponent, the buff Troy (Brandon Bell). Troy represents the establishment, as his father is Winchester's Dean (veteran actor Dennis Haysbert). To compound matters Troy dumped Sam in favor of the white Sofia Fletcher (Brittany Curran), daughter of Winchester's patronizing President Herbert Fletcher (Peter Syvertsen, whose character asserts: "Racism is over in America. The only people thinking about it are Mexicans, probably."). Despite her nationalistic bluster, however, Sam is clandestinely close to the white Gabe (Justin Dobies).
Sam spearheads a campaign opposing the administration's "Randomization of Housing Act," which would end Armstrong/Parker's status as an African American sanctum. In an uproarious scene President Fletcher's son, lily-white Kurt (Kyle Gallner), and his Caucasian cohorts are exiled from the hall's dining room. Kurt edits Winchester's prominent humor magazine, Pastiche, which is similar to Dartmouth's Jack-O-Lantern and Harvard's Lampoon.
Two more DWP Black characters seek to become mass media figures — but unlike Sam, do so even if it means compromising their ethnic identities. Sporting the big screen's biggest Afro since 1970s' Blaxploitation flicks, the gay, nerdy, misfit Lionel Higgins (Tyler James Williams) goes undercover to write an exposé of Sam and Winchester's Black milieu in his bid to become the sole current African American staff reporter for the university's Winchester Bugle newspaper, with its New York Times adviser.
In her quest for celebrity, the blue eye contact-wearing, self-denying Colandrea "Coco" Conners (Teyonah Parris) appears ready to sell out other African Americans as she strives to star in a reality TV show. Status-conscious Coco also beds Troy and agrees to host Pastiche's annual Halloween party at Garmin House, the clubhouse where Kurt lives. In a confrontation with the racist minstrel-like merrymakers, all hell breaks loose at the party in American cinema's most powerful modern-day racial row since the riot at Sal's pizzeria in Do the Right Thing.
Simien has said that while writing DWP "the Trayvon Martin thing happened; I saw the whole post-racial bubble really bursting. Then for me the script became about something. This interesting Black experience became about the American-Black experience. What does it mean to be Black now? Is there still racism?" The subsequent events at Ferguson appear to answer those questions.
The "culture war" is coming soon to a theater near you: Dear White People is now in nationwide theatrical release.