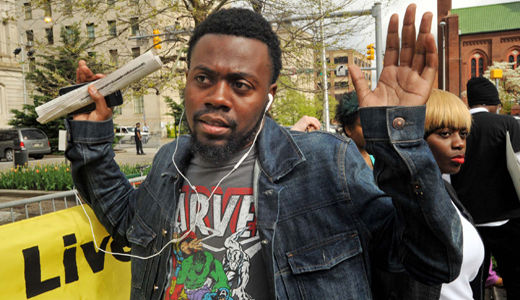 BALTIMORE – Another death at the hands of the police. While the cellphone video evidence of police killings moves from Ferguson to New York to Cleveland to South Carolina and beyond…and now to Baltimore City, no city, town or hamlet can any longer feel immune from the devastating news that, once again, a Black man's life has been taken by the police.
Freddie Gray, a 25-year-old African American, described by friends as "a well-liked jokester," was stopped by police on April 12 because he "fled unprovoked upon noticing police presence," according to police records. After being stopped by the police, citizen video shows Gray being dragged to a police van, crying out in pain.
Once in the van, police report that he repeatedly asked for medical help, but that they did not call for paramedics until he was unresponsive at the end of the ride. One week later after being in a coma, Gray was pronounced dead – having suffered three fractured neck vertebrae. An investigation has been launched.
Public protest in the streets of Baltimore is ongoing.
Gray's death comes as the Baltimore City Police Department is under investigation by the U.S. Department of Justice on charges of systemic abuse of power by the police. A city-wide public forum, conducted by a Chicago-based consulting firm, Hillard Heintze, was held on April 16 for citizen comment on the extent of the abuse.
DOJ officials and the crowd of 300 heard testimony after testimony of harassment, beatings and even death brought about by officers of a Baltimore City police force which lacks adequate control on its force. The mood of the angry and incensed citizenry at the forum was that the people of Baltimore do not want a cover-up by the DOJ's Collaborative Reform Initiative which is conducting the investigation.
Some called for a wider-range Civil Rights investigation by the Department of Justice which would have binding recommendations.
The death of Michael Brown last August in Ferguson, Missouri contributed to heightened attention to police accountability issues throughout the country. Baltimore was no exception. Ferguson coincided with the results of an intensive probe by the Baltimore Sun newspaper that Baltimore City had paid out close to $6 million in damages since 2011 to victims of police brutality.
Following these revelations, citizen advocacy groups introduced 14 bills into the just-ended Maryland General Assembly in Annapolis on curbing police misconduct. One bill which received much publicity, and which will receive further attention in next year's legislature, concerns the Law Enforcement Bill of Rights (LEBOR), a policy within the police department which prevents transparency from occurring when a police crime is committed.
Leaders of a Beautiful Struggle (LBS), a self-described "grass-roots think-tank," organized busloads of citizens to lobby in Annapolis against LEBOR, for a civilian review board with teeth and other legislation involving the police. LBS will be holding a public forum, "Moving from Protests to Policy-2015 Legislative Wrap Up" on April 28, 6:30 p.m. at the University of Baltimore.
The banner headline of the Baltimore Sun this morning, over a photo of Freddie Gray, reads: "Injuries in van ride focus of city probe." Inside the paper, a popular Sun columnist, Dan Rodricks, wrote in his column, "There's no way to close your eyes to this."
Photo: William Stewart, a friend of Freddie Gray, protests outside City Hall in Baltimore, April 20. (Amy Davis/The Baltimore Sun via AP)