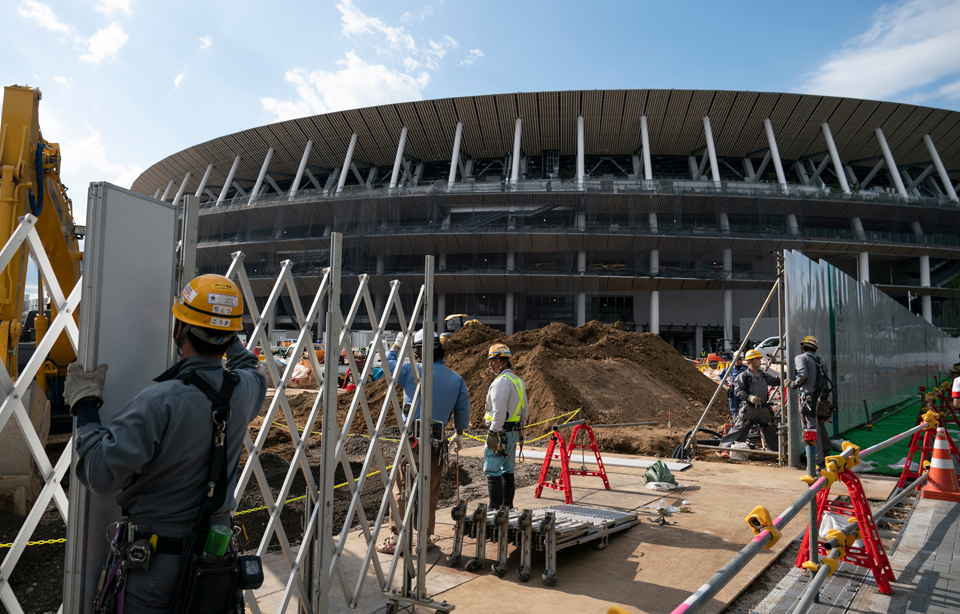 "The questions is: How many more deaths before they accept our proposals?" said Ambet Yuson, general secretary of the Building and Workers' International Union, following a meeting with officials of the Tokyo 2020 Olympic Games organizing committee, the Tokyo Metropolitan Government, and the Japan Sport Council.
Yuson continued, saying the BWI has documented four deaths directly linked to work on Olympic venues and is currently trying to verify a fifth.
The Thursday, Oct. 3, meeting held by the BWI and officials ended with an ultimatum: Olympic organizers have until the end of the month to agree to outside health and safety inspections on all construction sites. The union is also asking to put in place a formal grievance procedure to formally resolve worker issues and concerns.
For years, the international union has been critical of unfair labor practices taking place at venues for next year's Olympics—issues including health and safety, treatment of migrant workers, the use of subcontractors, and poverty wages.
While the deaths of migrant workers have been reported at venues for the upcoming International Federation of Football Association's (FIFA) 2020 World Cup in Qatar, it has been largely overlooked in Japan—currently facing a shrinking population and a reliance on foreign labor in some sectors.
Back in February, BWI and its counterpart in Japan, Zenkensoren, visited Olympic construction sites, holding several meetings and interviews with workers to verify "alarming concerns" related to working conditions reported in 2018.
The union(s) found: (1) Almost half of the workers consulted did not have formal employment contracts; (2) Dangerous patterns of overwork: workers on the Olympic Village reported working 28 days in a row, while workers at the New National Stadium reported working up to 26 days in a row; (3)Workers were made to purchase their protective equipment; (4) And when complaints were filed regarding poorly-lit work areas resulting in worker injury, the lighting was removed, and the complaint dismissed because it had been brought up by the union instead of the individual worker.
Currently, the Japan Sport Council, a government body, is building the $1.5 billion National Stadium, and the Olympic Village is being built by the Tokyo Metropolitan Government.
About 20 officials of all three governing bodies were in attendance Thursday, along with representatives from the International Olympic Committee.
In a statement, the organizing committee said it concluded "there was no violation of any laws. If their (BWI's) understanding of this issue differed from ours, we asked them to provide objective and reliable proof of the points alleged in their report."
A typical management response found in all workplaces and sectors: "Our internal investigation, which we performed, found we did nothing wrong."
Yuson said the BWI was prepared to take their requests to the IOC: "We have to approach the IOC because the IOC is also responsible for this. They are the chief organizer."
"I think they (Tokyo officials) were surprised with our proposals," Yuson said. "I think they were surprised by the gravity of the situation…. I think they are in denial that there is a problem."
Yuson explained the BWI has previously arranged construction site inspections at the Olympics and soccer World Cups, starting with the 2010 World Cup in South Africa.
He continued, saying Tokyo organizers and the government bodies argued that contractors or subcontractors were responsible for solving the labor issues. Yuson's reply: "It's your name. It's your image that is on the line here."
Yuson said BWI has interviewed more than 50 Japanese and migrant workers, gaining access through local unions in Japan, but many of the workers interviewed fear they would lose their jobs by meeting with union representatives.
Officials might want to consider the complaints given Japan's chronic problem of death by overwork, known as "karoshi." The work culture in Japan is so intense that workers coined the phrase back in the 1970s; it typically involves workers committing suicide or suffering from heart failure or stroke due to long work hours.
The most recent death attributed to karoshi was announced in Oct. 2017 when 31-year-old journalist Miwa Sado died suddenly. She had logged in over 159 hours of overtime in one month at the news network NHK before dying of heart failure.
"BWI wants this Olympics to be an Olympics for all of Japan," Yuson said. "Not only for business, not only for young people, not only for the citizens; it's also an Olympics for the workers."
Tokyo is projecting total costs of about $7.5 billion in the wake of its winning bid to host the games in 2013.
A report released last year by the national government's Board of Audit said Japan is likely to spend $25 billion overall to prepare for the games.
Click here to read the full report from the BWI titled: The Dark Side of the Tokyo 2020 Summer Olympics.