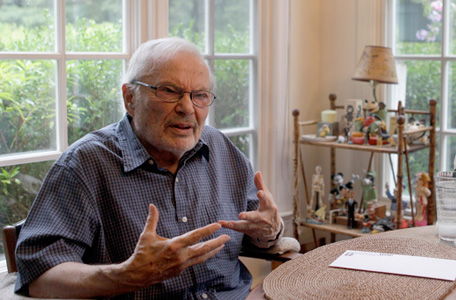 In a 1993 interview in The New York Times, children's book author and illustrator Maurice Sendak presented his take on writing for children: "Grown-ups desperately need to feel safe, and then they project onto the kids. But what none of us seem to realize is how smart kids are. They don't like what we write for them, what we dish up for them, because it's vapid, so they'll go for the hard words, they'll go for the hard concepts, they'll go for the stuff where they can learn something, not didactic things, but passionate things."
Sendak died May 8 at the age of 83. As soon as the news of Sendak's death was announced, social media was flooded with comments from generations of readers, parents, and librarians:
A popular post showed a video of President Obama, (who said Where The Wild Things Are is "an all time classic") during a reading of the book to a group of children in Washington last month.
One parent, whose children are now in high school and college, commented: "What a loss, but what a life he had and what a treasure he left us. He was such a part of our growing up and our children, I think of him as part of the family. Thanks for enriching our lives!"
Another parent wrote of her renewed interest in children's books: "I think his books are so wonderful! Now that I'm looking at kids' books from the library to read with my granddaughter — so many are about cute pigs and rabbits, etc. (some of these are good of course) but Sendak really brought in the realm of imagination and wonder."
The Chicago Public Library said simply: "Thank you. You will be missed."
On the School Library Journal page: "His passing is a tremendous loss, but his impact on the children's book industry, and on children themselves, will live on and on," Trev Jones, book review editor.
The American Library Association [quoting from The New York Times Arts Beat blog]: "You may not be Tolstoy," Ms. Nordstrom [his legendary editor at Harper & Row, Ursula Nordstrom] once wrote to Mr. Sendak after he expressed self-doubt, "but Tolstoy wasn't Sendak, either. You have a vast and beautiful genius."
Guitarist Slash tweeted: "RIP Maurice Sendak. A couple of your books were huge to me when I was a kid. Lot of great memories thinking about them. Actually, Where the wild things are was the catalyst for many a parent/teacher conference. IiiI; )'"
Sendak was born in 1928 to working class Jewish parents in Brooklyn's Bensonhurst neighborhood. They came from Poland and many of his relatives died in the Holocaust. He was a sickly child growing up during the Depression. The horrifying news coverage of the hugely publicized 1932 kidnapping of the Lindberg toddler tormented him.
From childhood on he loved to draw, was a largely self taught illustrator and artist.
He was also a mentor to a generation of younger writers and illustrators for children,
Mr. Sendak's companion of a half-century, Eugene Glynn, a psychiatrist who specialized in the treatment of young people, died in 2007
Sendak's publisher listed his many awards: The Caldecott Medal for his 1963 book Where the Wild Things Are (about a boy named Max who is banished to his room and takes a fantasy journey to a mysterious land whose grotesque inhabitants crown him king), a 1970 Hans Christian Andersen Award for children's illustration, a 1982 National Book Award for Outside Over There (the story of a girl who is left to care for her younger sister and goes to her rescue when the child is abducted by goblins), a 1983 Laura Ingalls Wilder Medal, the National Medal of Arts, and a 2003 Astrid Lingren Memorial Award.
In January, Sendak was a guest on the Stephen Colbert's show (videos below). One of Sendak's more memorable quotes: "But Newt Gingrich is an idiot," he said, to the surprised laughter of Colbert's audience. "There is something so hopelessly gross and vile about him."
Author and illustrator Maurice Sendak contemplates the complexity of children and the simplicity of Newt Gingrich with Stephen Colbert.
Part 1
Part 2
Photo: Maurice Sendak interviewed at his home in Ridgefield, Conn., Sept. 6, 2011. Mary Altaffer/AP