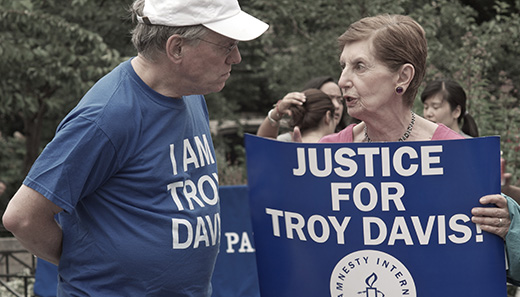 Troy Davis, an African American man on Georgia's death row, faces execution, again, after a federal judge ruled yesterday, Aug. 25, in a Supreme Court ordered appeal.
Last year, the Supreme Court, in an extraordinary habeous corpus ruling — the first in 50 years — ordered the lower court to rehear the case.
The hearing, however, was held in the same county in which it was originally tried.
U.S. District Judge William Morris found that Davis had failed to prove his innocence. "The burden was on Mr. Davis to prove, by clear and convincing evidence, that no reasonable juror would have convicted him in light of the new evidence," said Judge Morris.
The legal standard for such appeals – providing one's innocence – is higher than reasonable doubt.
Commenting on the high legal threshold, Democracynow.org quotes Larry Cox, the executive director of Amnesty International, as saying, "The testimony that came to light demonstrates that doubt still exists, but the legal bar for proving innocence was set so high it was virtually insurmountable. It would be utterly unconscionable to proceed with this execution, plain and simple."
The hearing was on June 24. At it, Davis's attorney presented recantations from seven of nine eyewitnesses who recanted testimony.
The judge argued that this was not enough.
"The judge examined each of the seven recantations and concluded that only one was entirely credible. But, he said, the credible recantation came from a witness whose earlier trial testimony was 'patently false' and was thus not important to the conviction," writes the Christian Science Monitor.
However Amnesty International, in a statement issued after the verdict says, "evidence continues to cast doubt over the case."
They cite:
• Four witnesses admitted in court that they lied at trial when they implicated Troy Davis and that they did not know who shot Officer Mark MacPhail.
• Four witnesses implicated another man as the one who killed the officer – including a man who says he saw the shooting and could clearly identify the alternative suspect – who is a family member.
Davis's case has attracted worldwide attention and calls for a new trial and commuting have come from diverse quarters, including former President Jimmy Carter, South Africa's Desmond Tutu and Pope Benedict XVI.
The NAACP and Amnesty International along with others have been leading the fight to free Davis. The NAACP launched an "I am Troy Campaign."
A petition to free him can be signed here.
The death row inmate was convicted 20 years ago for the slaying of Mark MacPhail, an off-duty police officer. He has maintained his innocence from the beginning.
Davis's attorney's pledge to continue fighting to free him.
Photo: (Gribiche/CC)