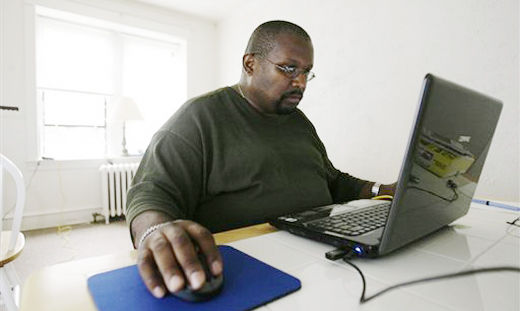 The Federal Communications Commission is set to unveil a sweeping proposal tomorrow to overhaul the U.S. broadband policy in order to bring affordable, high-speed Internet connections to all Americans.
The plan could be stalled if the FCC can't find the funding, corporate support or legal clearance to move forward. Part of the goal is to increase current Internet speeds as well as provide web access to 100 million Americans.
A coalition of consumer groups and public interest advocates is specifically urging the FCC to include increased access to underserved communities.
The coalition includes: the Consumer Federation of America, Media Access Project, Public Knowledge, Consumers Union, New America Foundation's Open Technology Initiative, and the Free Press. They are proposing the following recommendations:
Increasing U.S. broadband adoption of networks at "world class speeds" to 90 percent by 2020;
Substantially improving the level of competition between providers of broadband Internet access by the end of 2012;
Establishing real consumer protections for broadband customers within 12-18 months;
Implementing new broadband data collection standards and rules for utilizing that data in market analyses by the end of 2010; and
Quickly, establishing rules protecting open markets for speech and commerce on broadband networks.
According to a recent report by the National Telecommunications and Information Administration the overall use of high-speed Internet has increased, yet there's still a dramatic digital divide in America. While Black and Latino access has risen significantly over the last few years, access to high-speed Internet remains uneven particularly in low-income, rural and minority communities.
Asian non-Hispanic (67.3 percent) and white non-Hispanic users (65.7 percent) are more likely to have broadband in their home than Black non-Hispanic (45.9 percent), Hispanic (39.7 percent), and Native American/Alaska Native users (42.6 percent).
Civil rights groups argue the federal government must address the problem given the serious consequences the result could have for disadvantage minority groups especially as computer skills become increasingly important in all aspects of American life.
The wide disparity in Internet access is quickly becoming a matter of grave social and political importance where more than 40 percent of all homes are not connected, critics charge.
Many households use antiquated 'dial-up' technology, analysts note, and as high-speed Internet becomes increasingly expensive, middle- and low-income families are less able to afford it.
"The digital divide extends beyond connectivity," explains Megan Tady in a Color Lines article last year. "Many people don't have the training, skills or equipment to get online, or they live in an area that has been redlined by Internet service providers who find little incentive to build out to their communities," she writes. "No matter how many companies enter the market, the fight for customers in high income communities will always be more rewarding for the industry than providing access to low-income communities."
However many note the FCC's plan could mark the biggest opportunity to restructure and regulate the way American's access the Internet.
The FCC will make a series of recommendations to Congress aimed at spurring the ever-changing communications industry to bring more and faster online services to Americans as more turn to the Internet to communicate, pay bills, make travel plans or for news and entertainment. The FCC also wants to make sure that anchor institutions – government buildings, schools, libraries and health care facilities – get speeds of about 1 gigabit per second by 2020. FCC officials say some of the goals are "aspirational" and should be viewed as a "living, breathing" document for the next decade in hopes of helping 93 million Americans without broadband get connected.
Meanwhile the Obama administration has touted the plan as a way to create jobs and make energy use more efficient.
Photo: Hercules Jones, customer of a "Digital Inclusion" program designed for low-income residents in Philadelphia, surfs the Internet, Aug. 10, 2007. Matt Rourke/AP