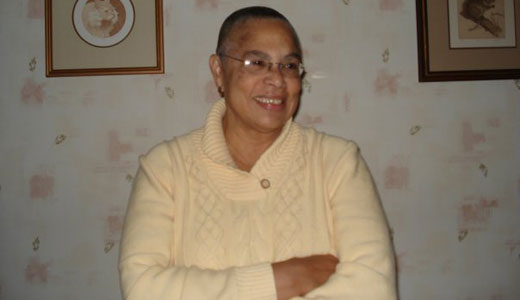 Editor's note: This story is published in celebration of Women's History Month
"Solitary" meant an unfurnished cell with a concrete floor. No bed, no furniture; a hole in the floor for a toilet. The prison matron offered no second chances. Debbie Amis went straight to solitary confinement. Her offense was that she had refused one meal and, she says later, had decided to stop eating.
The young woman from Philadelphia had come to Atlanta to work for the recently formed Student Non Violent Coordinating Committee (SNCC) during the summer of 1961 following her graduation from West Chester (Pennsylvania) State College. She had traveled to the South earlier that spring to attend what turned out to be SNCC's first convention. She became a founding member of the organization. Following the convention she had returned north to complete her senior year and get her diploma, but, she recalls, "I couldn't stop thinking about the Civil Rights Movement. It was preying on my mind!"
But before we pick up the story in Atlanta, we should cast a look back at her early years. Debbie grew up in Philadelphia, the oldest of five children. Her parents were political activists – and communists. Her father was an experienced union organizer and the first African American District Organizer for the Communist Party. Her mother, a Jew, was a community activist. Although the family had little in the way of material things, "we had a lot of love and a lot of attention; I don't remember my parents ever quarreling about anything other than a broken hose."
After going through the Philadelphia public schools and graduating from Overbrook High (yes, Wilt Chamberlain's alma mater as well), Amis set her sights on a college degree and a career as a teacher. The traditional route for an African American woman with such goals would have been to attend Cheyney State, but this was not Debbie's route. She chose West Chester because "they had the programs I was interested in, phys ed and music." Her choice meant that her college years would not be easy. West Chester was a segregated town with recently desegregated schools. She was not allowed to room with her first choice, a white friend, but was assigned two African American roommates. She recalls that "I graduated with very harsh feelings about West Chester," and it was only years later after being persuaded that the school was making efforts to overcome its racially oppressive past that she agreed to return and visit the campus for a speaking engagement.
Following her graduation, determined to contribute to the movement she saw developing across the south, she proceeded to drive, solo, to Atlanta where she applied for a job with SNCC. She refused a desk job as secretary in the office ("I was not going to accept a traditionally female position!") and secured the job of community organizer. After two years she had participated in numerous demonstrations and sit-ins, especially at restaurants and department stores. Her experience in solitary confinement came during what she guesses was her 11th or 12th arrest. (The city's well established African American bourgeoisie, while not universally supportive of the movement's most militant tactics, could be counted on to provide bail money when necessary.) This last arrest occurred at 4:30 in the morning, early in 1964, at her apartment, when she was presented with a bench warrant for a previous "offense" that was suddenly being dusted off and reactivated.
She found out later that SNCC had had a visit from the FBI who had let her employers know that they had a communist on their staff. Debbie had earlier made the decision, at the age of 19, to join the party because of its civil rights activity. Before being sent to "solitary," Amis had been housed with the general prison population. She soon realized that, rather than being dangerous, this turned out for the better. Among the prisoners she found a reservoir of support. Upon learning she was a "freedom rider" from out of town, a female "trustee" (a prisoner who had been given some inside responsibility) looked out for her safety and gave up her own bed for Debbie to sleep in.
After her placement in solitary, support from the prisoners again proved important. She says she felt "very alone," but this time a male trustee befriended her an made sure she had some minimal writing materials; she was able to write to her family on the back of old bank statements, which to this day she keeps in a scrapbook in her possession. After learning that the two SNCC lawyers had withdrawn from her case, the party was able to find an attorney to represent her and secure her release.
No longer able to work for SNCC, Amis returned to Philadelphia where she began her career as a teacher in the city's public school system. As it turned out, her last school was Overbrook High, her alma mater, where she capped a career as a teacher union activist, serving as the elected union representative.
Amis proudly recalls her time working for SNCC, saying, "It was hard 24-hour a day work." She had a camaraderie with her roommates, one African American and two white women, during her time in Atlanta, and she recently attended the 50th reunion of the founding of the organization. She frequently lectures or participates in panel discussions about her experiences in the South half a century ago and considers it profoundly important in today's challenging environment to remember and especially to let young people know about past struggles.
Debbie and her husband Dave are the parents of two grown daughters and are expecting their fourth grandchild in October. She serves as an active member and officer of her local union's retiree chapter.
Photo: Debbie Amis Bell