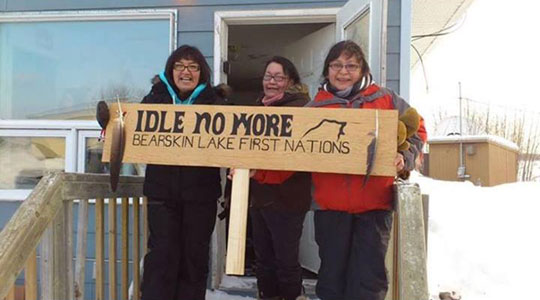 Just over a year ago, four women from Saskatchewan, Canada, began a global movement with a single hashtag on Twitter: #IdleNoMore. It has grown to become more than a slogan for a movement on environmental and Indigenous rights. Idle No More is now what some Indigenous people have called an awakening of our people.
On Oct. 30, 2012, Jessica Gordon, one of the four women, sent out the first tweet with the #IdleNoMore hashtag. It promoted a series of teach-ins to discuss Canadian Prime Minister Stephen Harper's Bill C-45 which made changes to the Indian Act and the Navigable Water Act that infringed on Indigenous land and water rights.
A month later, Gordon along with Nina Wilson, Sylvia McAdams and Sheelah McLean were holding #IdleNoMore teach-ins all over Canada. These teach-ins moved people to organize the first #IdleNoMore National Day of Action on Dec. 10, 2012. This day was chosen because it is also Amnesty International's Human Rights Day. Thousands of people came out all over Canada in support of the movement. At this time Indigenous leadership across Canada requested a meeting with Prime Minister Harper to discuss Bill C-45 and its impact on First Nations people. Harper denied the meeting. On Dec. 11, Chief Theresa Spence of the Attawapiskat First Nation began a hunger strike that would last 30 days. This hunger strike put fuel on the #IdleNoMore spark and turned it into a fire.
On Dec. 18, 2012, the first Round Dance flash mob invaded Edmonton Mall, stopping the holiday shopping, and focusing attention on the #IdleNoMore movement. By Christmas 2012 hundreds of these #IdleNoMore round dances were being held all over Canada and the United States. The Round Dance Revolution became a powerful tool against our oppressors. Our drums and our voices brought new power to the Indigenous movement of a kind that has never been seen in our communities. By January 2013, a movement that began with a simple hashtag in a tweet went global. On Jan. 11, 2013, the #IdleNoMore Global Day of Action took place in over 300 locations around the world, in a massive act of solidarity against the Harper regime.
A year later the #IdleNoMore hashtag is still going strong. On Dec 21, 2013, a group of Indigenous warriors and supporters held a round dance flash mob in Winnipeg, Manitoba, at the Polo Park Center Court, once again interrupting holiday shoppers and bringing focus to important issues. This movement has grown to include the tar sands and pipeline blockades that stretch across Canada and parts of the U.S. It has spurred a re-emergence of cultural education within our communities with language camps and youth empowerment workshops. Indigenous resistance is on the rise and our people and the people of the world are taking notice. For some Indigenous people this movement has given them for the first time in their lives a sense of pride in their indigenousness.
It's time the people of the world take hold of that pride and power, adopt the #IdleNoMore tag, and change the world! To plug into the #IdleNoMore Movement, find it here: http://www.idlenomore.ca/ or here: https://twitter.com/IdleNoMoreNews, or here: https://www.facebook.com/IdleNoMoreCommunity, or at this one too! http://idlenomore.tumblr.com/ . Make 2014 the year when you are Idle No More!
Photo: Idle No More Facebook page