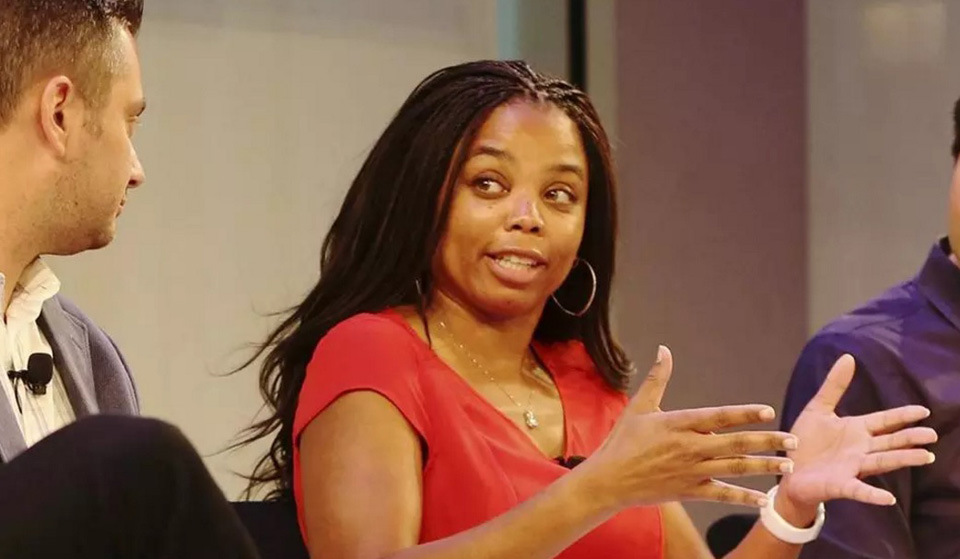 The Trump White House continues its campaign to vilify anyone who speaks out against systemic racism and oppression. And it appears that some of those with the power to combat Trump's harassment and intimidation tactics are surrendering to his abuse, as evidenced by the case of African-American woman sports journalist, Jemele Hill.
Hill was recently suspended by her employer, ESPN, for two weeks over allegedly violating the company's social media policy. ESPN claimed she broke the rules when she spoke out on Twitter against the continued suppression of NFL players' right to peacefully protest during the national anthem.
By making the decision to publicly silence Hill's voice, ESPN is enabling Trump's white supremacy and assisting him in his goal of strangling any journalism that dares to speak out. The move against Hill also represents a particular effort to silence Black women's voices.
On Sunday, Hill took to Twitter to remark on Dallas Cowboys owner Jerry Jones' recent statement that any player who "disrespects the flag" would not be allowed to play on the field. Jones' statement was in reference to NFL player protests against police brutality. Jones, who had just previously kneeled with players a few weeks ago (but who also donated $1 million to Trump's inauguration fund) did an about-face on the subject. He as quoted on October 8 as saying, "We cannot in any way give the implication that we tolerate disrespecting the flag. We know that there is a serious debate in this country about those issues, but there is no question in my mind, that the [NFL] and the Dallas Cowboys are going to stand up for the flag."
In a series of tweets on October 9, Hill took Jones' decision to task by explaining, "Jerry Jones also has created a problem for his players, specifically the black ones. If they don't kneel, some will see them as sellouts… Jerry has turned this into them choosing football over the community they represent and that isn't right."
Hill then gave her opinion that in order to send Jones a message, paying customers and fans could "pick up this fight." The journalist explained on her platform:
"Don't ask Dak [Prescott], Dez [Bryant Jr.] & other Cowboys players to protest. A more powerful statement is if you stop watching and buying their merchandise… Cowboys have a huge national following. Lot of black & brown folks are Cowboys fans. What if they turned their backs on them? If the rationale behind JJ's [Jerry Jones'] stance is keeping the fanbase happy, make him see that he [has] underestimated how all of his fanbase feels… Or, how about not patronizing the advertisers who support the Cowboys? You can watch and do that, right?…This play always works. Change happens when advertisers are impacted. If you feel strongly about JJ's statement, boycott his advertisers… If you strongly reject what Jerry Jones said, the key is his advertisers. Don't place the burden squarely on the players."
Hill went on to clarify, "Just so we're clear: I'm not advocating a NFL boycott. But an unfair burden has been put on players in Dallas & Miami [with] anthem directives."
Following Hill's tweets, on her individual account, ESPN released a statement of its own, announcing and rationalizing her two-week suspension:
"Jemele Hill has been suspended for two weeks for a second violation of our social media guidelines. She previously acknowledged letting her colleagues and company down with an impulsive tweet. In the aftermath, all employees were reminded of how individual tweets may reflect negatively on ESPN and that such actions would have consequences. Hence this decision."
The previous "impulsive tweet" that ESPN referenced was a series of tweets Hill wrote weeks ago that called Donald Trump a white supremacist. This sparked the White House's call at the time for Hill to be fired from her job. The irony shouldn't be lost that Trump, who is notorious for his harassment and bullying through Twitter, called for Hill's job for voicing her thoughts on the very same platform.
Since Hill's suspension, the so-called president has taken to – you guessed it – Twitter to ridicule the journalist and praise Jones' decision regarding the Dallas Cowboys.
"A big salute to Jerry Jones, owner of the Dallas Cowboys, who will BENCH players who disrespect our Flag. Stand for Anthem or sit for game!"
"With Jemele Hill at the mike, it is no wonder ESPN ratings have 'tanked,' in fact, tanked so badly it is the talk of the industry!"
Unlike NFL players, who have union representation through the National Football League Players Association (NFLPA), Hill has no such defense as an employee of ESPN, which is not unionized. She used her social media platform to speak about the politics interwoven in a multi-million dollar industry that uses 70 percent Black labor. Now Hill is paying the price as Trump and his supporters successfully targeted her by pressuring ESPN to censure her.
The trending hashtag #IStandwithJemele has emerged on social media, and rightly so, as Hill's right to speak up and not be intimidated is just as important as any player's right to protest. Her refusal to be silent serves as an example to the whole movement resisting the Trump White House's abuse of power and continued oppression.
Trump and the Republican Party have pursued an extreme right-wing agenda that aims to do away with the progress made in civil rights while strengthening the prison industrial complex that disproportionately disenfranchises Black and brown people. The White House doesn't want to address the concerns of the NFL players and Hill. Instead, Trump would rather sanction a costly publicity stunt on the taxpayers' dime by Vice President Mike Pence, which only served to further push a false narrative counterposing players' principled protests to Trump's own empty idea of "patriotism."
Hill used her platform in order to call attention to these injustices and to defend Black athletes' right to use the platforms available to them to protest inequality and racism. She is part of a long legacy of Black women consistently being on the frontlines of shaping the direction of emerging social movements and struggles for the rights of working people across the country.
From Black Lives Matter to the previous presidential elections, Black women have been and remain a significant force for change in this country. They are also one of the most marginalized and exploited under our capitalist system. Hill's stance follows in the tradition of Black women's resistance.
But the forces now working to silence and demoralize her also follow a tradition – the tradition of racist reaction, which has never disappeared.
So while we speak out against the suppression of NFL players' right to use their platform and voice, we also have to give support to Hill's struggle to speak up as well. She was doing her duty, and shouldn't be punished for it.
Hill stood up for justice, and it's imperative that others stand with her.