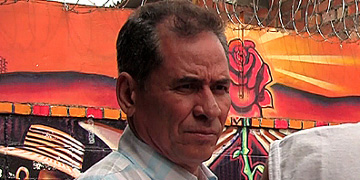 David Ravelo, arrested on September 14, 2010, remains in a Colombian prison. He is innocent of any crime, yet received an 18-year sentence. Through independent thought, action, and courage, he confronted an oligarchic, militarized, U. S. backed regime. He attracted attention and so was vulnerable to political persecution.
A year ago, judges rejected his appeal, and news coverage of his case slackened even among leftist media. He now returns to the news: in late August the British Bar Human Rights Committee (BHRC) sent an "amicus curiae" report to the Colombian Supreme Court. As indicated by lawyers handling Ravelo's defense, "the Supreme Court has the opportunity to do justice in a case of obvious persecution against a defender of human rights in Colombia."
Kirsty Brimelow, BHRC international litigation head, and Reinaldo Villalba of Ravelo's legal defense team held a joint news conference in Bogota on September 1 to discuss his case. A remarkable YouTube rendition of the conference recounts circumstances leading to Ravelo's imprisonment.
Ravelo led the fight in Barrancabermeja, his home city, against right-wing paramilitary domination. The charge against him of participating in the 1991 murder of a city official stemmed from accusations by two jailed paramilitary heads. They were in prison because Ravelo had implicated them in a 1998 massacre that took the lives of 32 people. Their vengeance served the state.
Villalba indicated that William Gildardo Pacheco Granados, Ravelo's prosecutor, had spent a year in a military prison in 1993 because, working as a police lieutenant, he helped "disappear" a young man. Under Colombian law such criminal behavior disqualifies him from serving as prosecutor. He remains on the job, however.
David Ravelo is used to international solidarity. Overseas delegations have visited him, and British parliamentarians, NGO's, international human rights groups, unions, and hundreds of individuals have communicated with Colombian authorities on his behalf. Yet he and 9500 other Colombian political activists remain in prison.
The question arises: How can the impact of international solidarity for Colombian and other political prisoners be sharpened? In essence, how can numbers and intensity of those fighting for them be augmented?
Colombian Communist Party secretary general Jaime Caycedo recently traced history that might help with answers. He looks at U.S. use of Colombia as an anti-communist bulwark in Latin America. He mentions the Truman-era Inter-American Treaty of Reciprocal Assistance, formation of the Organization of American States in 1948, U. S. military support for destroying the newly born FARC guerrilla organization in 1964, and assistance thereafter with building the military and state – security capabilities of the Colombian state. Colombian troops serving in the Korean War was symptomatic: "Colombia was the only Latin American country that took on such an act of vassalage to the empire."
Caycedo explains that, "The pretext was and continues to be the specter of communism, of socialism, of revolutionary ideas, and even of critical thought." He sees "criminalization of the right to protest, to be non-conformist, to dissent, to complain, and to organize and mobilize the people. They managed to project an imaginary enemy within the people itself against whom persecution, intimidation, and murder becomes 'legal.'"
That's where persecution of David Ravelo fits in. In the early 1990's he served the Patriotic Union leftist electoral coalition as a city official. He organized community – based political and economic educational programs. Among human rights groups he was involved with, the Regional Corporation for the Defense of Human Rights (CREDHOS) stands out. He was a founding member and later head of that group, which served as a platform for Ravelo to oppose the paramilitaries. In 2009 the local Catholic diocese gave Ravelo an award for 35 years of defending human rights. He's a longtime member of the Central Committee of the Colombian Communist Party.
Cruel persecution, with death in the offing, was constant. The state jailed him in 1993 for two years on baseless charges. He and his family received regular death threats. Nine Credhos leaders are among the "countless" social and political leaders assassinated in and around Barrancabermeja over the years.
U.S. imperialism set the stage for repression in Colombia. That includes persecution of human rights defender David Ravelo. Surely it's a scenario playing out elsewhere. If so, then it makes sense to broaden campaigns for political prisoners by linking anti-imperialism and prisoner defense. Activists, those with empty hands, or others already busy, might leap at the chance actually to apply their ideas for resisting the pretensions of empire.
Maybe it's time now to revive International Labor Defense. That organization launched by the U.S. Communist Party in the 1920's maintained chapters throughout the United States. It defended Sacco and Vanzetti, the Scottsboro Boys, besieged unionists all over, even in Cuba and Mexico. The idea was to start first with anti-imperialism, and then look for prisoner victims. Perhaps that's the approach that would work now.
Photo: David Ravelo. Alliance for Global Justice