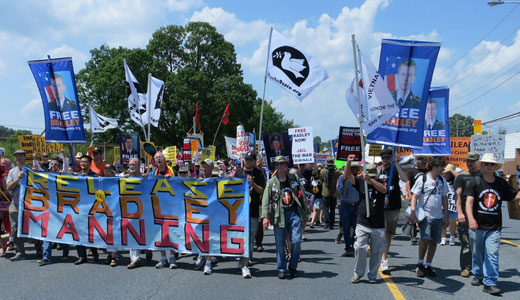 As the Bradley Manning trial begins this week, it has become clear Manning's motivation is the keystone of the government prosecution. The most serious charge Manning faces is knowingly aiding U.S. enemies when he gave to the website Wikileaks a huge cache of classified documents, and the horrifically infamous 2007 video entitled "Collateral Murder," in which U.S. soldiers are seen mowing down Iraqi civilians, including Reuters employees, from an Apache helicopter. It is a charge that could put the 25-year-old into prison for the rest of his life without hope for parole. Manning has already pled guilty to 10 lesser charges that could put him in jail for 20 years.
But Manning's defense has so far shown serious flaws in the prosecution's case. Instead of putting secrets in the "lap of the enemy," as prosecutor Captain Joe Morrow charged, in order to gain "notoriety" and "aid our adversaries," the defense argued Manning wanted the public to know what was being done in their name, hoping it would spark a debate on U.S. foreign policy.
Manning's lawyer David Coombs said in his opening statement that the Army private saw himself as a "humanist," a word Manning had engraved on custom-made dog tags, and valued all human life. Coombs told the presiding judge, Col. Denise Lind, that Manning was "young, naive but good-intentioned;" that his actions came from his deeply held beliefs that all lives had value, Iraqi and American.
Coombs told the story that on Christmas Eve, 2009, an American convoy escaped an IED explosion unharmed. However, an Iraqi family – two adults and three children – driving ahead of the convoy pulled over to let the convoy pass; that family was killed by the roadside bomb.
"Everyone was happy. Everyone but Pfc. Manning," Coombs said. "He couldn't celebrate, couldn't be happy. The reason why is he couldn't forget about a life that was lost that day."
Manning, the defense said, felt more affected and sensitive to the needless loss of life. "Manning's struggles lead him to feel that he needed to do something, that he needed to do something to make a difference in this world," Coombs said.
Coombs developed his argument when he cross-examined the government's witness, Adrian Lamo, a computer hacker who informed the military of Manning's plans.
Lamo told the court that he was a "grey-hat hacker," which means he hacked into systems without intent to do harm. Coombs asked Lamo if Manning had contacted him because the witness could "understand him" and that Lamo was a donor to WikiLeaks. Lamo said, "That is correct."
Coombs asked, "[Manning] told you he was the kind of person who would always investigate the truth?"
"That was something I could appreciate," Lamo said, acknowledging that Manning said to get the information out to the public was important, as it would change things.
Scott Galindez of Reader Supported News who is at Fort Meade in Maryland covering the trial writes:
Coombs then elicited a series of responses from the Manning-Lamo web chats: In summary, Manning told Lamo that he did not believe in good guys and bad guys anymore, only a plethora of states acting in self interest. Manning thought he was maybe too idealistic. Based on what he had seen, Manning said he couldn't let the information stay inside. He said he felt connected to everybody, that we were all distant family. And he said he cared. Manning called himself a humanist and said he had custom dog tags where he had written humanist on the back. Pfc. Manning said that we are all human and we are killing ourselves and no one seems to care. He was bothered that nobody seemed to care, that apathy was far worse than active participation. He said that he preferred the painful truth over blissful fantasy.
To each of these statements above, Lamo replied: "He did."
According to Galindez, the prosecution's questioning of Lamo focused on "technical issues" and not content. Media coverage of the trial has been severely restricted against which RSN and others have filed access motions.
Supporters and critics see Manning as a whistleblower and not an "insider threat," as characterized by the Obama administration. On one website's instant poll, lawyers.com, 53 percent of respondents said the government was being too harsh.
The Obama administration has come under blistering criticism for its prosecution of Manning and five others who are accused of leaking government secrets. Bloomberg.com reports that President Obama's attorney general, Eric Holder, "has prosecuted more government officials for alleged leaks under the World War I-era Espionage Act than all his predecessors combined, including law-and-order Republicans John Mitchell, Edwin Meese and John Ashcroft." Currently, the Justice Department has also come under fire for its broad leak investigations into the Associated Press and a Fox News reporter.
Alex Gibney, director of a new documentary on WikiLeaks, "We Steal Secrets," told ThinkProgress in an interview that if the government over-classifies information then leaks are inevitable.
"Leaks are a kind of pressure valve for democracy," he said.
Photo: Owen Wiltshire/Flickr (CC)