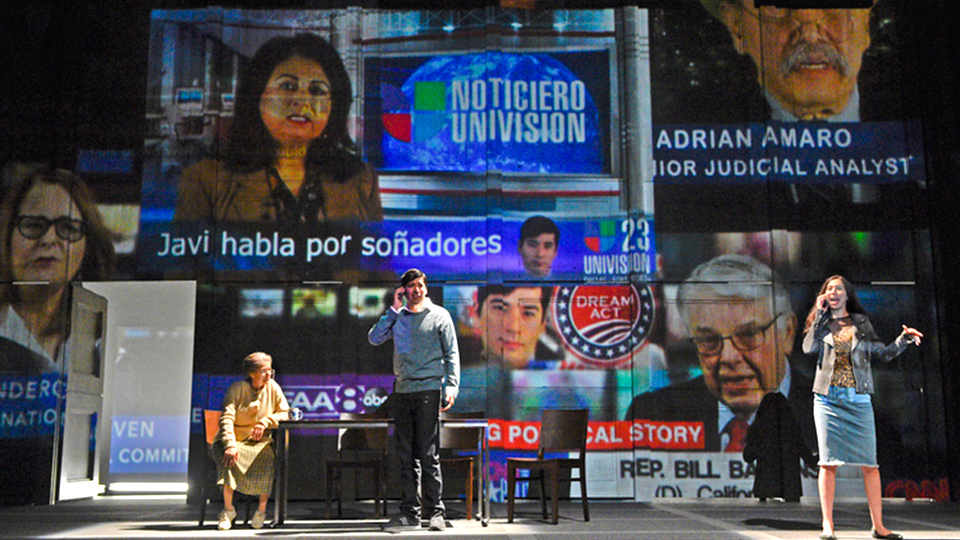 LOS ANGELES—Twice again, the Encuentro de las Américas Latinx theater festival scores a pair of home runs. What a huge job to pull something like this together! It winds down on November 19, so for those in and around L.A. there are still some chances to put a few shows under your belt that you'll likely not see anywhere else anytime soon.
Deferred Action, by David Lozano and Lee Trull (Lozano also directs), comes to L.A. from the Cara Mía Theatre in Dallas, Texas, where it debuted in 2013. Clairvoyantly futuristic for its time, it takes place during primary season for the 2016 presidential election, and is full of the same kinds of mangled twists and turns that wrenched this country during that era.
The play centers around an attractive college-age Dreamer named Javier (Javi) Mejía (Ivan Jasso). He and his friends are caught up in the Never-Neverland of American racism and xenophobia—and Deferred Action for Childhood Arrivals (DACA) that passed under President Barack Obama in 2012 as a stopgap measure to halt deportations of young people who came undocumented into the U.S. along with other family members.
It was the best deal that could be brokered under a Democratic president with a Republican-controlled Congress that had no intention whatsoever of creating a path toward citizenship for undocumented immigrants. Or so we are led to understand. Perhaps there were other approaches that might have been more effective had the issue been pushed in the first two years of Obama's tenure, or fixed by executive order.
Boon as it was, and to an extent still remains despite Trump's fulminations against it, DACA was inadequate from the start: Yes, young people who effectively knew no other country than this one could stay for the time being if they re-registered every two years. But their parents could still be detained, and their communities ripped apart by a wave of incarcerations and deportations that crested under that same President Obama.
"Action should be taken and not deferred," Javi says.
Javi is torn in several directions. He is engaged to marry his girlfriend Lisa (Maya Malan-Gonzalez), aide to a gradualist Democratic U.S. Senator and presidential aspirant, who would be the first Latinx in the office, Nancy Rodriguez (Lisa Suarez). He is pressured by his fellow Dreamer activists who will accept nothing less than full citizenship rights now. His grandmother (Frida Espnosa-Müller) who brought him here just wants him to keep his nose clean and stay quiet.
The right-wing terror machine that is the GOP is personified by Congressman Dale Jenkins (Sonny Franks), who spouts the whole catechism of Republican talking points, including bone-chilling rants against aliens and people of color. (By the way, it's seriously uncanny, but Franks looks and sounds a lot like Roy Moore!) His only saving grace is a sudden conversion to the DACA side, throwing the entire race into high profile owing solely to that one issue.
Javi and the Dreamers are caught between the go-slow liberal Rodriguez (who by the way also favors the pipeline) and the neo-fascist hell-raiser Jenkins with the red tie. In many ways they politically anticipate the faces in the historic 2016 election.
Deferred Action owes its roots, as does so much Latinx theater, to the Teatro Campesino movement of the 1960s and '70s, whose activists in time spun off the celebrated play Zoot Suit. The premises were clear: good guys against the bad guys. Moral ambiguity was not its forte.
But theatre in Spanish goes back many centuries and cannot be pigeonholed as mere agitprop from the fields and streets. Deferred Action owes at least the same amount of debt to the Western stage traditions of the classical era (Lope de Vega, Calderón de la Barca) as well as the Renaissance and later. Perhaps the ethical conflicts that underlie many of Henrik Ibsen's plays were even closer to the playwrights' intentions here. Every principal character in this play falls somewhere on the spectrum of positive motivations and underhanded means, idealism and opportunism.
The 2016 election had its share of contradictions, and it fell to the voters to decide whom they disliked less as much as whom they truly wanted to see in the White House. Single issue voting has its perils: You may cast your ballot based on a single one of the candidate's positions, be it abortion rights, same-gender marriage, support for Israel, immigration, healthcare or whatever. Deferred Action points up the danger of isolating DACA as the key and only issue for, in particular, Latinx voters, who in some electoral districts hold a critical balance of power.
Excruciating though it might be, voters have to think bigger, wider, more strategically and "intersectionally," about how they cast their vote, and accept that no candidate is going to be perfect. In 2016, because of the vagaries of the outmoded and dysfunctional Electoral College, the entire nation, and the world, became the victim of a tragic Faustian bargain.
But the playwrights couldn't have known that in 2013. So, will Javi stick with the compromised Democrat or switch to the messianic Jenkins? The answer to this political thriller is in downtown L.A. for three more performances: Thurs., Nov. 16 at 10 am, Sat., Nov. 18 at 2 pm and 8 pm.
Dementia
Scary and phantasmagorical as Deferred Action is, we encounter true Dementia in this play about Moisés (Sal Lopez)—his friends call him Moe—who is suffering from dementia in his final battle with AIDS. The year is 1990, when an AIDS diagnosis was almost always fatal, and the locale is Los Angeles. Dementia is a production by the Latino Theater Company of Los Angeles. It was directed by the dean of L.A. Latino theater, José Luis Valenzuela.
Surrounding Moe on his deathbed are a clutch of friends and relations—his caregiver niece, the pregnant and seemingly bubble-headed homegirl Tamara (Esperanza America); his old East L.A. bud, closeted hairdresser Martin (Danny de la Paz); his writing partner Eddie (Geoffrey Rivas) and Eddie's wife Alice (Lucy Rodriguez); Moe's ex-wife Raquel (Evelina Fernandez, who is also the playwright); and La Lupe, a torch-singing drag queen (Ralph Cole, Jr.).
These characters grew up together and their lives are intricately intertwined. As such, they are all familiar with intimacies about the others, but not everyone knows about everyone else's skeletons. In the course of two acts of this "going away for good" party studded with La Lupe's sultry interpretations of classic Latin and American tearjerkers (each time in a new gown, but of course!), confessions are made, extramarital affairs admitted, secrets revealed, friendship betrayed, pardon granted, pardon revoked, and everyone will know everything about everyone.
Set against a sad but always fabulous background, Dementia shows its theatrical origins in madcap comedies of the sexes, and in the over-the-top excesses of Mexican telenovela. The theme is the tortured, failing, insatiable desire for love. One of La Lupe's songs is "Nature Boy," Nat King Cole's first solo hit in 1948: "The greatest thing you'll ever learn is just to love and be loved in return."
However corny that may sound, the real subject of the play is deeper than that. Moe is a creature of the theatre: One of the problems many actors have is to be real, and not always "on." How honest can you be when professionally you're addicted to simulacrum? How much of what you imagine and write is drawn from your own friends' stories, and how fair is that? How much truth do we owe one another, or are some truths better taken to the grave? And is your truth necessarily how others see it? They may see it as lies and hypocrisy.
"Are truth and honesty all they're cracked up to be?" Eddie asks.
Tamara the airhead observes to the whole ensemble, "You're really fucked up. You don't get smart, you just get older." So true for too many people.
Dementia is full of life lessons painfully earned by larger-than-life characters.
It bears mentioning that every performer in both of these shows is an Actors' Equity member.
Theatergoers have four more opportunities to experience Dementia: Fri., Nov. 17 at 10 am and 8:30 pm, and Sun., Nov. 19 at 2 pm and 7 pm.
Performances of the whole Encuentro repertory continue at The Los Angeles Theatre Center, 514 S. Spring St., Los Angeles 90013 through Nov. 19. Go to www.thelatc.org to find a schedule.