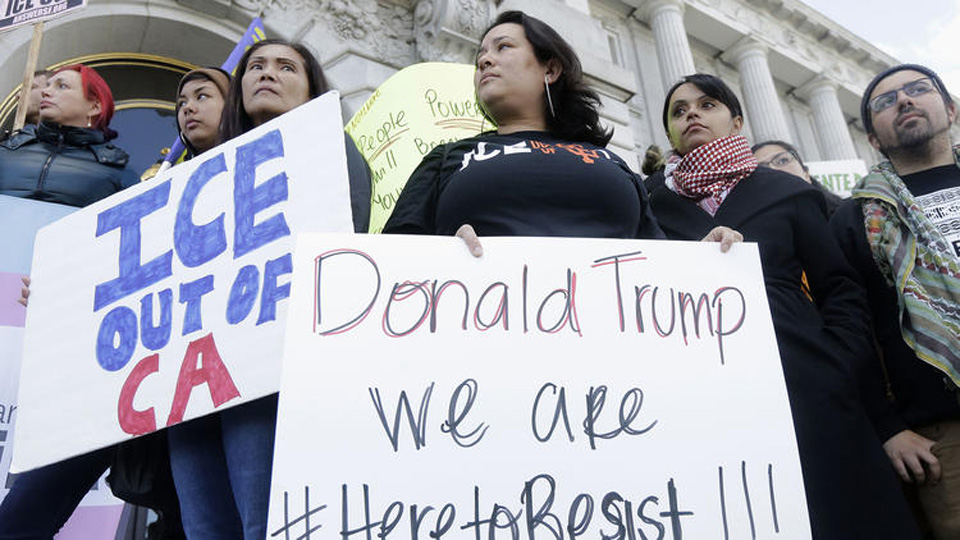 San Francisco is confirming its long-time commitment as a sanctuary city, in defiance of President Trump's ballooning anti-immigrant actions. In addition, lawmakers in other cities including Los Angeles and New York City, as well as the states of California and Maryland, are taking steps to ensure that immigrants can live without fear of being detained or deported.
Suit filed in federal court
On Jan. 31, San Francisco's City Attorney Dennis Herrera filed a suit in federal court charging the administration is violating state's rights by declaring that cities and counties upholding their sanctuary status and refusing to cooperate with federal immigration authorities will lose federal funding.
Herrera was joined at a City Hall news conference by Mayor Ed Lee, San Francisco Supervisor Hillary Ronen, and deputy city attorneys.
Calling the president's executive order "unconstitutional" and "un-American," the city attorney told journalists, "It is necessary to defend the people of this city, this state and this country from the wild overreach of a president whose words and actions have thus far shown little respect for our Constitution or the rule of law."
Saying "the fabric of our communities and billions of dollars are at stake," Herrera charged that Trump fails to understand the Constitution's limits on executive powers.
Mayor Lee told the media that his city is "ready to fight to keep our city safe, and today is a prime example." He added, "Strong cities like San Francisco must continue to push the nation forward and remind America that we are a city that fights for what is right."
The city's lawsuit argues that the president's executive order violates states' rights as set forth in the Constitution's 10th Amendment, and claims that "the Executive Branch may not commandeer state and local officials to enforce federal law."
The 10th Amendment – part of the Bill of Rights – states that the federal government only possesses those powers delegated to it by the Constitution, and all remaining powers are reserved for the states or the people. It was ratified in 1791.
As a sanctuary city, San Francisco bars local law enforcement from cooperating with detention requests by Immigration and Customs Enforcement, and limits when officers can tell ICE about people being released from jail. The suit emphasized, however, that the city continues to honor federal criminal warrants.
San Francisco is one of some 400 sanctuary cities and counties in the U.S., and could lose over $1.2 billion a year in federal funding, much of which goes to programs serving poorer residents. Trump didn't make clear which cities and counties are targeted or what funding is threatened.
On Jan. 30, Mayor Lee joined Police Chief William Scott and Sheriff Vicki Hennessy in sending a letter to the Department of Homeland Security saying San Francisco public safety agencies will not enforce federal immigration law and that the city will not comply with Trump's demands that state and local law enforcement perform as immigration officers.
The three said the city takes this position "in the interest of public safety," because community policing can only be effective when people in the community trust and are willing to cooperate with police. They said San Francisco would "continue to honor valid criminal warrants and court orders as we always have."
"Our law-abiding residents are safer when they can report crimes, get immunizations, and enroll their children in public school," the letter said. "If cities acquiesce to your demands to carry out immigration enforcement, we lose the trust of our communities."
San Francisco was joined by Los Angeles in challenging the administration's orders.
Speaking on CNN Jan. 26, Los Angeles Mayor Eric Garcetti called the federal demands "both unconstitutional and un-American." To back up his argument, Garcetti cited the Supreme Court's ruling that the Obama administration couldn't force states to expand Medicaid against their will.
Also in Los Angeles, U.S. District Judge Andre Birotte Jr. last week "enjoined and restrained" the federal government from enforcing Trump's order suspending immigration from seven mostly Muslim countries. His ruling went beyond the 28 would-be immigrants from Yemen named in the lawsuit, to include banning the government from denying entry to anyone coming from the seven countries and holding a valid visa.
California and Maryland could become first "sanctuary states"
Meanwhile, the CA state legislature was issuing challenges of its own.
State Senate Bill 54, introduced in December by Senate President pro tem Kevin de Leόn, D-Los Angeles, passed its first committee test this week. The measure would bar local and state law enforcement from collecting information about a person's immigration status, and from holding anyone for federal agents without a judicial warrant.
The bill must be okayed by two more committees before reaching the Senate floor. There, its chances for passage are good, because both houses of the state legislature now have Democratic supermajorities. If passed by a two-thirds majority and signed by Democratic Governor Jerry Brown, it would become effective at once, since it has been designated an "urgency" bill.
Lawmakers in the state of Maryland, led by state Sen. Victor Ramirez, have also introduced a similar bill that would ban local law enforcement from arresting or detaining anyone solely on the basis of a request from federal immigration authorities. It would also stop police, schools and prison officials from investigating the immigration status of those in their custody.
As prominent activist Daniel Altschuler and attorney Peter Markowitz wrote in a column in The Nation in December: "While the Trump administration tries to criminalize immigrants and devastate their families, progressives must play strong defense—in particular, by drawing a bright line between local and state government and ICE's efforts to devastate communities."