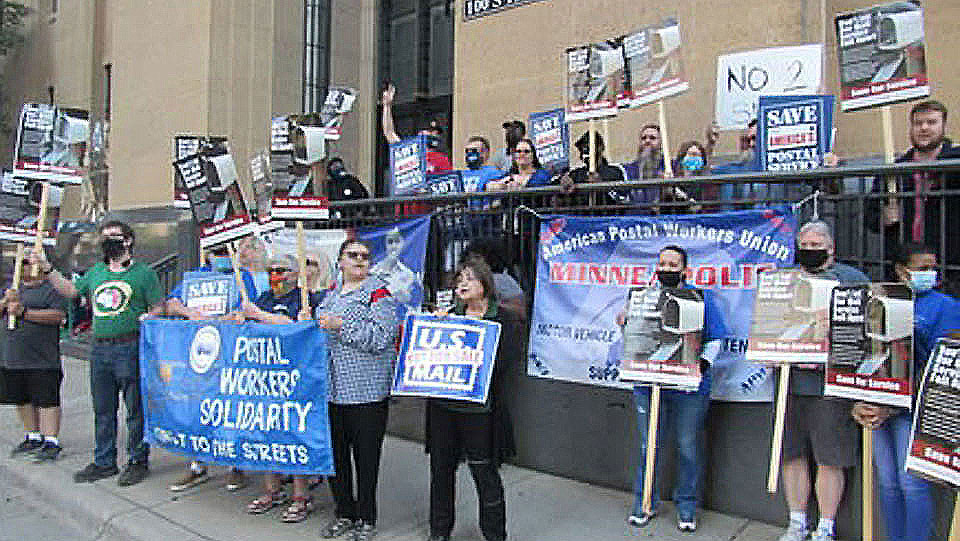 MINNEAPOLIS—A recent visit to Minneapolis by Postmaster General Louis DeJoy and the U.S. Postal Service Board of Governors prompted local postal workers to speak out against new USPS policies which will result in slower mail delivery and harm the public.
"We feel a passion and dedication for the mail," said Peggy Whitney, vice president of the Postal Workers' Minneapolis area local. Whitney spoke to reporters outside the main Post Office in downtown Minneapolis on Oct. 4, joined by about 30 APWU members who marched in a picket line.
At issue: The move by DeJoy, a former corporate executive and GOP big giver, to implement new service delivery standards, which started Oct. 1.
The new standards will result in a slowdown of mail delivery nationwide, but particularly in rural areas. The new service delivery standard for first-class mail, for example, increased from three to five days, an increase of one to two days from the previous standard.
The new delivery standards also will impact packages and periodical mail, including magazines and newspapers.
The slowdown in delivery standards coincided with an increase in postage rates.
Charging more and providing worse service runs contrary to most business practices, Whitney observed—a point members of Congress have made to DeJoy, too. It's fallen on deaf ears, both his and the board's, whose majority has refused to stop DeJoy's delays.
And, Whitney added, "the financial rationale is minuscule compared to the potential damage to customers."
Indeed, according to the Postal Regulatory Commission—an independent federal agency which monitors the USPS–"the Postal Service's estimates of how much it will save as a result of implementing the proposed changes may be inflated" and "the proposed changes would not substantially affect the Postal Service's overall financial condition."
While urban areas with mail processing facilities may not feel the impact of the new standards as much, "rural communities do not have mail processing facilities," Whitney noted.
"We're really worried about the [delivery of] prescription medicines," she said. "So many prescriptions are delivered by mail."
A September 17 statement from the USPS announcing the new standards advised: "For mail or correspondence that requires a deadline, the Postal Service encourages consumers to plan ahead and send their mail early. You likely wouldn't wait to mail your mom a Mother's Day card the day before or on Mother's Day, so mail your letters and greeting cards with the Postal Service early so the Postal Service can ensure it reaches its final destination on time."
The USPS rushed to implement the new service delivery standards–part of DeJoy's sweeping  10-year-plan changing Postal Service operations–without inviting a full review by the Postal Regulatory Commission. As a result, a group of 20 state attorneys general submitted a formal complaint Oct. 7 asking the Postal Regulatory Commission to insist on undertaking a full review of the plan.
Led by New York Attorney General Letitia "Tish" James and Pennsylvania's Josh Shapiro, the group wrote that DeJoy's "plan will transform virtually every aspect of the Postal Service…rework how the Postal Service transports mail and other products, overhaul its processing and logistics network and enact slower service standards for first-class mail and periodicals and first-class packages."
"This plan is being enacted without any meaningful oversight and review, and the Postal Regulatory Commission, states, experts, and the public deserve to have their voices heard," said Shapiro.
DeJoy's slowdown scheme builds on his prior decisions since former GOP Oval Office occupant Donald Trump foisted him on the USPS a year and a half ago. DeJoy ordered his minions to yank ubiquitous blue mailboxes from central cities—especially those with high shares of people of color—closed regional sorting centers, laid off workers, raised rates, and slowed deliveries. USPS then flunked delivery standards, so DeJoy is relaxing them.