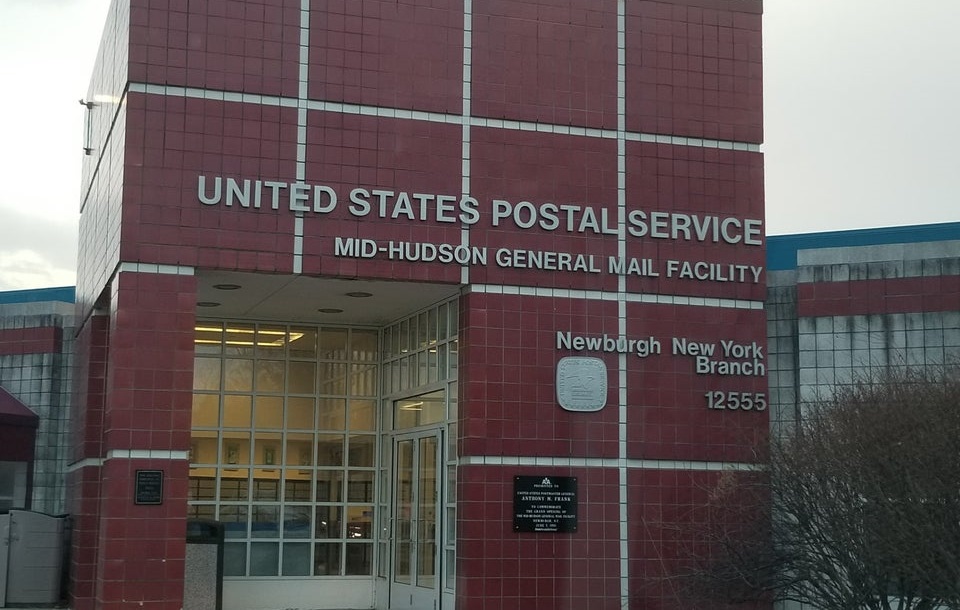 WASHINGTON—The latest steps by Trump-named Postmaster General Louis DeJoy to cut Postal Service costs by cutting service have drawn bipartisan flak from Capitol Hill and prior protests from USPS workers from Medford, Ore., to Newburgh, N.Y.
And from the Postal Rate Commission, too. DeJoy told the regulators last month his cuts are—in so many words—none of their business and to sit down and shut up. The panel, whose usual work is to consider and vote on postal rate hikes, refused. They plan to review his "reorganization."
But then, such behavior is to be expected from DeJoy, a Republican big giver and denizen of the corporate class. Trump Treasury Secretary Steven Mnuchin, a banker known for wrongful foreclosures during the pandemic, forced DeJoy on USPS as part of the price for sidelining right-wing attempts to privatize the U.S. mail. DeJoy's sneered at congressional and other oversight ever since.
The latest saga has its origins in DeJoy's ten-year plan to put the USPS on a sound financial footing. Past parts of the plan include slowing mail deliveries, closing smaller sorting centers in favor of mega-facilities, forcing workers to move or quit, and incessantly raising prices.
And, in one area where DeJoy and the nation's postal unions agreed, both lobbied successfully for the section of a postal reform law which ended the $6 billion yearly pre-payment a prior GOP-run Congress and GOP President George W. Bush imposed on the Postal Service, to prepay future retirees' health care costs.
Under DeJoy's plan, the USPS was to break even this year, on paper, for the first time in at least 15 years. But DeJoy reported a $1.7 billion loss from April-June and forecast a $5.2 billion loss for fiscal 2023, which ends Sept. 30.
His latest cost-cutting move, launched last year in a test run in Georgia, closes "back office" functions in hundreds of post offices and forces Letter Carriers to drive dozens, if not hundreds, of round-trip miles to regional "Sort and Delivery Centers," to pick up the mail they now sort in post office back rooms before heading out to deliver it.
Most individual post offices would stay open, but only to sell stamps and provide similar services. But not all: A post office in the rural Baltimore County, Md., town of Fort Howard, whose residents are mostly elderly and without cars, is scheduled to close by Sept. 30. Their postmaster told them about it. Now, residents walk to the post office—Fort Howard's that small—to get their mail.
There's no Letter Carrier route. They'd have to drive 14 miles roundtrip to Dundalk to get mail. They came out in 96-degree heat to sign a petition to keep the post office open, WMAR TV reported. Their congressman, Rep. Kwesi Mfume, D-Md., sought a meeting with DeJoy about it. No answer yet.
DeJoy's also made it impossible to mail anything other than small first-class letters from the blue mailboxes on street corners. In 2020, he yanked out sorting machines for first-class flat mail. And new blue mailboxes have small letter slits at the top, not the pull-down doors able to take large flat envelopes and small packages.
As typical of a corporate chieftain, which is what DeJoy was in the private sector before becoming Postmaster General, his excuse is to cut costs and his method is to load the burden on workers. DeJoy said the move to the central sorting plants would save money and be more efficient.
Have to navigate distance
But distances to the sorting centers which Letter Carriers would have to navigate before even starting their routes would further slow down the mail. That prospect led to workers' demonstrations in May in Medford, Ore., and elsewhere—and to separate objections from Reps. Paul Ryan, D-N.Y., and Pete Huizenga, R-Mich., whose mostly rural district includes Kalamazoo.
The Medford workers feared their jobs would be moved to Portland, 274 miles away. Kalamazoo residents fear being overwhelmed by mail trucks coming all at once to pick up pre-sorted letters from all over Southwest Michigan, Huizenga wrote DeJoy.
"Consolidating our area's postal operations to a Sort and Delivery Center" there "threatens to disrupt the current standard of delivery experienced by Southwest Michigan residents," Huizenga, who represents Kalamazoo and surrounding rural counties, explained.
"Mail carriers would be required to divert to this single center to pick up the mail before proceeding on their route. The workforce would be stretched thin, having to travel much farther to reach communities they serve.
"Residents, including the many older households, rely on prompt mail delivery for time-sensitive materials like medical bills and financial documents." Besides, masses of vehicles from all over Southwest Michigan converging on one center would cause daily traffic jams, vexing residents.
Huizenga also told DeJoy local citizens and governments have been left in the dark about his plans: No timeline for back-office closures or for opening the sorting center, and no notice to local governments and citizens, much less consultation with them, as last year's postal law mandates.
Ryan, who represents the Hudson Valley, not only wrote DeJoy, but took his protest public on May 17 in Rock Tavern, N.Y., joined by members of the Letter Carriers, the Postal Workers and the Rural Letter Carriers, three of USPS workers' five unions. DeJoy wants to close the back-office operations in favor of a big sorting center in Newburgh, N.Y.
"Hudson Valley families deserve only the best service from their post office, but DeJoy is threatening reduced customer service, increased wait times, and post office closures," Ryan said. "This is completely unacceptable for both postal workers and residents. I will keep fighting alongside my friends in labor to make sure every post office stays open, our postal workers are protected, and there are not any service delays."
"The APWU is extremely concerned about the proposed transfer of the S&DC" to Newburgh, "specifically as it relates to diminished customer services, increased safety issues, and the possibility of selling and relocating post offices," added Postal Workers Local 3722 President Diana Cline.
Specifically, a sorting center at Stewart Airport in the town of Newburgh would force Letter Carriers from counties on both banks of the Hudson River to come there to pick up their pre-sorted mail before delivering it. Those coming from the east bank would have to battle their way across the incessantly jammed Newburgh-Beacon Bridge—in morning rush hour—to get it.
Ryan said his constituents "emphatically oppose this change. Moving mail sorting away from our local post offices would surely lead to downsizing and reassignment which risks the wholesale closure of a branch. That is a disservice to Hudson Valley residents, and it is a disservice to hard-working union members across the region.
"Mail carriers from my district are also particularly concerned about the delays to service, added hours in commute time, and the destabilizing effects this plan will have," Ryan said. It will add to carrier stress and burnout, he warned. He's gotten no answer from DeJoy.
We hope you appreciated this article. At 

People's World

, we believe news and information should be free and accessible to all, but we need your help. Our journalism is free of corporate influence and paywalls because we are totally reader-supported. Only you, our readers and supporters, make this possible. If you enjoy reading 

People's World

 and the stories we bring you, please 

support our work by donating or becoming a monthly sustainer today

. Thank you!