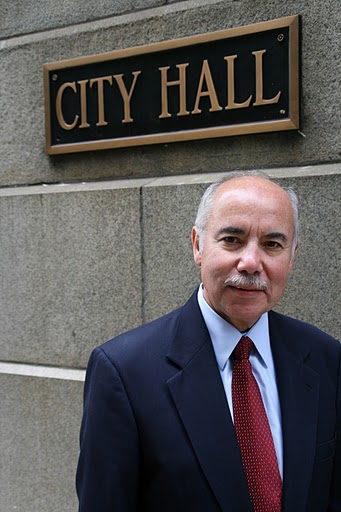 This article was originally published on Chicago Examiner.
CHICAGO — Miguel Del Valle is a modest man. Del Valle grew up in the city's near north and northwest sides working class neighborhoods after moving with his family at the age of four.  He's got a certain salt-of-the-earth charisma that goes with the City of Big Shoulders immigrant upbringing.
Del Valle knows the city, county and state governments inside and out. Currently the city clerk, Del Valle was the first Latino to be elected to the Illinois Senate (he said he immediately joined the Black Caucus) and served for 20 years.
Before that he was a community organizer, education and health advocate at Association House, one of the original settlement houses, which provides services in English and Spanish to Chicago's Humboldt Park and surrounding areas.
After events in Chinatown, Little Village/ Pilsen and a candidates forum at Trinity Church (the Obamas' former church), Del Valle spoke to about 100 people at the LillStreet Art Center on the North Side.
"I'm the only candidate with perfect attendance at every candidate forum," Del Valle told the crowd, after confessing he strove for — and achieved — perfect attendance in elementary school. "I wanted to hear my name called at the assemblies," he said.
Del Valle, also, hasn't missed a City Council meeting since becoming City Clerk. "People asked me why are you going to the meetings, and I said, 'Isn't this part of the job?'"
Hard-working, intelligent and neighborhood-oriented, Del Valle is perhaps the least-known of the city's mayoral candidates. Often having to campaign in the shadows of front runner Rahm Emanuel, corporate lawyer and former Daley Chief of Staff Gery Chico, former Senator Carole Moseley Braun, and even the two self-described, community organizer candidates Patricia Watkins and William "Dock" Walls, the latter having run against Mayor Richard M. Daley previously, may all have better name recognition than Del Valle.
But Del Valle has what others may lack, decades-long service to the city, a working knowledge of city government, experience in getting things done and an ability to bridge divisions — whether it be racial, neighborhood vs. downtown or charter vs. neighborhood schools.
Del Valle says people know Chicago as "The City that Works." He says he wants to make it "The City that Works Together."
He's also known as an honest official who will "promote good government, transparency and democracy" by installing checks and balances, including requiring audits by the city Inspector General of every city department.
After the last televised debate, Del Valle's campaign phones rang off the hook and volunteer canvassers doubled, said North Side Ward Coordinator Katy Hogan.
The campaign is attracting a growing number of the city's progressive and independent voters.  He's been endorsed by Independent Voters of Illinois Independent Precinct Organization, Democracy for America, Illinois Progressive Democrats of America, and pro-choice groups, Personal PAC and Planned Parenthood in Action, along with a number of Latino elected officials. The day he was to meet with Personal PAC at a conference at the Sheraton Hotel, the city's hospitality union, Unite-Here, had a picket line in front of the hotel. Del Valle refused to cross it.
Del Valle has some innovative ideas for a 21st Century Chicago, too. He envisions a school system that will allow dual enrollment for high school students at city colleges to earn college credit while still in high school. His is also a staunch supporter of local neighborhood schools, and making sure they have the resources to be high-performing schools.
He's also been a long-time advocate for funding equity — in the state and within the Chicago Public School system. "There are parents who want to send their kids to selective schools, magnet schools, private schools and charter schools. Neighborhood schools should also be a viable option for them," he said.
With a city deficit of of $655 million, tough times and decisions lay ahead, he says. But plans to be guided by principles of "transparency, fairness, efficiency and balance" in making these decisions. Regarding the main stimulus to economic development, the controversial "TIF funds" (Tax increment financing), Del Valle said too many TIF districts have gone to things other than its original use, community economic development and job-creation.
But many voters may just want to know his stance on parking tickets and meters, recycling and snow removal, which he also is well-versed on with an eye on how it can improve Chicagoans quality of life.
In the end, voters may need to be convinced, not so much on the issues, but that a vote for Del Valle is not a waste. One participant at the beginning of the forum said he felt like his vote is going to be wasted, even though he really likes Del Valle and his stance on the issues, he probably wouldn't vote for him.
After hearing the candidate, that same voter must have felt satisfied. "On Feb. 22, I'm voting for Miguel," he said.
Early voting starts today. To find the most convenient location for you, go to, www.chicagoelections.com
Photo: Miguel Del Valle (delvalleformayor.com)