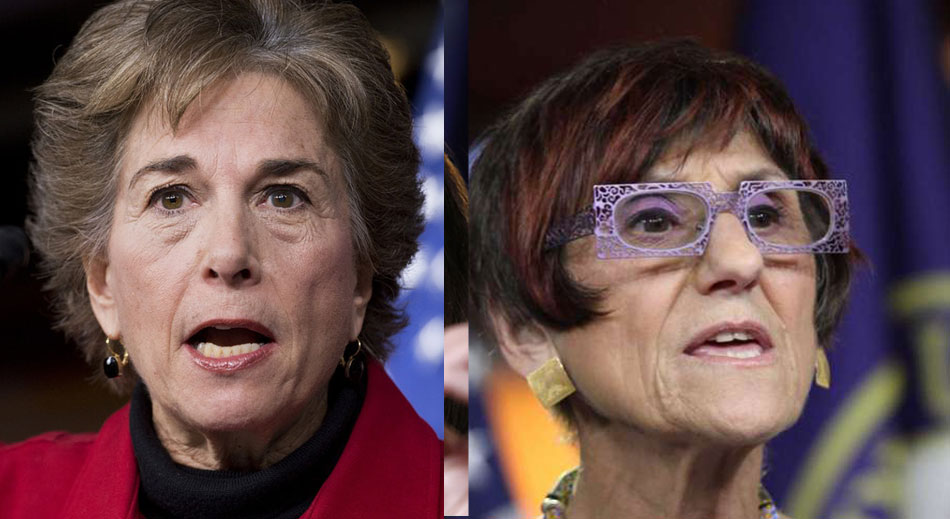 WASHINGTON —Two influential, activist and progressive Democrats, Reps. Rosa DeLauro of Connecticut and Jan Schakowsky of Illinois, have gotten a jump on the agenda of the incoming 116th Congress by introducing a detailed Medicare for America bill.
The difference between the DeLauro-Schakowsky legislation and Medicare for All, pushed for years by Sen. Bernie Sanders, Ind-Vt., and now endorsed by most House Democrats, is that Medicare for America would let people in large firms who want to keep their private health insurance do so if the companies keep their policies. Otherwise, the firms would have to kick in to MFA.
Everyone else, including current Medicare, Medicaid and Children's Health Improvement Program recipients, along with people unable or unwilling to buy the employer-provided coverage, could get the government-run Medicare for America coverage.
By contrast, Medicare for All is a totally government-run system, eliminating the private insurers, their high deductibles, co-pays and denial of care – a denial which a Harvard Medical School study once calculated killed 44,000-80,000 people unnecessarily every year.
Though DeLauro and Schakowsky dropped MFA in the hopper in the closing days of the last Congress – and thus will have to offer it again in the new Democratic-run House after it opens on Jan. 3 – the measure and their statements for it signaled their intention to make it a key cause in 2019. And they have the clout to push it.
While the flood of new lawmakers – at least 110, many of them progressive Democratic women who ran and won on Medicare for All and similar causes – get used to legislating, Democrats DeLauro of New Haven, Conn., and Schakowsky of Evanston, Ill., already are in positions they can use to push the cause.
Schakowsky, a disciple of veteran Chicago-area organizers Saul Alinsky and Heather Booth, is part of the Democratic leadership as a deputy whip. DeLauro is one of the House's most-respected inside "vote counters" and lobbyists among her colleagues, especially against so-called anti-worker "free trade" pacts and for women's and workers' rights.
She also wields the power of the purse, as incoming chair of the House Appropriations subcommittee that helps dole out health, education, Medicare, Medicaid, and labor program funds, among others.
In that context, their legislation, whose complete medical coverage for all – including prescription drugs, dental, vision and hearing services, plus long-term care coverage — can become high-profile.
Americans who are uninsured or do not have employer-sponsored insurance would be automatically enrolled into Medicare for America. If employers don't keep coverage, they'd contribute 8 percent of total payroll to Medicare for America, to cover their workers.
"Healthcare affects the lives of every American, yet our current system fails far too many of them each day," DeLauro said in late December. "From exorbitant premiums and deductibles to skimpy plans that do not cover the essentials, healthcare in America is complex and costly when you need it.
"Even worse, the gains Americans secured through the Affordable Care Act — such as coverage for those with pre-existing conditions and Medicaid expansion — are under attack from President Trump and congressional Republicans," who deny they're dismantling the ACA's health care coverage even as
Trump, administratively, does so.
"This is not the path we should be on."
"An individual's zip code should not determine their benefits, as our current healthcare system is largely a patchwork of what states cover under Medicaid and state mandates for private insurance. That is why we must continue to fight until every American has healthcare coverage they can afford and that meets their needs."
"Now more than ever, we must look into every way to address the problems in our healthcare system," added Schakowsky. "This bill goes a long way to strengthen Medicare and provide excellent healthcare to all Americans. As a member of the Medicare for All Caucus, I believe this bill is an important step to expanding coverage to reducing out-of-pocket healthcare costs and covering important services like long-term care and prescription drugs."
If enacted, Medicare for America would offer single enrollees a $350 deductible and $3,500 maximum out-of-pocket spending. For households, their deductible will be $500 and $5,000. Enrollees would pay an MFA insurance premium of up to 9.69 percent of their monthly income. That's less than people now pay in premiums to private insurers.
But enrollees earning at or below double the federal poverty line would not pay premiums or deductibles or have an out-of-pocket maximum to meet before the government takes over. Enrollees earning between 200 percent and 600 percent of poverty would get federal subsidies to lower their premiums.
The feds would determine premium levels and Medicare users could choose current Medicare premiums or MFA's premiums, whichever is cheaper. The DeLauro-Schakowsky bill would also remove the ACA's current ban on having the federal government negotiate drug prices with drug makers – a key Obama giveback to Big Pharma get the ACA passed in 2010.
If the drug makers refused to bargain, the government could impose prices for their drugs, based on what the Department of Veterans Affairs – which can bargain – now pays, or on average payments from other upper-income nations. All have lower prices than the U.S.
Besides capping prescription drug prices and requiring firms without health care pay their fair share for the new program, Schakowsky and DeLauro would finance Medicare for America by repealing the GOP's $1.5 trillion tax cut for the rich and corporations, "imposing a 5 percent surtax on adjusted gross income — including capital gains — above $500,000, and increasing the Medicare payroll tax and the net investment income tax," a fact sheet says.
"Medicare for America also increases the excise taxes on all tobacco products, beer, wine, liquor, and sugar-sweetened drinks." Those substances, scientific research shows, lead to large current health care costs for cancer, obesity, or both.