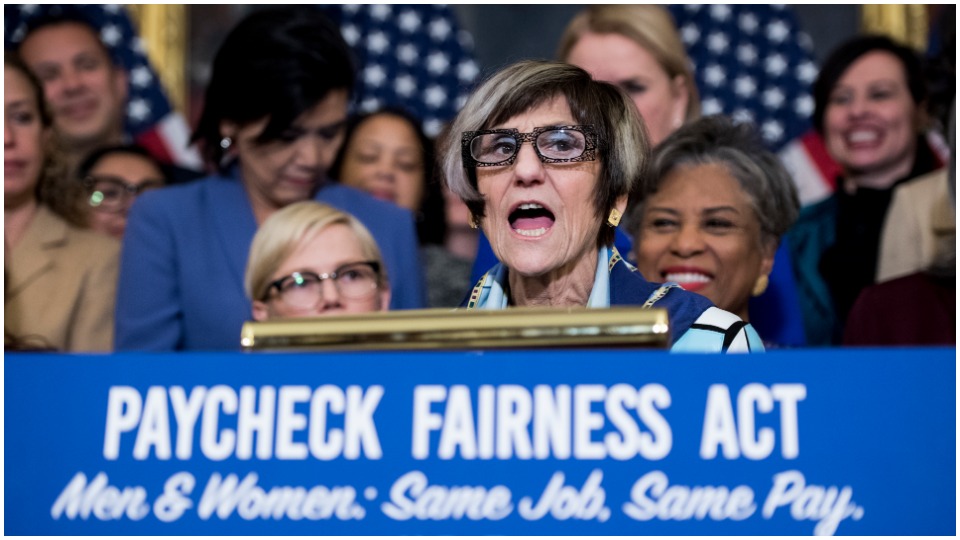 WASHINGTON—March 31 was Equal Pay Day, showing—this time—that woman workers "who are on the frontlines" of the coronavirus battle are still being shorted in pay compared to men, their top congressional advocate said.
And that goes for all other woman workers, too, adds Rep. Rosa DeLauro, D-Conn., who has pushed legislation for more than a dozen years to help right that wrong.
Equal Pay Day symbolizes how far past last year and into the current one it takes for the median working woman's wage to finally equal last years' median wage for a man with similar qualification and experience. This year, it fell on March 31, as the median working woman's wage for all of 2019 was 82 cents for every median man's dollar.
That's a slight increase from prior years, when working women earned medians ranging, depending on who was doing the counting, from 77 cents to 82 cents per man's dollar. The median is where half the group is above it and half below.
"Women earn, on average, 82 cents for every dollar that a man makes," DeLauro said in a podcast. "And that gender pay gap is even bigger for women of color. That is wrong."
"Women's work needs to be valued the same as men's—especially as we deal with the coronavirus pandemic. Two-thirds of low wage workers are women, and their work is essential today and every day. Women are disproportionately on the frontlines as healthcare workers, food service workers, grocery store cashiers, and caregivers. Our country owes them equal pay for equal work."
"The solution is simple: Women and men in the same job deserve the same pay," she declared.
There's a second solution, though DeLauro did not mention it: Unionize.
Though there is still a pay gap between union men and union women, it's not the chasm women as a class face. And union contracts' pay scales don't discriminate on the basis of sex, even if workers' bosses do.
The Bureau of Labor Statistics reported earlier this year the median weekly wage of unionized working men in 2019 was $1,147, while the median wage of unionized women was $1,018, or 88.8%. The non-union figures were: Men $986 weekly, women $792, for a 20% difference in favor of the men.
The Democratic-run U.S. House passed DeLauro's measure to close the pay gap, the Paycheck Fairness Act, more than a year ago. But it's one of more than 400 House-passed measures Senate Majority Leader Mitch McConnell, R-Ky., has pigeonholed. He calls them all "socialism."
The National Women's Law Center said the situation is even worse than DeLauro portrays. It notes women are two-thirds of the workers who earn $12 per hour or less—and many of them are home health care aides, child care workers, and grocery cashiers, all of whom must come to work, regardless of the coronavirus epidemic.
The median pay for a woman child care worker, NWLC said, is $22,000 per year. A male child care worker with the same qualifications and experience earns $5,000 (23%) more.
The woman workers are also more likely to be canned due to closures from the coronavirus pandemic, NWLC noted. Women are 70% of restaurant servers, and their median wage gap with men was $6,000 yearly. "The gender wage gap leaves them with fewer resources to weather the storm," and other woman workers are in the same boat, NWLC added.
"Low-paid workers are disproportionately women of color, and for them, they will need to work several additional months—past today—in order to make what a white, non-Hispanic man earned last year because they face a combined gender and racial wage gap. Black Women's Equal Pay Day will land on August 13 this year, and Latinas will need to work until October 29 to catch up to white, non-Hispanic men's earnings in 2019," NWLC calculated.
Another pro-worker woman's group, the National Committee for Pay Equity, using slightly different figures, calculated Latina Pay Equity Day this year will be Nov. 2. Though NCPE didn't say so, that's the day before Election Day.
"This pandemic has made clear that we have long undervalued the essential work done by women in low-paid jobs—and now these women and their families are feeling the harsh effects of a gender wage gap that shortchanges them at a moment when they can least afford it," said NWLC Vice President Emily Martin.
"These women are getting hit the hardest by this public health crisis—and because of the gender wage gap, too many don't have the nest egg that would make a big difference to them and their families as they're given shorter schedules or suddenly laid off as businesses shut down. This crisis should be a wake-up call for policymakers to ensure that we finally value the work that women do."
TOWN HALL May 2 – Confronting the COVID Economy: Women Fight Back