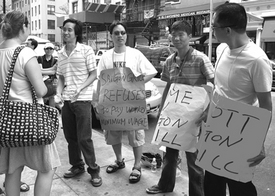 NEW YORK — Lin Xin Wei, a Chinese immigrant who came to the United States from his home province of Fujian, wants to work, support his family and achieve a better living.
Instead, he has spent the past three years employed as a deliveryman, working long hours, receiving poor wages and being subjected to a grueling work environment.
"Anyone who wants to come to America just wants to make their dreams come true," Lin said.
Now, in order to make those dreams come true, Lin and his co-workers have decided to fight for better conditions.
Earlier this year, Lin and 35 other delivery workers for the Saigon Grill in Manhattan were locked out of their workplace for organizing a legal action against their employer. Their grievances are numerous. They assert that the Saigon Grill was paying them $1.60 an hour, $3.25 less than the state-mandated minimum wage for tipped workers. Additionally, workers were not compensated for overtime hours, even though most worked an average of 70 hours per week.
On top of the illegally low wages, Saigon Grill's delivery workers encountered many safety issues like theft and assault in the course of their work. All stolen money and stolen meals were the financial responsibility of the delivery workers; medical care for their injuries on the job was their burden as well.
The delivery workers, most of whom are immigrants, have been picketing in front of the restaurant's two locations here for five months now. Most of the workers have found new jobs, and picket on their days off. They are joined by college students, members of the Asian American community, volunteers from the Chinese Staff and Workers' Association, members of the 318 Restaurant Workers Union and others.
The result? Delivery service has stopped, and some patrons are boycotting the restaurant in protest.
Saigon Grill's management declined to comment, but did provide a flyer from the owner which claims, "The delivery workers tried to extort $2 million from me. I will not give in to this kind of conduct."
Lin and his former colleagues will continue to press their demands for humane — and legal — wages. In the meantime, their activism has helped inspire other New York City restaurant workers to struggle for better wages and conditions.
maryslosson @gmail.com