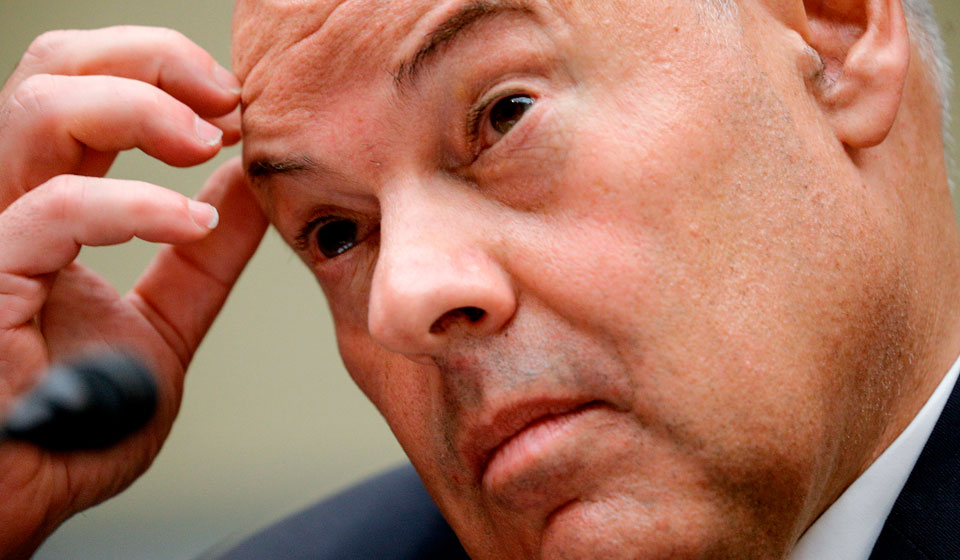 WASHINGTON—Key congressional Democrats, including one who was a 30-year postal worker herself, launched caustic criticisms of Republican Postmaster General Louis DeJoy's 10-year plan to "save" the Postal Service by slowing first-class mail delivery and raising prices, among other schemes.
They weren't the sole critics. An online petition to dump DeJoy, first launched last year with a goal of million signatures, now has 1.603 million names and a new 3-million-person goal. "Contact your representatives to voice your support and show those that wish to dismantle and privatize the USPS that we are against letting one of our prize institutions fail," the petition on change.org reads.
And the progressive group People for the American Way relaunched its own campaign to both fire DeJoy and also to stop the right wing's ultimate goal: privatizing the USPS, firing workers, ripping up union contracts and slashing pay and benefits.
"DeJoy's attempts to further undermine the beloved but struggling agency signals his clear intent of fulfilling a long-held goal of the Right: Weaken the USPS to try to make the case for privatization. We cannot let DeJoy further destabilize the Post Office! Demand the Senate act quickly to confirm" Democratic President Joe Biden's nominees to the postal board "so they can FIRE DeJoy!" PAW urged.
DeJoy, a corporate executive and GOP big-giver whom former GOP Oval Office occupant Donald Trump foisted on the Trump-named postal board almost a year ago, unveiled his 58-page "Delivering for America" plan on March 23.
But DeJoy's design, on top of his destruction in the year he's been on the job—damage designed to particularly stop voting by mail, which Trump hated–upset lawmakers on both sides of Capitol Hill.
"Cuts to service standards for first-class mail, limiting hours at local post offices, and making it more difficult for people to access postal products would adversely impact USPS customers across the nation, including in rural and underserved communities," said Sen. Gary Peters, D-Mich., chair of the Senate Government Operations Committee, which helps write postal legislation. People who rely on USPS for prescription drug deliveries and businesses receiving checks and financial documents will also get hurt.
"While the exact impact is not yet clear, we have already seen the disastrous consequences of harmful operational changes on millions of Americans including for veterans, small business owners, rural residents, underserved communities, and seniors," Peters said.
He pledged to "pass legislation to provide a better future for the Postal Service and restore on-time mail delivery for the millions of people who count on the Postal Service to deliver each and every day."
Peters' House counterpart, Oversight Committee Chair Carolyn Maloney, D-N.Y., slammed DeJoy's "unacceptable decision to make permanent slower mail delivery despite substantial public and congressional opposition, and (his) failure to fully engage with congressional leaders and postal stakeholders" about the plan. DeJoy said in his statement that only postal bosses—whom he imported, though he did not say so—developed it.
Rep. Gerry Connolly, D-Va., whose Oversight panel's Government Operations subcommittee would have the House's first crack at postal legislation, was even more outspoken, blasting both DeJoy's plan and the PMG and his management crew, too.
"DeJoy put forth a draconian plan that guarantees the death spiral of the United States Postal Service," said Connolly. "Customers and Congress are fed up with DeJoy's service cuts and record delays. The only way to right this ship is new leadership, a better vision, and a realistic plan that serves all."
"It's the responsibility of the Postmaster General to meet the challenge of upholding the Postal Service's trusted and timely mail delivery. I'm extremely troubled by any action to lower service standards," said Rep. Brenda Lawrence, D-Mich., a former 30-year Postal Worker.
Lawrence was being kind: In a recent congressional hearing with DeJoy, he snippily sneered she's out of touch with the USPS, though she cited talks about delays and destruction with rank-and-file workers and union leaders in the Detroit area, which she represents.
DeJoy's prior destruction featured yanking out package sorting machines, removing ubiquitous blue mailboxes from pro-Democratic majority-minority central cities and cutting overtime, thus forcing workers to leave undelivered mail on postal garage floors.
The USPS inspector general reported that as a result, Detroit and Baltimore had the worst first-class delivery records in the U.S. and that mail delivery overall showed sharp declines after DeJoy took over.
Postal union leaders took a more measured stance about DeJoy's blueprint, warning the devil is in its details. And the Postal Workers are keeping their #SaveThePostOffice campaign going. The Mail Handlers/Laborers posted DeJoy's plan on its website so the public could read what DeJoy has up his sleeve for the USPS and its 644,000 workers, most of them unionists and/or women and/or people of color.
DeJoy agrees with the unions on one big measure to stem the "red ink" on paper that has plagued the USPS for years: Repeal of the annual $5 billion a GOP-run Congress imposed 15 years ago to force it to prepay future health care costs. Letter Carriers President Fredric Rolando has repeatedly pointed out that without the $5 billion yearly prepayment, the USPS turns a profit most years.
Besides that, DeJoy agrees with the union leaders that new retirees should be integrated into Medicare, another money-saving measure. They also welcomed DeJoy's promise to replace the USPS's decades-old vehicle fleet with electric vehicles, to open 46 new sorting centers to handle its growing—and growingly profitable—package delivery business, and to modernize local post offices. DeJoy estimated the package delivery upgrade would earn USPS a net of $24 billion over the next decade.
But DeJoy also proposed "setting new delivery standards" for first-class mail, still the USPS's prime money-maker despite the coronavirus-caused business depression and prior shifts of business to the Internet. DeJoy's euphemism, to "adjust select delivery standards to dramatically improve service reliability," and to set a 70% standard for first-class delivery "within three days or less," is below current delivery standards.
Rolando, Postal Workers President Mark Dimondstein and Mail Handlers/Laborers President Paul Hogrogian cited positive aspects of DeJoy's scheme but were more cautious about his overall agenda.
"We have obvious concerns with certain operational elements of the plan, but we look forward to engaging the Postal Service in productive discussions regarding any changes to ensure our members' contractual rights and career interests are protected and we achieve timely and reliable service to the American people," Rolando said.
Positive elements, he added,  include "a credible growth strategy" focused on helping businesses reach "rural and under-served communities," and DeJoy's "commitment to maintaining 6 and 7-day delivery, plans to invest $40 billion in new vehicles, improved post offices," technology and infrastructure, "openness to expanding services," and DeJoy's promise to improve morale and cut turnover.
Dimondstein hit the same points. "The plan contains some positive attributes but also includes proposals that should be of concern to postal workers and customers," said the APWU chief.
"On the plus side, this 10-year plan recognizes the United States Postal Service's strength resides in the people who provide the service. It calls for more career opportunities for postal workers and a greater emphasis on recruitment and retention."
But "any proposals that would either slow the mail, reduce access to post offices, or further pursue the failed strategy of plant consolidation will need to be addressed," warned  Dimondstein. "We will continue to advocate for expanded and enhanced services, particularly postal financial services" for the quarter of the nation without bank branches.
"We urge the Postal Service and Congress to move swiftly to address the continuing crisis of poor service performance and to pass much-needed postal reform legislation and financial relief," he added.