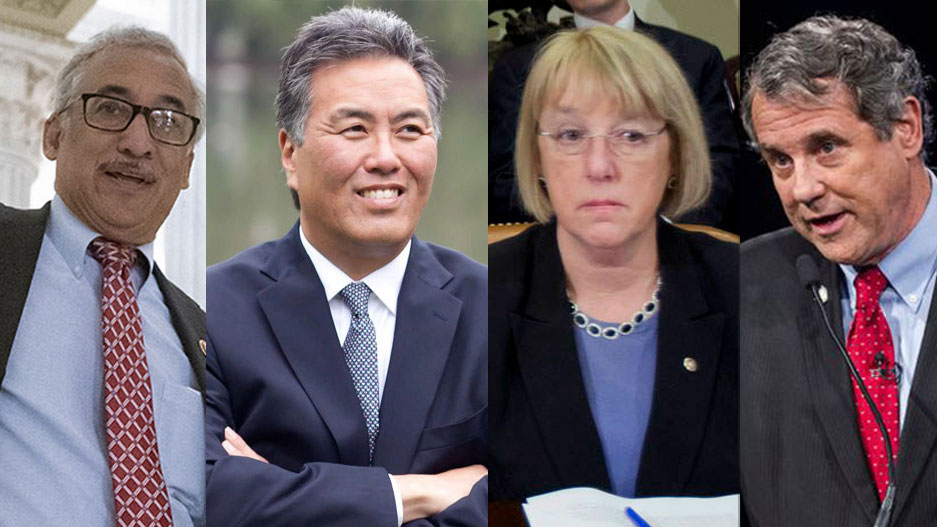 WASHINGTON—Saying they want "to give millions of middle-class workers the overtime protections they deserve," four top congressional Democrats whose committees handle workers' issues introduced legislation to mandate that workers earning less than $51,064 be automatically eligible for overtime pay, starting next year.
Their measure would write into law Obama-era Labor Department overtime pay rules that virtually doubled the top pay limit for mandated overtime, plus an extra boost to cover inflation in the last three years. The limit, now $23,660 per year, last rose in 2005.
"The level for overtime pay is out-of-date and does not support working families who are struggling to make ends meet. Only full-time, salaried workers who currently earn $455 or less per week…are automatically guaranteed overtime pay when working over 40 hours per week," the lawmakers said in their June 11 fact sheet.
"The Restoring Overtime Pay Act will help ensure workers are paid for every hour they spend on the job," added Sens. Patty Murray, D-Wash., and Sherrod Brown, D-Ohio, and Reps. Bobby Scott, D-Va., and Mark Takano, D-Calif.
Scott chairs the House panel that would handle the bill and held a June 12 hearing on it. Murray is the top Democrat on the GOP-run Senate committee that would consider it.
In 2016, Presiden Obama's Labor Department proposed doubling the limit to $47,476. But right-wing states convinced a GOP-named federal judge in rural red-state Texas to throw out Obama's move. The next year, at Trump's orders, his DOL dumped it entirely.
This year, Trump Labor Secretary Alex Acosta proposed raising the limit to $35,308 annually. That would add a million workers to the numbers eligible for overtime pay, Acosta said.
And it would leave millions more out – whom Obama's overtime pay rule would have covered – the lawmakers retorted.
"According to the Economic Policy Institute, the Trump administration's proposal will leave behind more than eight million workers compared to the Obama-era rule. This means over half of the workers who would have gotten new or strengthened overtime protections under the 2016 rule would be left behind by this proposed Trump administration rule," their fact sheet added.
"Restoring overtime protections for workers reflects our commitment to creating an economy that works for everyone," said Scott. "Unfortunately, rather than supporting the strong protections included in the Obama-era overtime rule, the Trump administration issued a new proposal that would leave 8.2 million workers behind, depriving them of a combined $1.6 billion in lost wages in the next year alone. The Restoring Overtime Pay Act would codify the salary level set in the 2016 Obama overtime rule and guarantee that more salaried workers get the overtime pay they deserve."
"People who work 50 or 60 hours a week should be paid the wages they've earned. Period," said Brown. "By failing to stand up for workers and defend the overtime rule, the president is failing to put workers first and is driving down the value of work. Our bill would fix this, and make sure workers are paid for every hour they put in."
"Millions of workers put in more than 40 hours a week and are still unable to makes ends meet and support their families," said Murray. "While the Trump administration continues to put corporations and billionaires ahead of working families, I'm proud to introduce the Restoring Overtime Pay Act to provide a much-needed update to our nation's overtime rules and give millions of families the financial security they need."
Brown, Murray, Sen. Bernie Sanders, Ind-Vt. – the second-ranking Democrat on the Senate Labor Committee – and 20 other Democratic senators also formally wrote DOL during its public comments on Trump's overtime pay plan, asking DOL to substitute the Obama overtime plan instead. They got no response. The comment period closed last month.
While Murray, Brown, Scott and their colleagues moved to write higher overtime pay eligibility for working-class and middle-class families into law, Brown and several colleagues are also trying to raise the incomes of the poor by expanding the child care tax credit and the earned income tax credit.
The Ohioan unveiled that Working Families Tax Relief Act at a speech in D.C. two months ago, then introduced the legislation, joined by Senate Minority Whip Dick Durbin, D-Ill., Sen. Ron Wyden, D-Ore., and every other Senate Democrat and independent – including Sanders and the others who seek next year's Democratic presidential nomination.
Rep. Dan Kildee, D-Mich., introduced the House version of it on June 9. Both big teachers unions, the National Education Association and the American Federation of Teachers, support it, as does AFSCME.
"EITC and CTC are two of the most effective tools we have to put money in the pockets of working people and pull children out of poverty. Expanding them will give millions more Americans a foothold in the middle class," Kildee said.
"Meanwhile, Americans are seeing President Trump's and the congressional Republicans' 2017 tax bill for what it really is – a handout to millionaires and billionaires at the expense of working families. The Working Families Tax Relief Act would cut taxes for workers and families left behind by the president's tax law."
The measure would not only boost the tax credits by 25 percent and make more people eligible for them but would also let workers "draw a $500 advance payment on their EITC so families aren't forced to turn to predatory payday lenders when the car breaks down or other unexpected expenses come up," a fact sheet on that measure says.
"Payday loans are generally made to individuals who are working and often eligible for the EITC. The average payday loan is about $375," it adds. What it did not say: The predatory lenders roll over the loans at triple-digit interest rates.