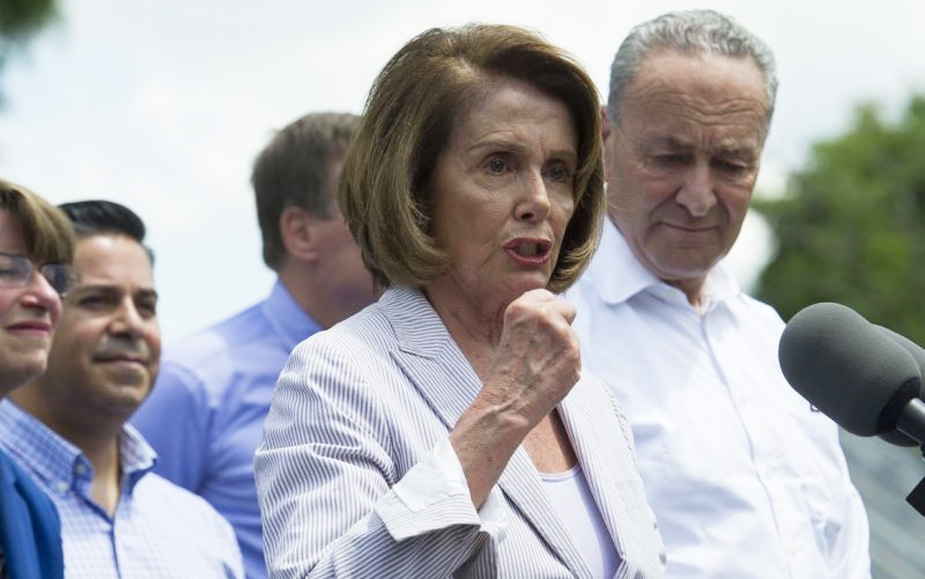 WASHINGTON—Congressional Democratic leaders rolled out a pro-workers' rights agenda on November 1. It would strengthen the right to organize, outlaw so-called state "right to work" laws, open labor law breakers to triple damages for civil rights law-breaking, and strengthen the right to strike by, among other things, banning companies' permanent replacement of strikers.
The agenda is part of the Democrats "Better Deal," which they intend to tout on the campaign trail next year. AFL-CIO President Richard Trumka and Teachers' President Randi Weingarten joined House Minority Leader Nancy Pelosi, D-Calif., and Senate Democratic Leader Charles Schumer, D-N.Y., at the press conference unveiling it.
But while Trumka lauded the agenda, he admitted it's needed because at times the Democrats "lost their connection" to working-class voters. Half of unionists and union families in key industrial swing states – Ohio, Michigan, Wisconsin and Pennsylvania — around the Great Lakes voted last year for GOP presidential nominee Donald Trump. Those votes helped him win the Electoral College majority that put him in the White House despite Hillary Clinton's almost 4 million popular vote victory.
Despite the Trumka endorsement and the leaders' strong backing, the "Better Deal" agenda has no chance in the Republican-run 115th Congress. Its GOP leaders specialize in pigeonholing Democrats' ideas and sidelining House Dems in particular – unless they need them to pass budget bills. That didn't stop Trumka, Pelosi, Schumer or Teachers President Randi Weingarten, who joined them.
Weingarten, who is a member of the Democratic National Committee, introduced a resolution at last month's AFL-CIO convention rejecting "lesser of evil politics," a resolution seen as a warning to Democrats who depart from labor on issues important to workers. Yesterday's meeting is seen as a signal by Democrats that they intend to earn labor's support and as a signal by labor leaders that they will back Democrats who take pro-labor positions. It is also a relief to those worried that the very broad coalition needed to stop the dangers the country confronts in the Trump era will not stick together.
Trumka explained the federation's support for the Democrats' "Better Deal" by saying labor law must change "so there's a level playing field" for workers to succeed in the current economy. "The better deal starts with collective bargaining. It starts with having the freedom to negotiate, and it starts with unrigging the laws to ensure that," added Weingarten.
"I can tell you countless stories about how our current labor law has completely failed working people. How employers see taking away rights from workers as simply a cost of them doing business. And how there is a coordinated, well-funded attack on the freedoms of working people from the state level to the Supreme Court," Trumka explained.
"Changing the rigged rules of our economy by uniting behind the labor proposals in the 'Better Deal' is the right step forward, not only for the labor movement, but for the Democratic Party, for our country and for our economy," he declared.
"To be perfectly honest, Democrats in the past in some ways have lost their connection with working people and our communities who have made up their base for generations. But each time one of these policies pass that bond will become stronger and stronger." But he warned the Democrats to follow through. "Improving the lives of working families has to be the fundamental basis for which Democrats fight," Trumka stated.
"We all worry about the decline of the middle class, and the number one reason for the decline of the middle class is the assault on unions and on labor that's occurred over the last 30 years," Schumer said.
"The union movement is under vicious, relentless attack by big corporate interests."
He added the agenda, if enacted, would help "unwind a rigged system that undermines every worker's ability to negotiate with the employer."
"The more income inequality increases, the harder it is for working families to obtain a quality education, safe housing, sustainable work, and a secure retirement," Pelosi added. "To keep the American dream alive and allow workers to once again share in the economic prosperity of this country, we must build an economy that works for all—not just those at the top. Strengthening the collective voice and negotiating rights of workers is an essential first step."
Besides strengthening the right to organize, the right to strike and increasing labor law penalties, the Democratic plan would also treat violations of workers' rights as violations of civil rights – complete with triple damages for law-breaking.
It also would crack down on misclassification of workers as "independent contractors" unprotected by labor law, make it tougher for firms to evade responsibility for labor law-breaking by enacting the National Labor Relations Board's "joint employer" standard into law and add the right to class action suits to "protected concerted activity" by workers under labor law.
The Democrats' agenda would also give all government workers – federal, state and local – the same rights to organize and bargain collectively over all issues as private-sector unionists now have. And it would speed up NLRB elections by removing employer objections, ban "captive audience" meetings which often feature employer strong-arming and require firms seeking federal contracts "to affirmatively inform" their workers of their rights.