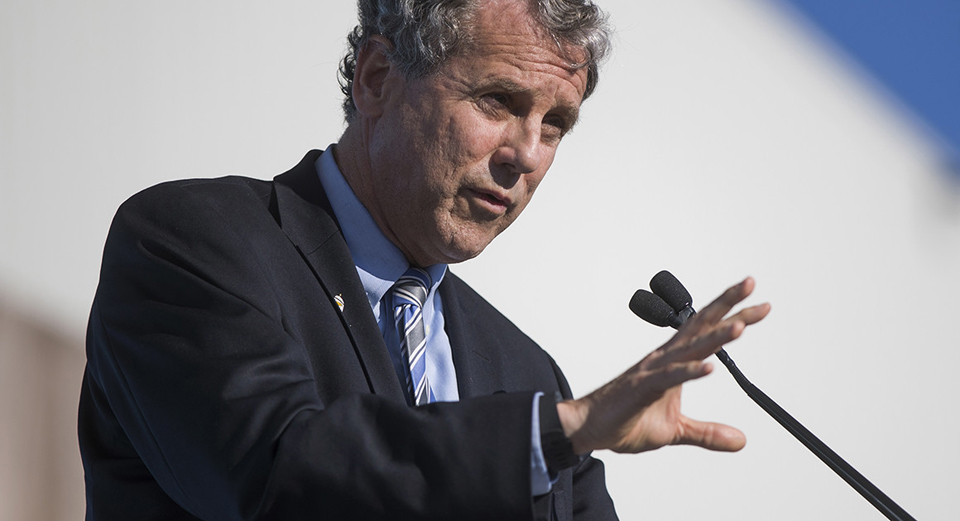 WASHINGTON —Democratic senators, led by Ohio's Sherrod Brown, Minnesota's Tina Smith and lawmakers from the D.C. metro area, are renewing their push to provide back pay to low-wage workers – such as janitors and cafeteria workers – who lost paychecks due to President Trump's 35-day federal shutdown last December and January.
The irony of the case: Their effort, launched in late October, comes as Trump threatens another shutdown which would throw the thousands of workers out in the financial cold again.
The workers, many represented by Service Employees Local 32BJ, do not work directly for the federal government. They work for federal contractors – fast-food chains, janitorial services, security guard firms and the like – whose enterprises are in federal buildings.
Workers, public outrage and Congress forced Trump to end his shutdown, which saw him lock out approximately 400,000 regular federal workers and force another 400,000 to toil five weeks without pay.
Those regular federal workers later were repaid. The tens of thousands of contractor-employed workers who toiled alongside them were not.
That discrimination led Brown, Smith and their allies to the Senate floor in late October to try get back pay for the low-wage workers. The House-passed version of the money bill that funds the federal workforce would repay them.
But anti-worker Senate Majority Leader Mitch McConnell, R-Kent., yanked that repayment plan – which Brown and Smith originally offered as S162 just after the shutdown ended – out of the Senate version of the funding measure. Trump's regime also opposes repaying the workers.
"One SEIU local that represents janitors and security officers said those workers and their families 'will continue to relive the trauma on a daily basis until they're compensated for 35 days.' Thirty-five days of income they went without, already living on the edge," Brown told his colleagues, arguing against the Trump-McConnell ban on pay.
"These workers went without paychecks – and unlike federal employees, many never received any back pay at all," he explained. "It's just another way President Trump has betrayed workers."
"A lot of Americans don't realize that thousands of janitors and cafeteria workers and security guards spent weeks out of work because of President Trump."
"They're employed by private contractors, not the government, and they're paid too little to begin with – often $10 or $12 or $15 an hour. And they have no way of making up those lost hours and lost wages."
"Missing a paycheck may not seem like a lot to the billionaire president and his multi-millionaire Cabinet, with their massive investment portfolios. But for most Americans, missing a paycheck is a big deal."
"The president doesn't understand that working people couldn't just send a letter to creditors, saying 'please excuse me from paying rent or paying my mortgage or paying for my medications.'"
"Americans who work shoulder to shoulder with federal employees still haven't received back pay from the last government shutdown," Smith told her colleagues. "They haven't forgotten about their missed paychecks, and we haven't forgotten about these people who are often invisible — working in cafeterias, cleaning offices after others go home, and keeping our buildings safe — and who deserve their back pay.
"We've filed this amendment" to give them back pay "because we're not giving up the fight to fix this."
But even as Brown, Smith and their allies fight for the back pay for the contract workers, those employees – and regular federal workers as well – may be on the verge of losing paychecks to another Trump shutdown.
In the last shutdown, Trump held workers hostage in a vain attempt to get lawmakers to kowtow to his demand for more than $5 billion for his Mexican Wall, which critics call both racist and ineffective. Congress refused and he wound up yanking money from the Defense Department to start building it.
Now he wants a new installment of cash for his wall, and the Democratic-run House has inserted provisions into several money bills banning any funding for the 2,000-mile project. So he's threatening to shut the government again when current funding for agencies runs out at midnight on Nov. 21.
Lawmakers are considering yet another temporary funding bill to keep the government going for a month or so beyond that date. But neither temporary money bill includes cash to repay the lost wages of the contract workers.