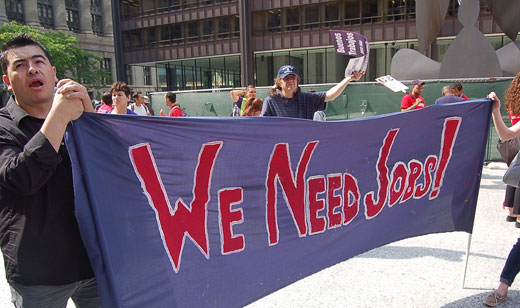 At rallies, meetings, marches, demonstrations and press conferences from one end of the nation to the other demands for massive job creation are challenging the tea party inspired focus on the federal deficit.
Hundreds gathered at Republican House Speaker John Boehner's office this morning protesting skyrocketing unemployment in his district and his failure to do anything about it.
They then marched to a golf course where they joined hundreds of others already gathered to protest at a Boehner fundraiser in Dublin, Ohio. The protests by local jobless workers, labor unions, and social justice groups were viewed on the Internet by tens of thousands.
Boehner's congressional district has over 30,000 unemployed individuals and an official jobless rate of 9.3 percent, higher than the current national average and slightly higher than Ohio's rate of 8.8 percent.
On national television, twice already this week, AFL-CIO President Richard Trumka declared that the nation needs a jobs agenda that amounts to more than just "sound bites" from U.S. leaders. Trumka said he wants to see President Obama apply the same urgency to job creation as he did to the debt ceiling crisis.
The president of the nation's largest labor federation called for government spending to create jobs, establishment of an infrastructure bank and more aid for state and local governments to stem the tide of job loss among government workers.
Trumka announced that unions will hold 450 events nationwide this month, including fundraisers and town halls, to demand that politicians back policies to create jobs and restore the economy. The federation launched an online petition, which it expects more than 800,000 people to sign, urging political leaders to act to create jobs.
On Wednesday in Chicago, Rep. Jan Schakowsky, D-Ill., is officially unveiling a new bill, the Emergency Jobs to restore the American Dream Act, which aims to create over 2 million jobs at a cost of $221 billion.
Much of the funds would come from separate legislation including Schakowsky's own Fairness in Taxation Act, which increases taxes for millionaires and billionaires and eliminates subsidies for Big Oil. The rest of the funds would come from eliminating tax loopholes for corporations that ship American jobs overseas.
The 2 million jobs created would include a School Improvement Corps, a Parks Improvement Corps and a Student Jobs Corps. Also included would be the hiring of additional firefighters and police around the country.
Earlier this week MoveOn.org and Rebuild the Dream announced a campaign to build a popular movement that "could match, if not surpass, the debt reduction crowd in both size and energy."
The campaign, led by Van Jones, President of Rebuild the Dream, Justin Ruben, executive director of MoveOn.org and Schakowsky, rolled out a Contract for the American Dream which is described as "a progressive economic vision contracted by 125,000 Americans to get the economy back on track.
The basic premise of the campaign is that the nation isn't broke, it's merely imbalanced. The campaign says that in order to stabilize the economy, politicians should make substantial investments in the infrastructure, energy, education and the social safety net, tax the rich, end the wars, and create a wider revenue base through job creation.
The failure to create jobs via massive investment in the nation's infrastructure is worrying even some on Wall Street, who note that falling stock prices reflect such concerns.
Kenneth Rapoza, a business economist, wrote in Forbes this week that "in the U.S., the biggest problem is Washington. It is becoming clear that they work for maybe a hundred billionaires and five industry groups and that's about it."
"When the union and progressive movements say something like that, we're accused of fomenting class warfare," Tula Connell wrote on the AFL-CIO's blog yesterday. "When a Wall Street mouthpiece says it, you know the nation is in real trouble."
Photo; June 14 jobs demonstration in Chicago. PW