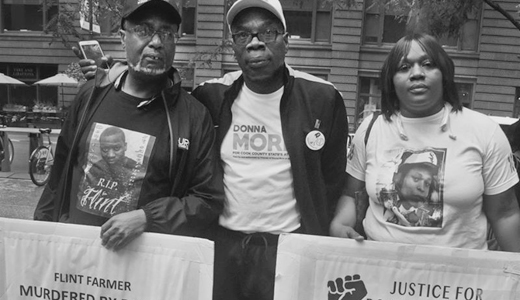 CHICAGO – Protesters rallied at Federal Plaza here, Aug. 29, before marching on City Hall to demand an end to police crimes and for civilian oversight of the police. The marchers carried placards with the names and faces of just some of the most recent victims of police brutality as their family members marched at the front of the column: Gerald Reed, beaten into confession, Rekia Boyd, shot in the back of the head and killed by an off-duty officer, Jaime Hauad, tortured into a false confession and currently serving a 20-year sentence.
Hauad's mother Anabelle Perez said, "My son is wrongfully convicted and I'm here fighting for everyone's rights." Perez says she gets to speak to her son once a month that he says she is doing what he needs her to be doing. "Nobody hears them [inmates], we're their voices, their ears, their eyes and their mouths. My son supports us."
The Chicago Alliance Against Racist and Political Repression is organizing for a "Civilian Police Accountability Council." CPAC would give unprecedented oversight powers to the people of Chicago by creating elected positions for all of Chicago's 50 wards tasked with independent review of police activity and investigatory power into civilian complaints.
Perez says her son faced torture and had been threatened with the removal of his toes if he did not confess to a 1997 double-murder. They went as far as to cut the tips off his shoes with an office-grade paper cutter.
Just behind the families and survivors of police violence in the column of marchers were contingents from various labor organizations, among them were service and public workers, steelworkers and teachers.
Bunnie Johnson, a social worker for Public Aid, carried his union's banner, AFSCME Local 2858, which read, "An injury to one is an injury to all." Johnson linked his union with the Rev. Martin Luther King Jr. and the civil rights movement. It was AFSCME that organized the famous "I Am A Man" campaign and strike of sanitation workers in Memphis, Tenn.
Johnson said MLK gave his life while fighting for those workers. "We're here to let the community know [union members] are a part of the community. What happens to us, happens to them, for both working and nonworking people."
Connie Bennett, a fast food worker representing Fight for $15, believes in justice for people killed in the streets but also said there is a link between low wages and criminality.
"The jobs aren't out here, the wages are so low that a lot of us can't support our families. Men and women are turning to crime to feed their kids and that's wrong," she said.
Commenting on the role of the police unions, Susan Hurley, executive director of Chicago Jobs with Justice, said policing is a "tough job" and "not all are killing people."
"Everyone should – and do have – collective bargaining and a union."
But, she added, "Police can't investigate themselves and it's unfair to ask them." Hurley doesn't see union representation and civilian control as "mutually exclusive" but that in the long run it's in police officers' interest – the overwhelming majority of whom do a good job – to have civilian review authority.
Michael Brunson, Chicago Teachers Union recording secretary, highlighted an ongoing fight for a neighborhood school in Chicago. He introduced Anna Jones, one of 12 parents on hunger strike to stop the closing of Walter H. Dyett High School on the city's Southside.
"This is the 13th day we haven't eaten solid food. We're searching for justice. It's time now for them [to stop] closing our schools and opening these prisons. We want community driven schools, and no more privatization," she said, adding that the following week would be "Hell Week" for Mayor Rahm Emmanuel and asked the crowd to show up in solidarity.
Among the largest organized groups on hand was the Arab American Action Network. They carried banners that read, "From Ferguson to Palestine, Occupation is a Crime." Muhammed Sankari, director of the AAAN, said, "Our community faces a different kind of attack from law enforcement than the black community in this country but we stand in unqualified solidarity with them and we're here in mass today to show that."
The marchers were of all ages, but the average age skewed young. "The next generations" was a favorite subject of many speakers who were inspired by their commitment to the cause of social justice.
One such youth activist was 20-year-old college student Regina Joseph from Tallahassee, Fla. "It's definitely a national problem. From Jacksonville to Tallahassee, From Chicago to New York, black and brown lives are consistently disregarded."
She told People's World that "24 people have been killed by the Tallahassee Police Department and not one officer has been indicted."
Frank Chapman, field organizer for CAARPR, told the crowd at the end of the rally.
"This is only the beginning. This is a march, a protest, a demonstration; this is a knock on the door only to let them know we're here." For more information about the Chicago Alliance Against Racist and Political Repression and its campaign, visit www.stoppolicecrimes.com.
Video by Scott Marshall/PW:
Elect a Civilian Police Accountability Council Now from Scott Marshall on Vimeo.
Teresa Albano contributed to this article.
Photo: Jacob Anukulapo, "Families," Chicago Alliance Against Racist and Political Repression, Facebook.