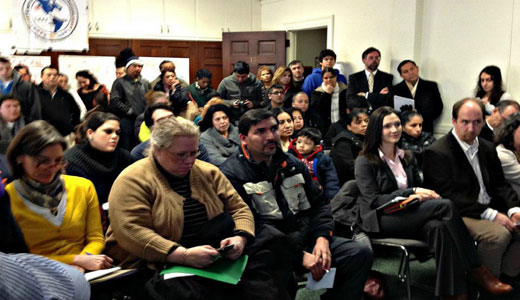 New Haven, Conn. — Inspired by the courage of the immigrant youth DREAMers who have stepped out of the shadows across the country, immigrant rights organizations, labor, faith based, and civil rights groups have embraced the urgency for comprehensive immigration reform with a path to citizenship and worker rights as a top priority if our nation is to move forward.
Organized efforts to protect community members from profiling and discrimination have resulted in the deferred deportation initiative for students by President Obama and some gains at the local level in cities and states including a state-wide version of the DREAM Act in Connecticut and Maryland.
But the content of immigration reform legislation is still unclear, and sharp debates are certain. As Republicans resist, and insist on an escalation of punitive measures, the immigrant community is forging principles for fair and inclusive language to which they will hold elected officials accountable.
During an immigration forum in Bridgeport last month convened by Connecticut Students for a DREAM, the issue of racial profiling and denial of rights was dramatically brought to the attention of Senator Richard Blumenthal when he was asked by Josemaria Islas to intervene and stop his deportation.
Islas told the story of how he had been wrongfully arrested when he was misidentified by a policeman in Hamden during a lunch break from work. After being acquitted in court, expecting to be released, he was suddenly apprehended and detained by ICE under the federal Secure Communities.
"Josemaria has never been in trouble with the law. For eight years, he held a steady job and supported his family. ICE still wants to deport him," said John Jairo Lugo of Unidad Latina en Accion. The case, one of many similar incidents across the country, which have separated families, creating fear and anger, has attracted widespread support.
Blumenthal, along with newly elected Senator Chris Murphy and Rep. Jim Himes, pledged support for comprehensive reform with a path to citizenship during the forum.
"We're closer than ever to getting this done, because of the political power represented in packed rooms like this all across the country," said Murphy. He also warned against half-measures that create "a subclass of semi-documented immigrants."
A letter released by HuffPost indicates that four members of the Senate Judiciary Committee including Blumenthal are preparing to ask their colleagues to support human and civil rights language in any comprehensive reform bill. Patrick Leahy of Vermont, Chris Coons of Delaware and Mazie Hirono of Hawaii also signed the letter.
"Immigration enforcement measures frequently target minority and immigrant communities through impermissible racial profiling that instills fear and distrust of law enforcement and makes communities less safe. Our system is not fair," the letter acknowledges.
Listing priorities it states, "From top to bottom, our immigration system fails to reflect our national priorities, needs and values. The treatment of workers of all skill levels, a pathway to citizenship for law abiding immigrants already here, maintenance and restoration of family unity, asylum policy, and proper allocation of enforcement resources all deserve attention."
The national United for a Dream, has agreed upon 20 principles that should shape immigration reform in order to include not only the Dreamers but parents, family and neighbors. The core principles address timeline, eligibility, family unity, Visa reform, and enforcement.
"We won't stop fighting until we win a road map to citizenship for all 11 million of us," said Carolina Bortoletto," addressing the crowd in Bridgeport and thanking them for their support.
Standing with immigrant activists at a press conference last week, Blumenthal said, "I think this moment is historic. There's a growing consensus that we have an opportunity but also an obligation as as a country to make use of the talents that come to us from our diversity. We want all undocumented workers and people to come out of the shadows and feel that they can have the security to step forward."
Alberto Bernardez of SEIU 32BJ emphasized that comprehensive reform helps the whole economy. "We will get rid of the underground economy that drags everybody down," he declared.
Photo: "The Time is Now!" immigration conference in Bridgeport, Conn., Jan. 26, 2013. Connecticut Students for a Dream