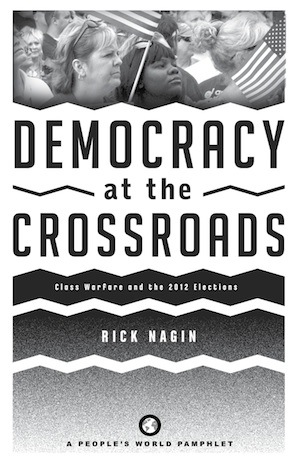 Living standards and democratic rights are seriously endangered unless the fullest mobilization of labor and its progressive allies defeats rightwing extremism in November.
That is the message of a new pamphlet: "Democracy at the Crossroads: Class Warfare and the 2012 Elections" just released by the People's World. It is available in English and Spanish.
The 16-page booklet by Rick Nagin, our veteran Ohio correspondent, exposes the prolonged corporate assault over the past 30 years on the living standards of working people resulting in the most extreme disparity in wealth in our history and precipitating the 2008 economic meltdown. It shows how over this same period right-wing extremism has emerged as the gravest threat not only to economic security, but to American democracy itself.
Embellished with thought-provoking quotes from Abraham Lincoln, Franklin Roosevelt, Woody Guthrie and Van Jones, the pamphlet explains how the coalition of labor and its allies together with all democratic-minded people can succeed and provide the room to struggle for jobs, desperately needed social programs and for securing the rights of minorities, immigrants, women, the LBGT community, seniors and youth.
The pamphlet argues that this is also the only way to build a movement capable of addressing the fundamental problems of the capitalist system.
The pamphlet is available in print and can be ordered in bulk (10 or more) from our business office: 235 W. 23rd St., N.Y., N.Y. 10011. The cost is $.50 each plus shipping and handling. Email contact@peoplesworld.org for more information and type PAMPHLET in the subject line.
The pamphlet is also available as a PDF here. You can download it or share this link with your social media communities. Click here for the Spanish version.
"Democracy at the Crossroads" gives a deeper look at the elections and is useful for voter education and mobilization. We hope you will read it, share it and get it into the hands of everyone concerned about the future of our country.