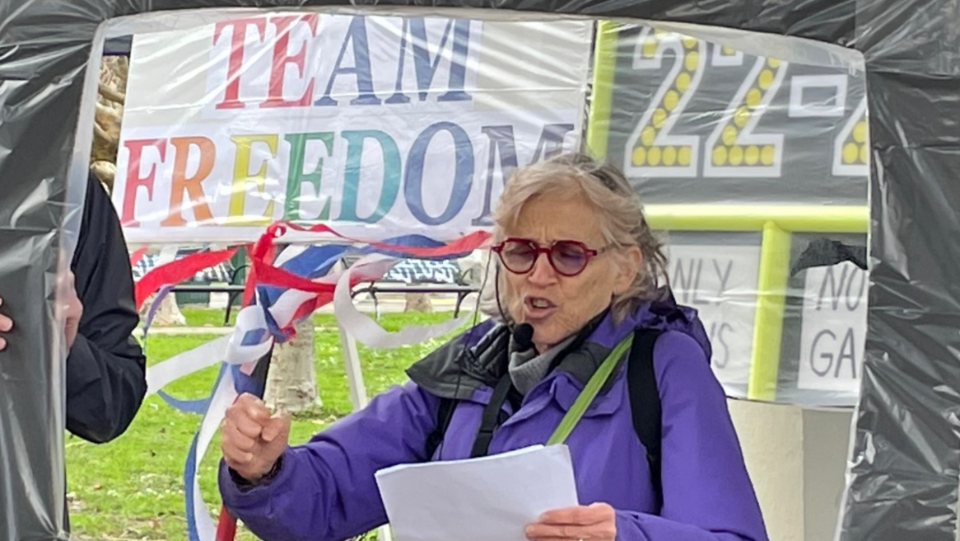 OAKLAND, Calif.—As advocates for democracy were coming together nationwide under the auspices of Indivisible and Public Citizen to commemorate the second anniversary of the Jan. 6 attack on the U.S. Capitol, some 60 demonstrators defied winter winds and threatening rain to gather at Lake Merritt's Pergola here on Jan. 7.
The rally's "Democracy Bowl" theme was a takeoff on the Super Bowl, with Team Freedom ahead of Team Fascism (but barely), and a "half-time show" that urged participants to join Team Freedom and carry the fight forward as 2024 approaches.
Among proposed actions on the Team Freedom Playbook: calling on Special Counsel Jack Smith to immediately prosecute Donald Trump and his cronies; signing a petition calling for secretaries of state to abide by the 14th Amendment and bar Trump from appearing on any future ballot; and getting ready to elect Democrats in 2024, making sure friends in swing states and California swing districts are registered to vote.
Featured speaker was public interest attorney and newly elected Oakland City Councilmember Janani Ramachandran, who previously served on the city's Public Ethics Commission and is a member of the California Commission on Asian and Pacific Islander Affairs.
Ramachandran told the crowd that the fight-back against fascism at the national level needs to start at home.
"Yes, we need to think about the armed men, the white supremacists literally attacking the Capitol," she said, "but we must also keep in mind the 200 individuals last year who lost their lives, and everyone who lost a loved one due to gun violence last year in our homes, our schools, our streets."
At the national level, Ramachandran said, "we need to make sure we have the right to protect our bodily autonomy, to defend the right to choose, the right to love, the right to marry, to have a growing child or not have a child." And at the same time, she said, it is essential to keep in mind the problems in Oakland, with racism, a growing unhoused population, and discrimination against undocumented and gender-nonconforming people.
"The more you participate in local politics, the more you realize the deep-seated racism and homophobia and xenophobia that is alive and present and well. But the more we dig deep, deep down, we can build back. We can build hope. We can uncover the dirt and start to talk. And if we start that right here at home, we can make a difference. In every corner of our country, participation starts right here."
Ramachandran also urged rally attendees to participate in an election for delegates to represent Assembly District 18 in the California Democratic Party, with in-person voting taking place a few blocks away.
As the "half time show" wrapped up with a commercial declaring, "All of this is a time-limited offer—democracy is fragile! Act now! Save democracy today—or extremely soon!" Indivisible East Bay's Nancy Latham told the crowd, "All of you are going to bring your friends in—get everybody registered to vote, keep showing up, keep building coalitions, and we're going to out-organize the other side!"
In a conversation after the rally, Ramachandran emphasized the importance of tackling critical issues facing Oaklanders, including public safety, housing, living-wage jobs, and food security.
"We need to think deeply about equity – how to allocate our previous limited resources in a way that's going to protect everyone's safety. Public safety is a big concern right now, but how do we make sure we're addressing real issues of safety and crime while thinking about racial justice and other concerns in the history of over-criminalization of certain folks over generations."
Among root causes underlying issues of public safety, Ramachandran cited unaffordable and poorly maintained housing, inadequate minimum wages, and food insecurity.
A combination of affordable housing for all, raising the minimum wage, and quality public education "will be key," she said. "And a lot of individuals across Oakland don't have adequate nutrition, don't have healthy choices of foods to eat, and we have to partner with the county, with state government – there's a lot of work we have to do to make sure we get this into the hands of people."
With Ramachandran was Osagie Edebiri, a candidate to be one of the AD 18 delegates. Edebiri said his main priority is "having the party align with its purported beliefs … What a lot of my participation focuses on is to have a more nuanced and local understanding of things that people care about, and inspiring others to participate," and letting them know that different layers of the process exist.