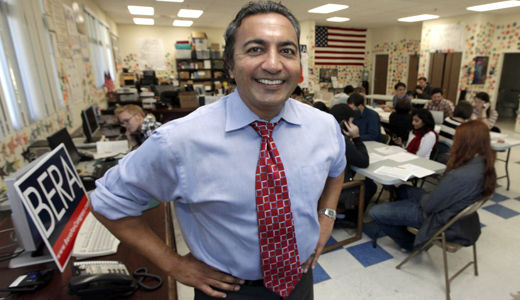 Further showing that California's election results ran counter to the national trend Nov. 4, U.S. Rep. Ami Bera, has emerged the winner in a sharply-contested race against Republican challenger and former U.S. Rep. Doug Ose. The final tally in a northern California district evenly split between Democrats and Republicans was 50.4 percent to 49.6 percent. The contest was the last to be decided among several close California races.
Right after the election, Bera appeared to be trailing Ose by more than 3,000 votes. But on Nov. 19, with nearly all ballots counted, he led by over 1,400.
The contest was the most expensive congressional race in the country. Of $19.6 million in overall spending, nearly $13.5 million came from outside groups.
Among Ose's backers was Karl Rove's far right political action committee. Ose, a commercial real estate developer, reportedly loaned his campaign over $1.5 million.
Bera, a physician, is the only Indian-American in Congress. Two years ago, he beat Republican Rep. Dan Lungren, a signer of Grover Norquist's no-new-taxes pledge who was labeled a climate change denier by the League of Conservation Voters.
In his first term, Bera emphasized working across the aisle with Republicans when possible, sometimes taking positions differing from those of the Democratic Party leadership. At the same time, he wholeheartedly backed the Affordable Care Act, pledging to work for improvements and sharply attacking Ose for promising to repeal it.
California's delegation to the U.S. House of Representatives will now consist of 39 Democrats and 14 Republicans – a gain of one seat for the Democrats. Both senators are Democrats; neither was up for election in 2014.
Photo: Winner Rep. Ami Bera. Rich Pedroncelli/AP