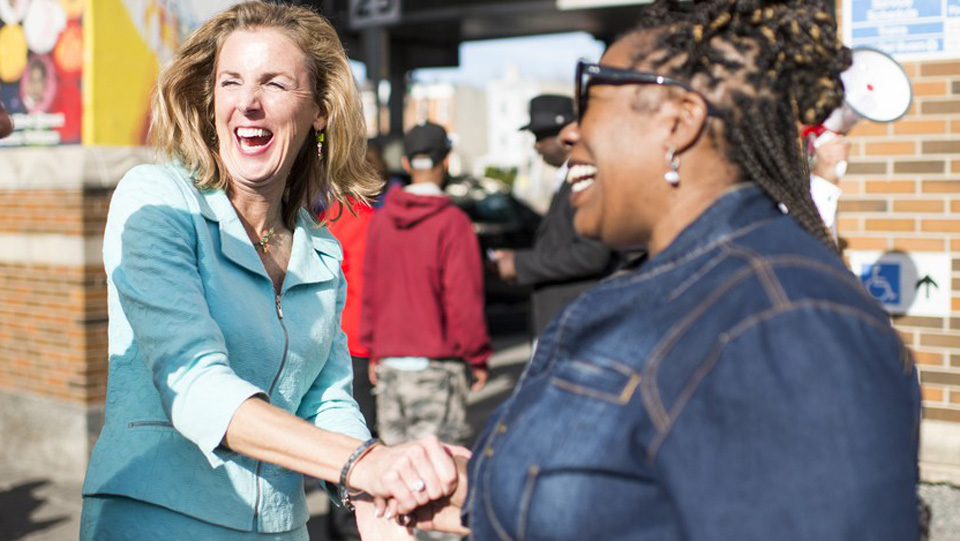 PHILADELPHIA, Pa. – Anyone who supports breaking the Republicans' tight grip on both Houses of our government and the passage of legislation that addresses the environmental crisis can be encouraged by the latest polling regarding the senate race here. Katie McGinty, the Democratic challenger, has pulled slightly ahead of pro-billionaire incumbent Republican Pat Toomey.
When the race began, polls showed McGinty trailing Toomey by as much as 20 percent. Now she is ahead one to four percent, depending upon which poll you read.
As Hillary Clinton pulls ahead of Donald Trump in the presidential race, the question of which party will control the Senate becomes central. If Clinton is elected, there is a good chance progressive programs and legislation could be passed; but not if the Republicans retain control of both Houses.
The Senate race here is being closely watched across the nation because Pennsylvania is a battleground state and because Clinton and Trump are running neck and neck. How voters are leaning in the Senate race can say a lot about how they are going to vote in presidential election.
Pennsylvanians are faced with a clear choice for Senate: McGinty, who has a long history of battling corporations bent on destroying our environment or Pat Toomey, who has a long history of supporting the right wing agenda.
McGinty served as an environmental advisor to Vice President Al Gore and President Bill Clinton. Later, she served as Secretary of the Pennsylvania Department of Environmental Protection in the Cabinet of Governor Ed Rendell. Prior to the nomination of Lisa P. Jackson, she was mentioned as a possible United States Environmental Protection Agency Administrator under President Barack Obama.
On the other hand, the League of Conservation Voters gave Pat Toomey's voting record on the environment a zero.
Also, both the ACLU and the AFL-CIO gave Toomey's voting record nothing more than 13 percent. The American Retirement Association, a group that advocates for policies "that give every working American the ability to have a comfortable retirement," rated Toomey's support for their issues at 20 percent. Furthermore, Toomey received a 17 percent rating from the National Education Association and a 25 percent score from the American Public Health Association.
Toomey's voting record as a senator speaks for itself.
According to OnTheIssues.org, he voted "yes" on making Bush tax cuts for the wealthy permanent, on allowing telephone monopolies to offer internet access, on banning partial-birth abortion except to save a mother's life, on a Constitutional Amendment banning same-sex marriage, on banning gay adoptions in DC, on more prosecution and sentencing for juvenile crime, on decreasing the gun waiting period from three days to one and on reporting undocumented immigrants who receive hospital treatment.
He voted "no" on campaign finance reform banning soft-money contributions and on funding for alternative sentencing instead of more prisons.
McGinty's list of endorsements also speaks for itself.
She has been endorsed by both Hillary Clinton and Bernie Sanders and a slew of U.S. and Pennsylvania elected officials including President Barak Obama, Vice President Joe Biden, Sen. Elizabeth Warren, Gov. Tom Wolf, former governor. and past DNC Chair Ed Rendell, four U.S. Representatives from Pennsylvania and eight Philadelphia City Council members.
In addition to the endorsements that McGinty has received from elected officials, her supporters include such groups as EMILY's List, NARAL Pro-Choice America, the League of Conservation Voters, End Citizens United, the National Committee to Preserve Social Security and Medicare, the National Organization for Women, the National Resources Defense Council, United Ward Leaders of Color, the Liberty City LGBT Democratic Club, Equality Pennsylvania, and Planned Parenthood Pennsylvania PAC.
Aside from some police unions, organized labor overwhelmingly supports McGinty.
To steer some endorsements his way, Toomey has tried to paint himself as a "moderate" on gun control and has made a few half-hearted gestures toward working with Democrats on this issue.
All his efforts failed, guaranteeing he would be free from criticism by the pro-gun lobby.
NRA has awarded Toomey an A rating.
According to the Pittsburg Post-Gazette, McGinty has said Toomey's efforts are disingenuous, that he's not the gun-control moderate he claims to be, and that he hasn't taken political risks by co-writing legislation to expand background checks.
She pointed out, for example, that because Pennsylvania already has the sort of background-check laws that Toomey is advocating for on a federal level, he risks little blowback from gun owners in his state.
McGinty spokesperson Sean Coit recently told the Post-Gazette that "Sending Pat Toomey back to the Senate makes gun-safety legislation less likely, not more likely.
"Most importantly," Coit said, "Pat Toomey would love nothing more than to keep Mitch McConnell as the majority leader, which would almost certainly block any hope of sensible gun safety bills from passing."