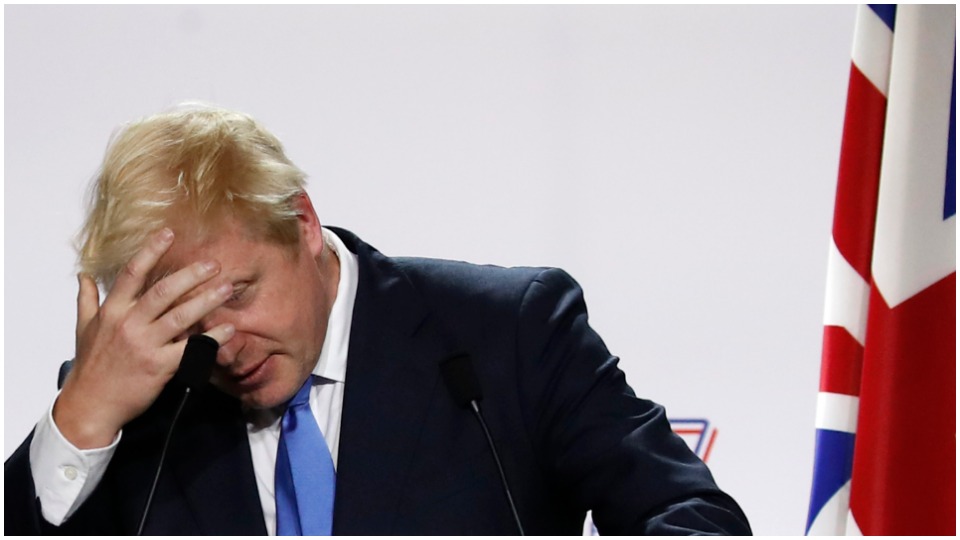 British Prime Minister Boris Johnson schemed and outflanked anti-Brexit lawmakers and political opponents Wednesday by cutting down their time to block a no-deal Brexit before the Oct. 31 withdrawal deadline, winning Queen Elizabeth II's approval to suspend Parliament.
The maneuver effectively shuts down the U.K. government, similar to what occurs when U.S. lawmakers fail to pass funding legislation, often due to a specific political issue fiercely dividing U.S. lawmakers—and like the U.S., usually caused when one side tries to subvert the democratic process.
The deal negotiated by Johnson's predecessor, Theresa May, to withdraw the U.K.'s membership in the European Union has been a point of contention since it was first negotiated in 2018 and voted down three times earlier this year.
Though Johnson previously had refused to rule out such a move, taking May's advice to build unity around a Brexit deal, the timing of his decision came as a surprise.
U.K. lawmakers reacted furiously at this not-so-subtle attempt to undermine democracy. Several leaders from opposition parties, led by the Labour Party's Jeremy Corbyn, had begun negotiations to draft legislation to prevent a no-deal Brexit. Johnson's move blocks their efforts.
"I am appalled at the recklessness of Johnson's government, which talks about sovereignty and yet is seeking to suspend parliament to avoid scrutiny of its plans for a reckless no-deal Brexit," said Corbyn. "This is an outrage and a threat to our democracy.
"That is why Labour has been working across Parliament to hold this reckless government to account, and prevent a disastrous no-deal which parliament has already ruled out. If Johnson has confidence in his plans, he should put them to the people in a general election or public vote."
Corbyn took it a step further by writing to the queen to protest "in the strongest possible terms on behalf of my party and I believe all the other opposition parties are going to join in with this."
As expected, the monarch declined to intervene, upholding her political neutrality as head of state—a neutrality which allowed for the suspension of parliament to occur, "on the advice of her government in political matters," in the first place.
On Tuesday, an agreement had been reached between six opposition parties to pursue legislation to prevent a no-deal Brexit. The meeting was convened by Corbyn and Labour to "find a way for the clear will of parliament against no-deal to express itself."
Initially, the Labour Party pushed for a vote of no-confidence in Johnson, to have Corbyn take over as Prime Minister, and call for a swift general election—but they lacked support from the other parties, and chose the road of compromise.
Communist Party of Britain general secretary Robert Griffiths said most MPs who met with Corbyn had two aims: to stop any kind of Brexit, with or without a deal, and to undermine any prospect of Corbyn becoming prime minister. "That's as true of Labour MPs…as it is of the Liberal Democrats and the Welsh and Scottish nationalists," he said.
The prorogation of Parliament a.k.a. government shutdown
Johnson's singular goal is to achieve Brexit by any means, "do or die," as he said during his first speech as premier. By suspending Parliament for five weeks, Johnson has stripped lawmakers' ability to pass any legislation preventing a no-deal Brexit—giving them only a few days to do so, and only a handful of days before the withdrawal.
So how does it work?
Prorogation is a formal mechanism to end a session of Parliament, which usually happens every autumn. The current session of Parliament, starting in June 2017, is currently the longest in almost 400 years.
The power to suspend Parliament is officially held by the Crown, but in practice, the authority rests with the prime minister.
A prolonged prorogation reduces the influence of Parliament over the way the country is governed. While Parliament is prorogued, MPs and Peers cannot formally debate government policy and legislation, submit parliamentary questions for response by government departments, scrutinize government activity through parliamentary committees, or introduce legislation of their own.
And with a reduced influence for Parliament comes the ability for the prime minister to enforce already passed legislation. In this case, that includes either a renegotiated new Brexit deal or a no-deal withdrawal.
Suspending Parliament to pass Brexit has been brought up twice: Once earlier this year to avoid the "same question" provision when May put up her Brexit deal for a third vote; and second as a way to deliver a no-deal Brexit through a lengthy suspension.
A long prorogation has been defended as a means of "honoring the [Brexit] referendum result" from June 2016. However, critics of such an approach maintain a prime minister using the strategy would do so in defiance of the elected House of Commons, unnecessarily bring the Crown into a political dispute, and undermine the role of Parliament in the U.K.'s constitutional and democratic arrangements.
That's exactly what Johnson has done.
The House of Commons will convene from Sept. 3-10 and then was scheduled to go on a break until Oct. 9. With the five-week suspension granted, Parliament will now end its current session "no earlier than Monday 9th September and no later than Thursday 12th September" and will reopen Monday, Oct. 14 with the Queen's formal speech.
A no-deal withdrawal from the European Union Oct. 31, could possibly, according to the Bank of England, send Britain into its deepest recession in almost a century, and such a sudden end to trade agreements could gridlock British ports, leading to shortages of food and medicine.
The U.K. would immediately leave the EU single market and customs unions—including trade agreements between all EU member states and institutions like the European Court of Justice. Britain would be forced to follow the World Trade Organization's terms on trade, taxes, and tariffs.
The EU, meanwhile, has maintained it will not renegotiate the Brexit deal struck with May.
People's World Managing Editor C.J. Atkins contributed to this report.