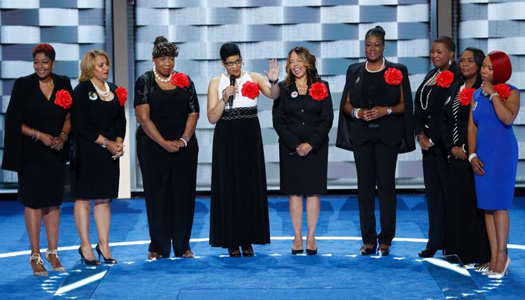 This article is part of a series on the Democratic National Convention.
PHILADELPHIA – Delegates at the Democratic National Convention tonight expressed love and sympathy for nine black women whose children were murder victims, some who died at the hands of police and others who died as the result of racist violence. The delegates also expressed support for law enforcement officers across the nation.
Geneva Reed-Veal, the mother of Sandra Bland who was found dead in a jail cell after being stopped for a minor traffic offence, told the delegates that "one year ago yesterday I lived through the worst nightmare anyone can imagine. I watched as my daughter was lowered into the ground in a coffin.
"I am here with Hillary Clinton," she said "because she knows that when a young black life is cut short, it's a personal loss, but it's also a national loss. It's a loss that diminishes all of us."
Reed-Veal and the other eight women are calling themselves "Mothers of the Movement."
Sybrina Fulton, the mother of Trayvon Martin, who was killed by a racist in Florida, said, "I am an unwilling member of this club of broken-hearted women, but I am here because Hillary Clinton has plans that would stop this club from growing."
She and the other women listed gun control and better training for police as two of the most important elements of a plan to stop the killing of unarmed black men and women.
The delegates got on their feet and chanted over and over again, "Black lives matter … black lives matter." (story continues after video)
Moreover, they cheered when former U.S. Attorney General Eric Holder said "It's not enough to praise police as heroes after they've been killed. We must give them praise when they are still alive. And we must give them the training and equipment they need.
Pittsburg Police Chief Cameron McLay said that giving more support to police is not "inconsistent with police treating with respect community members who they are sworn to protect and serve."
He said that many of society's problems are "laid at the feet of police:" absence of job opportunities, lack of available health care and lack of mental health care.
He said to meet these societal problems "We know a smarter way of policing. We know a better way of policing. We simply have to roll up our sleeves, be willing to adapt the way that we deliver police services and be willing to change."
"The majority of police officers are good people doing a good job," said Lucia McBath, whose son, Jordan Davis, was killed "because he was African American and playing music in his car."
She said that from the day Jordan was born, she worried that he would be killed on the streets. "I told him he would meet people who do not value his life.
"Hillary Clinton, she said, "is not afraid to say "Black lives matter."
"She doesn't build walls around her heart," McBath said, "She not only listened to our problems, but invited us to become part of the solution."
Former Attorney General Holder suggested that finding real solutions will take greater control of communities by people who live in the communities and fundamental criminal justice reform. He pointed out that one out of every three black men are incarcerated at some time during their lives and that men of color receive 20 percent longer sentences for the same crimes as their white counterparts.
Fulton, Trayvon Martin's mother, said that although she does not like being in the spotlight, she wants to use it to shine the light on current tensions between police and communities and on solutions such as those listed by Holder and Police Chief McLay.
In introducing the Mothers of the Movement, Tony Goldwyn, an actor who founded the Innocence Project to aid wrongly jailed people, said "[These women] have turned their pain into power and their outrage into action. They understand that we much reach out to each other because of our diversity."
Goldwyn said that Clinton claims that "we can't hide from the hard truths" and she will help America "name them, own them and then change them."
Photo: Sybrina Fulton, Geneva Reed-Veal, Lucy McBath, Gwen Carr, Cleopatra Pendleton, Maria Hamilton, Lezley McSpadden and Wanda Johnson from Mothers of the Movement speak during the second day of the Democratic National Convention in Philadelphia | J. Scott Applewhite/AP