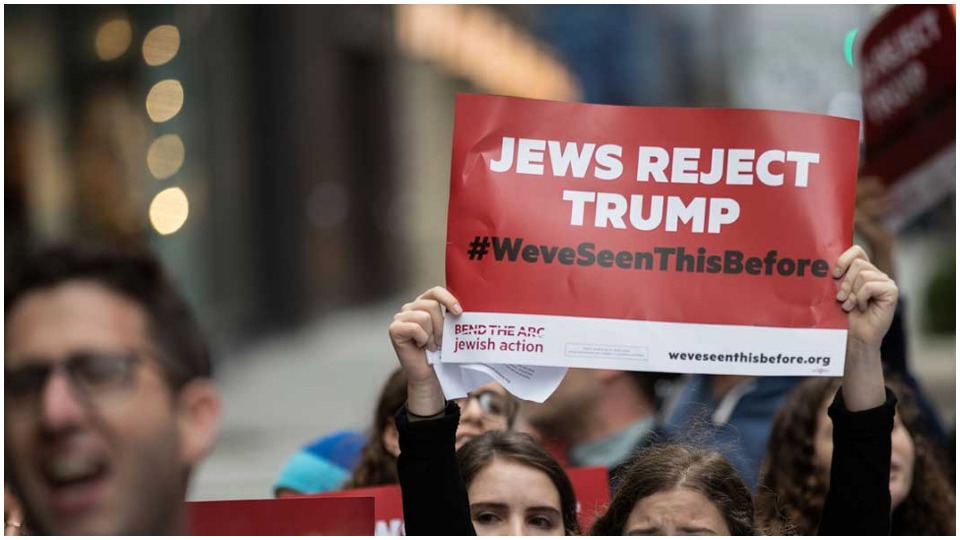 One afternoon breakout session of the Democratic National Convention that took place on the afternoon of August 18, the first full day of the quadrennial nomination ritual, addressed the Jewish American community in support of the Joe Biden-Kamala Harris ticket. A reported 2000 viewers had registered for this live streamed two-hour-plus session.
The Jewish American vote has historically bent heavily toward liberalism and tolerance. In the 20th and 21st centuries that has overwhelmingly meant the Democratic Party. With its long history of oppression, Jews feel most comfortable and safe under governments that encourage equality, secularism in policy, and opportunity for all at the expense of none. Jewish voting patterns place this subset of the population as the next-most progressive after and alongside the African-American vote.
This is not to ignore, at the same time, a certain percentage of the Jewish population, ranging from 20 to 30% at different times, who identify with the classism and white supremacy of the ruling class. The current administration's "Court Jews," for example, include Secretary of the Treasury Steven Mnuchin, and close presidential advisors Stephen Miller and Trump's son-in-law Jared Kushner and daughter Ivanka Trump. Among Trump's personal entourage and donors, he also counts a number of prominent Jews, such as casino magnate Sheldon Adelson and Trump's personal lawyer David Friedman, whom he appointed Ambassador to Israel.
A score of speakers and panelists stressed their immigrant roots—and the tyrannies from which their ancestors fled—as a source for their solidarity with today's immigrant populations in America. Many quoted—one in the original Hebrew—the admonition in the Torah "Do not oppress the stranger," a reiteration of which appears some 36 times in Jewish scripture, more than any single other injunction, more even than that to observe the Sabbath. Religious scholars interpret this as a warning that just in case, one far-off day, Jews should ever come to rule the land, they should not do unto other peoples what had been done to them.
The thrust of the afternoon can be summed up in the mantra, "Let's put a true mentsh in the White House." Most listeners would recognize that Yiddish word meaning "a decent human being." Many of the speakers mentioned Joe Biden's lifelong religious devotion, as a Roman Catholic.
Not explicitly stated, but well known, Biden has also showed his willingness to buck the dogma of his church and support, for example, a woman's right to choose and complete equality under the law for LGBTQ Americans. Controversially (for the Church), there have been periodic stories of his having been denied Communion for such nonconformity. His faith, said Gov. Jared Polis of Colorado, is "not a prop but a calling to serve all."
It may not quite have gone viral yet, but there is a subtle bilingual joke starting to circulate in Jewish circles. A very common expression in more religious communities is "Baruch Hashem," meaning a blessing or "amen," but literally, "Bless the Name [of God]." In short form, on a letter or document, for example, this is abbreviated B"H. Jews, no less than people of other faith and cultural traditions, enjoy their little superstitions: Could it be ordained that B-H is B"H?
In her opening invocation, Rabbi Jacqueline Mates-Muchin of Temple Sinai in Oakland, Calif., talked about the period we are in now on the Jewish calendar, in the lead-up to Rosh Hashonah and Yom Kippur, the so-called "High Holidays." It is a time, she said, of "taking stock of where we are and where we want to go." She called the B-H ticket "catalysts for goodness."
Another motivator for Jewish Americans in this particular election is the fact that if she is elected to the Vice Presidency, Sen. Harris's spouse, Doug Emhoff, would become not only the nation's first "Second Husband," but the first Jewish one, the first Jewish spouse in the White House. Several glass ceilings would be broken on November 3rd, and this would be one more.
Charlottesville still rankles in the Jewish-American consciousness—not just the Nazi demonstration that raised the specter of racism and Jim Crow, but the chant of right-wing demonstrators, "Jews will not replace us." To this scandalous outburst of open bigotry, President Trump's infamous reply was, "There are good people on both sides."
That flagrant invitation for his followers to incite ever more racist and anti-Semitic violence has borne much evil fruit over the last four years. Synagogue shootings and a variety of other anti-Semitic incidents have skyrocketed over past years, after Jewish Americans had started to become reassured that the U.S. had truly become a welcoming haven.
Rep. Jerry Nadler (D., N.Y.-10), called Donald Trump the "biggest threat to the rule of law since the Confederacy. Our lives depend on victory in this election…for a safe and tolerant America that we want to live in."
Rep. Ted Deutsh (D., Fla.-22), whose Congressional district includes Parkland's Marjory Stoneman Douglas H.S., where gun violence on Feb. 14, 2018, took the lives of 17 and injured another 17, contrasted the two presidential candidates in the November race. "Donald Trump cowered to the NRA. Joe Biden will sign background checks."
Rep. Jan Schakowsky (D., Ill.-9) mentioned the men in unidentified uniforms and unmarked cars who invaded Portland, Ore., as a harbinger of what will be coming in a second Trump term: "We have seen what fascism could look like in America." She also remarked on Trump's penchant toward authoritarian leaders abroad and urged the next president to be more proactive in his world outlook in opposing fascism—the second time she mentioned the f-word, obviously something that weighs on her, and on many Americans.
Rep. Andy Levin (D., Mich.-9), a former union organizer and longtime human rights activist, called for an environmentally progressive future with union jobs, healthcare for all, living wages, and retirement with dignity. "This election is about a new direction for our country," comparing it favorably to 1932 when FDR was elected—and unfavorably to 1980 when, with Reagan's ascendancy, "we went in the wrong direction."
Rep. Adam Schiff (D., Calif.-28), who played a prominent role in the impeachment process earlier this year, made a strong condemnation of Donald Trump's growing authoritarianism. He quoted his friend Sen. John McCain, with whom understandably he had his differences, who liked to say, "America is an idea." "That's been lost under Donald Trump," Schiff said. "Our ideals and values are under threat." Whether we're talking about the independent press or the politicization of the Justice Department or the pardon process, "the threat in the United States comes from within."
Tom Perez, chair of the Democratic National Committee and former Secretary of Labor under Pres. Obama, called upon voters to "embrace the union movement." Hosting a four-way panel of prominent Jews, including herself, was Randi Weingarten, head of the 1.7 million-member American Federation of Teachers. That gave additional prominence to the labor movement, especially at a time when teachers have launched militant protests around the country, even in conservative states, demanding better pay and more conducive conditions for educating our children. For many Jews who were the children of European immigrants, the teaching profession in the public school system was a traditional leg up into the white-collar working class.
What about Israel?
Naturally, the session was a rah-rah for Biden-Harris. Biden was cited numerous times as a great longtime friend of Israel. It was noted that Biden, who chaired the Foreign Affairs Committee in the Senate, has personally known every Israeli prime minister since Golda Meir.
In the Democratic Party assessment, Jewish personal and community safety and security at home is one of the two top concerns of Jewish American voters, the other being the security of the State of Israel. Surveys in recent years indicate that Israel as an election-season issue actually rates much farther down than that on most Jewish voters' list of concerns. But in any case, the subject of Israel inevitably would come up.
High in people's consciousness was Trump's statement made just the day before to the effect that Jews didn't appreciate him for moving the capital of Israel to Jerusalem, but that's okay because really he only did it please the Evangelicals. Speakers piled on the president's ignorance and arrogance, reminding viewers that of course, he did not "move the capital" but rather the U.S. Embassy—from Tel Aviv to Jerusalem. This was a sop to the Netanyahu government, quickly imitated by a handful of sycophantic countries fearful of Trump's vengeful rage if they didn't follow along, but largely opposed by the rest of the world.
The Jewish Mayor of Los Angeles Eric Garcetti quoted the old saw about Jewish intellectual independence—"two Jews, three opinions." And surely enough, the discussion speakers did acknowledge some daylight amongst the Jewish American community, and even amongst the Congressional delegation itself. Rep. Levin emphasized that it was not so much a matter of unanimous Jewish "unity" but of "universality."
Jewish Americans have sharp divisions over many aspects of Israel—uncritical U.S. support, the nature of the Zionist state, treatment of the Palestinians, the increasingly racist legalization of discrimination, and even the viability of a "Jewish and democratic" state, which some see as inherently a contradiction in terms.
In response to these widespread defections from the Israel-can-do-no-wrong mindset, Rep. Schakowsky spoke of the 191 Democrats in Congress who signed a letter to Prime Minister Netanyahu opposing annexation of the Occupied Territories. Many of us, she added, are also against Israel's demolition policy. "90% of American Jews," she said, "believe you can be pro-Israel and also critical of the government of Israel."
Gov. Jared Polis also acknowledged differences of views within the Jewish community, including on the issue of moving the embassy.
A Biden-Harris government will have to move cautiously on this highly toxic topic with enormous domestic political ramifications, as Trump too understands, and Barack Obama before him.
One view that, at least on Tuesday, was universal, had to do with the desirability of a two-state solution that envisions an independent Palestinian state alongside Israel. Trump's policies have made this option less and less achievable with his open support for the settler-inspired annexation plan, though this is now scuttled, or at least postponed, in the wake of Israel's establishment of diplomatic relations with the United Arab Emirates.
"Two-states" is seen by some critics as the safe fallback position for establishment Democrats—seemingly evenhanded and fair, but without the pressure on Israel, the dominant power in the region, it would take to actualize it on the ground.
All, however, are in total agreement that, as former Ambassador Wendy Sherman put it, as far as peace in the region is concerned, "The Kushner Plan was dead on arrival." And as Tom Perez expressed it, when it comes to dealing with Israel, Palestine and any Middle East issues, Trump has "abdicated his authority."
Making "good trouble"
The panel that Randi Weingarten moderated featured the individual life histories of Mayor Garcetti, product of Jewish and non-Jewish Mexican parentage; former Ambassador Sherman, now a professor and director of the Center for Public Leadership at the Harvard Kennedy School; and former Ambassador S. Fitzgerald ("Fitz") Haney, an African-American Jew by choice now living in Israel with his wife and three children—he's the one who quoted the full passage about "Do not oppress the stranger." As an indication of the diversified lengths to which the Jewish American community has come, Weingarten observed that both she and Haney are married to rabbis who (she didn't say) are both women.
Sherman told a moving story about where she derived her own set of values. Her family were members of the Baltimore Hebrew Congregation, whose Rabbi Morris Lieberman had been arrested in a non-discrimination housing protest in the 1960s. Her father was a real estate agent who decided, inspired by the rabbi's courage and principles, he could no longer sit on the fence. He opened his listings to all people without discrimination and promptly lost more than 50% of his business. "To be Jewish," Sherman stated, "is to do and to act. It takes courage to do the right thing and be prepared to pay the cost." (Several speakers on the program also saluted the late Congressman John Lewis in that regard.)
Haney spoke of his early exposure to the protest movement. His mother was pregnant with him when she was thrown in jail for protesting the Vietnam War. In the spirit of John Lewis, he also advised, "Go out and make some 'good trouble.'"
Garcetti spoke of his immigrant forebears—mother from Eastern European Jewish heritage, father from Mexican background—and the different yet similar reasons they came to the United States to adopt American values. "The White House is value-free right now."
As a sharp contrast to any such panel on the GOP side, it was noticeable how much of an LGBTQ presence there was in this community meeting. Matt Nosanchuk, the host for the afternoon, is the DNC's new Senior Advisor and Political Organizer for Jewish Outreach and LGBTQ Engagement. Polis is the openly gay governor of Colorado, Randi Weingarten is openly lesbian, and Andy Levin, speaking from his home office, had a prominent multi-racial LGBTQ flag on his wall.
Speakers frequently alluded to the wave of righteous protests across the country, especially on the part of young people, encouraging their militancy and principles. Now, as panelists Garcetti and Sherman underscored, was the time "to move from protest to policy."