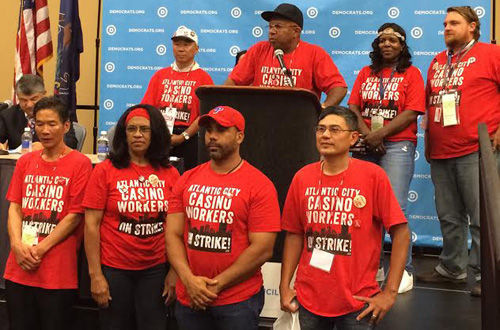 This article is part of a series on the Democratic National Convention.
PHILADELPHIA – "We must see ourselves and our unions as the labor component of a much bigger progressive coalition," Rep. Keith Ellison, D. – Minn., told trade unionists at the launching of the Labor Council of the Democratic Party, held here just a few hours before the opening of the Party's national convention.
The audience responded with thunderous applause, and speaker after speaker agreed.
The Council was recently established to ensure that organized labor has an effective role in establishing the programs and policies of the party. Formerly, trade unionists who were Democratic Party activists met in a caucus.
The launch took place just a few hours before the opening of the Democratic Party's national convention, which will run from today to Thursday.
Maria Elena Durazo, vice president for civil rights of UNITE/HERE, opened the meeting by reiterating organized labor's commitment to elect Hillary Clinton. "We're going to elect Hillary Clinton, someone who represents working people," she said.
She and AFL-CIO President Richard Trumka introduced workers on strike in Atlantic City, N.J., against Trump's Taj Mahal casino.
Striker Chuck Baker, a cook at the casino, explained, "Donald Trump drove the Taj Mahal into bankruptcy, walked away with hundreds of millions of dollars, and put the building into the hands of Carl Icahn," a financier that specializes in buying and selling companies.
"Because Trump drove the company into the ground," Baker said, "we lost our health care and just about everything else."
To stop Trump from destroying the nation like he destroyed his own company, the labor movement must work with others, Trumka said.
He said organized labor has adopted as its own the agendas of those fighting for the rights of many groups of people, including women, African Americans, Latinos, members of the LGBTQ community, immigrants.
Stuart Applebaum, executive vice president of the United Food and Commercial Workers International Union, echoed Trumka's remarks, saying that working with others, trade unionists can build a "bigger, stronger labor movement."
Rep. Ellison said that "civil rights, voting rights and workers' rights are one and the same." He pointed to North Carolina where, urged on by right wing governor Pat McCrory, the legislature passed a law that aimed to both take rights away from members of the LGBTQ community and prevent cities from passing laws raising the minimum wage.
The right wing took over the state of North Carolina, he said, by passing laws to suppress the rights of minorities and poor people, from voting.
Since 2008, Ellison said, right wingers have captured 910 seats in state legislatures and 18 governorships. In every case, the first target of these state governments have been the labor movement.
Passing a new voters' rights bill will result in protecting and growing the labor movement, Ellison said.
"I was an active supporter of Bernie Sanders," he concluded. "But I am now working hard for Hillary Clinton" because with her presidency it will be possible to reinstate voters rights across the country and prevent further erosion of workers' rights.
Photo: Larry Rubin/PW