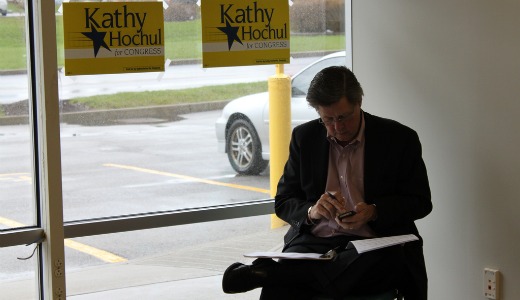 Not even a year after they swept elections across the country and wrested control of the House of Representatives from the Democrats, Republicans seem to have hit a speed bump – which they fear, and Democrats hope, could be a sign of things to come in 2012 – in western New York.
Underdog Democrat Kathy Hochul was handed a stunning victory yesterday, when 47 percent of voters in New York's 26th Congressional District backed her for the House seat vacated by Republican Rep. Chris Lee after a sex scandal. She beat out Republican Jane Corwin, who took 43 percent of the vote, as well as tea party candidate Jack Davis, who took 9 percent.
"The voters … gave voice tonight to the growing national consensus that Republican leadership has failed," Jay Jacobs, chair of the New York State Democratic Party, said yesterday after the votes were counted. "Kathy Hochul's come-from-behind victory is a testament to her hard work, perseverance and commitment to the values and principles that have defined Western New York."
Corwin was expected to win, but the Republican plans to radically change Medicare became a big issue, and the race tightened. Big name GOP stars came to campaign for Corwin, including Speaker of the House John Boehner.
Voters, Working Families Party Executive Director Dan Cantor said in an email to supporters, "were not willing to buy the Ryan-Boehner-Pawlenty-Romney-Whoever view that we don't actually have any obligations to one another, that we are just islands unto ourselves. Medicare is a promise, from one generation to the next, that all Americans deserve to be treated with dignity."
In New York's fusion voting system, candidates can run on the line of more than one party. The Working Families Party gave their line to Hochul, while Corwin ran on the lines of both the Republican and Conservative Parties.
The Republican candidate spent millions of dollars on her campaign. Corwin spent more than $2 million of her own money, and other Republican groups contributed as well. Karl Rove directed about $1 million to her campaign.
On the Democratic side, the Working Families Party put its powerful electoral machinery into gear for Hochul, as did MoveOn and a host of labor unions.
The Republican tried to run from her party's positions on Medicare. The non-partisan factcheck.org criticized Corwin, accusing her of running ads falsely suggesting that Hochul favored cuts to Medicare and Social Security. In response, Buffalo's NBC affiliate, WGRZ television, said, "Corwin, at this point, is criticizing something that she supports."
In addition, groups friendly to Corwin, including the Chamber of Commerce, ran what Democrats deemed "smear ads" against Hochul. One commercial by the Chamber particularly offended The Tonawanda News.
"The advertisement [the Chamber of Commerce] produced is a blatant attempt to legitimize [Corwin's] flagging campaign by implying that her policy positions are endorsed by this newspaper, when in reality they are not," read an editorial in the News.
The district, located between Buffalo and Rochester, is composed of suburbs, small cities and rural areas. Republicans far outnumber registered Democrats, and, except for a 10-year-break starting in 1993, the area has been represented by Republicans since 1953. Further, the district was remapped in 2002, skewing the demographics further right. Hochul's victory is the first for a Democrat since the redistricting.
Yesterday's election, said DNC Chair Debbie Wasserman-Schultz in a statement, "has far-reaching consequences beyond New York. It demonstrates that Republicans and independent voters, along with Democrats, will reject extreme policies like ending Medicare that even Newt Gingrich called radical."
Photo, via Hochul's website, shows a volunteer working on her campaign.