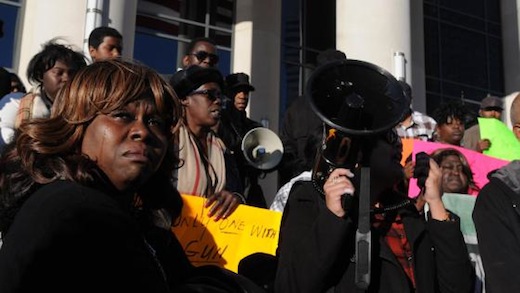 JACKSONVILLE, Fla. – After four days of deliberation, the jury handed down guilty verdicts Saturday evening for Michael Dunn, a 47-yr-old software engineer, convicted on three counts of attempted murder in the second degree and a one count of open fire into a vehicle. However, the main count, that of first-degree murder of Jordan Davis, an African American teenager shot to death by Dunn, was declared a mistrial. State Attorney Angela Corey, who had unsuccessfully prosecuted George Zimmerman for killing unarmed teenager Trayvon Martin, who, like Davis, was African American, said she intends to re-try Dunn on the first-degree murder charge.
"We intend to fully push for a new trial … Justice for Jordan Davis is as important as it is for any victim," Corey said.
In November 2012, while at a gas station here, Dunn demanded that Davis and his three friends turn down their music that he deemed too loud. They complied but then turned it back up again. Enraged, Dunn grabbed his gun from his car and shot into the car ten times, killing Davis. Dunn then drove away with his fiancée to a bed and breakfast in St. Augustine, 40 miles away. Dunn never called police.
After the announcement of the verdict, the emerging public opinion outside of the courtroom became the real story. A coalition of activists, including members of The Jacksonville Progressive Coalition, Florida New Majority, The Dream Defenders, The New Jim Crow Movement, organized a press conference and march to challenge the mainstream media's narrative around the trial, which CNN dubbed "The loud music trial." Speakers exposed the inherent racism involved in the crime and tied it to similar cases of criminalization of young black men by white vigilantes (and police), and some demanded Corey's resignation. Corey not only flubbed getting Zimmerman convicted for the killing of Martin, she prosecuted Marissa Alexander, a Black woman, for firing a warning shot at her husband in self defense, during a domestic abuse incident.
A week of action is taking place here all this week demanding Dunn be retried. Yesterday people wore black ribbons in remembrance of Jordan Davis.
Photo: Tears stream down a protestor's cheek as she finds out the jury was deadlocked on the first-degree murder charge for Michael Dunn, Feb. 15, in Jacksonville, Fla. (AP /The Florida Times-Union/Kelly Jordan).