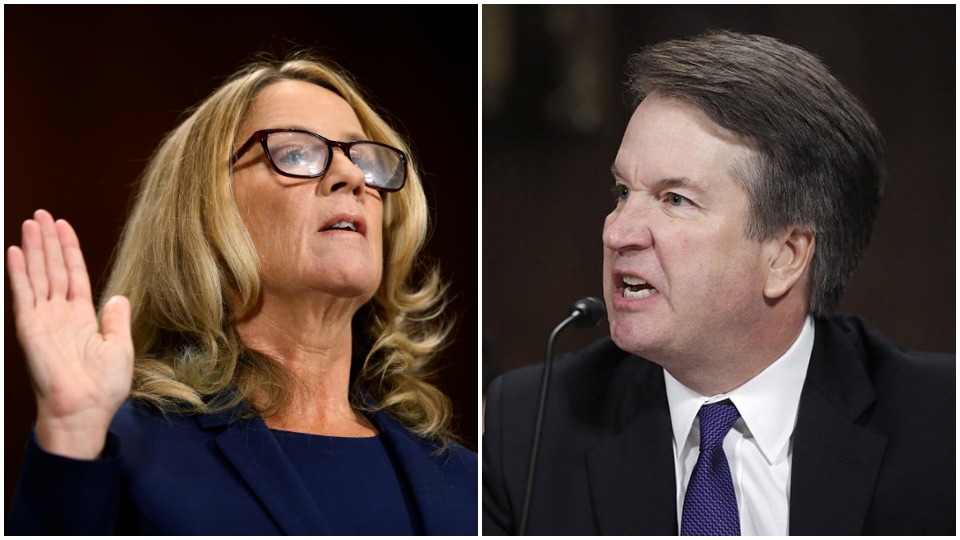 WASHINGTON—With the Senate Judiciary Committee rushing to approve President Donald Trump's nomination of federal appellate judge Brett Kavanaugh to the U.S. Supreme Court, progressive foes of the right-winger marched against Kavanaugh at nine senators' local offices across the country on Sept. 28.
But while Dr. Christine Blasey Ford testified clearly and calmly, though under stress, about Kavanaugh's assault on her in 1982, Kavanaugh exploded in anger repeatedly during his testimony. His behavior actually introduced an entirely new issue into the controversy over his confirmation—the issue of his obviously inappropriate judicial demeanor.
In addition, the Senate never even considered the extensive and credible allegations against Kavanaugh made by two other women, Deborah Ramirez and Julie Swetnick.
Ramirez witnessed sexual abuse of women by Kavanaugh at Yale while Swetnick observed Kavanaugh and his friends engaging in gang rape.
Incredibly, Kavanaugh excoriated the Senate's confirmation process itself, Democrats, "the left," and people seeking "revenge for the Clintons," in particular. He wove a conspiratorial scenario so broad that many groups coming before a Supreme Court on which he sits would have solid grounds for demanding his recusal. The issue of his extreme partisanship is an immediate one, however, for his current seat on the Federal Appeals Court which is even more likely to hear cases from groups he condemned yesterday.
Neither the credible testimony by Dr. Ford, the obfuscation and lies exhibited by Kavanaugh, the demonstrations all over the country this weekend, nor a new American Bar Association call to delay a decision until there's an FBI investigation of Kavanaugh's sexual assaults, deterred the panel's majority Republicans rush Friday towards a vote to send Kavanaugh's name to the full Senate.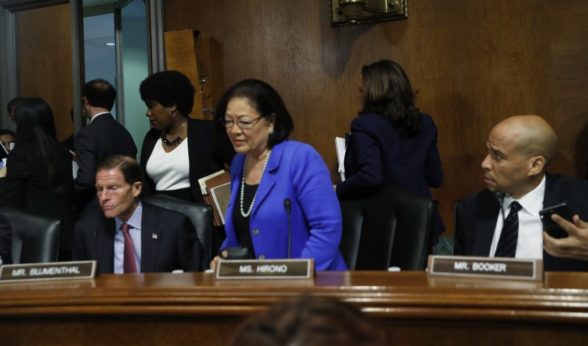 Inside the committee room Friday morning, the Democratic members of the Judiciary Committee walked out in protest at Chairman Chuck Grassley's rush job. Outside, activists were already on the move as well. Groups in the demonstrations that broke out Friday include the American Federation of Teachers, the National Domestic Workers Alliance, People for the American Way, NARAL Pro-Choice America, and Planned Parenthood.
The demonstrations occurred at the local offices of GOP Sens. Jeff Flake (Ariz.), despite his early Friday morning caving and announcement that he would vote for Kavanaugh, Lisa Murkowski (Alaska), Cory Gardner (Colo.), Dean Heller (Nev.), Susan Collins (Maine), Pat Toomey (Pa.), and Democrats Joe Manchin (W. Va.), Joe Donnelly (Ind.), and Heidi Heitkamp (N.D.).
Collins and Murkowski are pro-choice and undecided about Kavanaugh, who is not. Manchin, Donnelly, and Heitkamp are Democrats seeking re-election in states Trump easily carried, while Heller seeks re-election in a state Democrat Hillary Clinton won.
The pressure is on those undeclared votes, with the price of voting yes being an expensive one, as Arizona's Flake is already seeing. He was not even able to enter an elevator Friday morning without having to hear the passionate petitions of women concerned about his collapse under pressure from his GOP colleagues.
The way it stood Friday: Only if all 47 Democrats and both Democratic-leaning independents vote against Kavanaugh at the full Senate vote planned for next week, two GOP defectors would kill his nomination to the Supreme Court.
"You couldn't find a starker contrast than Dr. Christine Blasey Ford and Judge Brett Kavanaugh in both temperament and character," said AFT President Randi Weingarten.
"While she was courageous, compelling and poised, giving voice to a trauma far too many of us"—including herself, decades ago—"have experienced, Judge Kavanaugh was aggressive and hostile as he demonstrated how entitled he feels to a lifetime appointment to the nation's highest court.
"While the allegations against Judge Kavanaugh certainly merit the FBI investigation the GOP fears and refuses to order, his partisan antipathy toward Democrats and rancor toward anyone questioning his fitness should in and of itself be disqualifying," Weingarten added.
"These grassroots events are being organized overnight in response to the galvanizing testimony by Dr. Christine Blasey Ford" who testified about Kavanaugh's alleged drunken sexual assault on her in 1982—"and will demand senators reject Brett Kavanaugh's nomination to the Supreme Court," the organizers of the demonstrations said.
"When Dr. Christine Blasey Ford stood before the committee yesterday, she wasn't just speaking for herself, she spoke a truth for millions of women across this country," said NARAL President Ilyse Hogue. "We will never forget Dr. Blasey Ford. We will also never forget the way Republicans in the Senate have treated her, her story, and this process.
"Brett Kavanaugh walked into yesterday's hearing a known liar. He walked out not only a liar but exposed for being a partisan political figure, not an impartial judge. He is wholly unqualified for a seat on the Supreme Court, or really any court in this country. We will take to the streets today and keep marching straight through election day until Republicans hear our message: Enough is enough."
Blasey Ford and Kavanaugh testified for hours each before the panel on September 27, answering questions about his alleged 1982 attack on her during a party at a D.C.-Maryland suburban home. Kavanaugh and his pal—the other person in the bedroom—Mark Judge were so drunk, Blasey Ford said, that they stumbled down the stairs afterward as she hid in a bathroom after escaping them.
Kavanaugh, Dr. Ford told the senators at the hearing Thursday, forced her down on a bed, attempted to rip off her clothes, shoved his hand over her mouth to prevent other teens at the party from hearing her screams—and laughed.
That's her worst memory—of attempted rape, experts say—in the ensuing years, she said, haltingly: "The laughter, the uproarious laughter between the two, and they're having fun at my expense."
Challenged on whether she possibly could have mistaken Kavanaugh for another teenaged boy at the small party, she declared: "Absolutely not."
"I'm sure the same way as I'm sure I'm talking to you now. Basic memory functions," Blasey Ford, now a psychology professor, told Sen. Dianne Feinstein, D-Calif.
But the attack as a whole has never completely left her, Blasey Ford added, even after sessions with a psychiatrist. She suffered from post-traumatic stress disorder, depression, and other ailments.
And the pain has worsened due to abuse Blasey Ford and her family have suffered—they've had to go into hiding, among other things—since her name was revealed without her consent.
At the time of the attack, she added, "I did not want to tell my parents that I, at age 15, was in a house without any parents present, drinking beer with boys. I tried to convince myself that because Brett did not rape me, I should be able to move on and just pretend that it had never happened."
Blasey Ford, in her initial letters to her lawmakers, Rep. Anna Eshoo, D-Calif., and Feinstein, could not remember the site of the attack, which occurred when Kavanaugh was 17 and she was 15. Both were students at elite private prep schools—all-boys for him, all-girls for her—in the D.C. suburbs.
A memory she later disclosed, running into Judge at his job at a nearby Safeway supermarket six to eight weeks later, allowed her to put the attack in 1982.
As Blasey Ford testified and answered questions from Democratic senators and the prosecutor whom the GOP hired, Rachel Mitchell, head of the sex crimes unit of the Maricopa County (Phoenix) DA's office, progressive groups, including the AFL-CIO, stepped up their campaigns to get senators to vote Kavanaugh down.
"Brett Kavanaugh poses a fundamental threat to the integrity of the Supreme Court, and the Senate has a responsibility to reject his nomination," the AFL-CIO said.
"Kavanaugh was hand-picked to advance the demands of a few corporate interests. We are refusing to allow those elites to further infiltrate and undermine our public institutions." The fed, however, did not name the man who picked Kavanaugh: anti-worker and anti-woman GOP President Donald Trump.
"What's more, to place our rights and freedoms in the hands of an accused sexual predator would represent a stunning betrayal of working people. Americans across the country are coming forward in solidarity with Dr. Ford and all survivors of sexual assault." The union urged its members to call their senators at 1-844-899-9913 with a message to believe survivors and reject Kavanaugh.
Dozens of women, and some men, holding supportive signs, massed outside the Dirksen Senate Office Building, site of the hearing, to hear Ford's opening statement, before going inside to deliver letters to senators urging them to vote Kavanaugh down. "Susan Collins: Believe Christine," one sign urged the undecided Maine Republican.
"Stop this Trump train," another read. "November is coming," read the top half of a third sign, referring to the mid-term elections and the political impact of confirming Kavanaugh. "What if she was your daughter?" the bottom half asked.
Leaders of the Women's March massed in front of the Supreme Court, a block away, in the late afternoon, sat down on the plaza in a peaceful protest—and were just as peacefully taken away in handcuffs by police.
"The Supreme Court is the people's court," their e-mail said. "This country belongs to us, and the morally bankrupt politicians who hijacked our democracy have forgotten that. Congress works for us. The president works for us. Working in the government is public service, something the Trump machine doesn't seem to realize. The presidency isn't a dictatorship, and they can't jail us all."
Kavanaugh "does not believe that women should have the right to determine what happens to their bodies," said the National Partnership for Women and Families, citing Kavanaugh's hostility, in past rulings, to reproductive rights.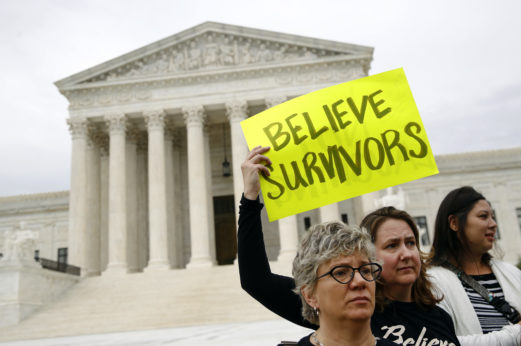 Kavanaugh and Blasey Ford testified separately. He went second. "Advice and consent has been twisted into search and destroy," charged Kavanaugh, 53, a one-time GOP legal/political hack whom President George W. Bush nominated and the GOP-run Senate confirmed for the D.C. Court of Appeals 12 years ago.
Republicans have tried to propagate the idea that denying Kavanaugh a seat on the Supreme Court would, in effect, be declaring him guilty of sexual assault. One of many of the good arguments against this idea came, ironically from the conservative Catholic publication, America – the Jesuit Review, which had earlier backed Kavanaugh. The nominee has boasted about his church-going credentials and his Catholic practices.
Aside from the issue of relying on just partial testimony, the conservative Catholic magazine declared yesterday in an editorial that "the nomination of Judge Kavanaugh has become a referendum on how to address the allegation of sexual assault.
"While we previously endorsed the nomination of Judge Kavanaugh on the basis of his legal credentials and his reputation as a committed textualist, it is now clear that his nomination should be withdrawn," the Jesuit publication declared.
If Republicans think the issue will eventually fade from public memory, they are likely quite wrong.  Many millions of women and men watched yesterday's proceedings in the Senate closely. They watched on televisions at home and work, on airplanes, on cell phones as they walked the streets, and on screens in restaurants, bars and cafes. They watched alone and they watched in groups, in classrooms and in auditoriums, from one shore to the other across the entire land. Female and male; old and young; Black, Brown, and white; employed and unemployed—they all watched. And the #MeToo movement was watching, and it's not going away, not before the November midterms or after.
President Trump, who has absorbed almost every minute of press coverage for the last year and a half was hardly mentioned or even thought about yesterday. Many have the feeling today that an enormous wave is coming, a tsunami even, and that the Republican men of the Senate Judiciary Committee don't have a clue.
Like free stuff? So do we. Here at People's World, we believe strongly in the mission of keeping the labor and democratic movements informed so they are prepared for the struggle. But we need your help. While our content is free for readers (something we are proud of) it takes money—a lot of it—to produce and cover the stories you see in our pages. Only you, our readers and supporters, can keep us going. Only you can make sure we keep the news that matters free of paywalls and advertisements. If you enjoy reading People's World and the stories we bring you, support our work by becoming a $5 monthly sustainer today.