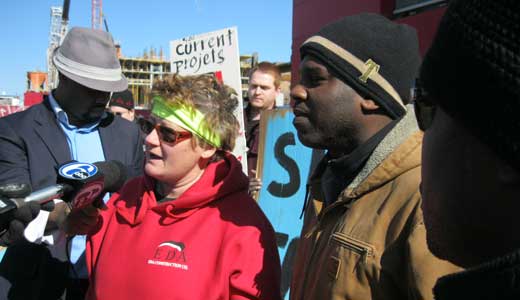 PHILADELPHIA – A group of about 50 demonstrators gathered here Feb. 20 for the second week in a row to protest what they say is an obvious lack of diversity in the construction workforce hired by Temple University. The crowd included Temple students, union members, community residents and other supporters. The demonstrators' message was clear and aimed at the university and the big contractors it employs. They called on Temple to hire a workforce that is diverse in terms of both race and gender and that includes significant numbers of "minority" workers including workers from the communities near the campus.
Temple University is a big state-related institution with a diverse student body sitting in the heart of North Philadelphia. Its men's basketball team is, at this writing, nationally ranked in both major polls. The university is currently engaged in an ambitious multi-million dollar building program including highly visible projects along Broad Street, the main thoroughfare cutting through the campus.
Demonstrators carried signs and chanted slogans urging "Women in the Trades" and "Union Jobs for All." They said their intention is to return every week and to bring out more people until they see progress being made.
Several speakers made the point that skilled union members, women and African American, were available and ready to work on the projects. Kevin Gregory, a 23-year member of Operating Engineers Local 542, told the crowd that contractors should be told "If you don't hire us in Philadelphia, we will not honor you as a contractor in Philadelphia. Temple has to say, 'We're not going to allow this anymore.'"
The surrounding community is predominantly African American and Hispanic.
Maria Padin, a member of Carpenters Local 8, said, "I live in North Philadelphia, and I want to work here. And we don't just want to be hired for minimum wage jobs after the buildings are up. We want to work on the buildings and get paid union rates."
There were indications that the protests were beginning to have an effect. A spokesperson for Temple's Public Relations Office said in an interview the university is concerned about the diversity of the workforce and of the subcontractors it hires and that over the last three years 22 percent of the work had gone to minority business enterprises and trade workers. He said the current project is in its "very early stages."
A source at the Union of Operating Engineers Local 542 said, however, that, while he was optimistic that progress would be made, it was needed now, and that of 17 crane operators currently working at Temple, only one was minority. He said that Temple had a stated goal of 35 percent minorities and women workers and that the university had committed to being "zip code friendly" in its hiring.
Temple's building program is going forward despite cuts in the share of its operating budget coming from the state. Gov. Tom Corbett recently unveiled his annual budget, which included steep cuts of approximately 30 percent for the three large state related universities.
Photo: Margarita Padin of the Capenters and John Graves of the Operating Engineers speak to the media at the recent demonstration. Ben Sears/PW