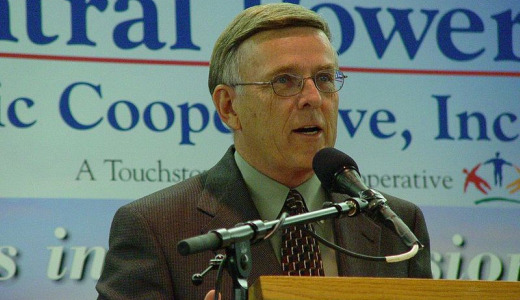 While Democrats were fighting their losing battle in the Massachusetts Senate race last month Republican Minority Leader Mitch McConnell was on the stump in North Dakota. "They need to be stopped," he said of the Democrats, to a group of tea-baggers and party operatives in Fargo.
John Hoeven, North Dakota's Republican governor, is vying for the Senate seat now held by Democrat Byron Dorgan, a liberal populist who shocked the political world when he announced that he will not seek a fourth term. Hoeven is currently leading in the polls by 20 points against first-term state Sen. Tracy Potter.
The Republican governor does not deserve the lead shown in the polls, the labor movement and other progressives believe. The state's Democratic Party, with help from labor and others, is launching a series of radio ads to make that clear.
Some labor leaders there say a stronger candidate is needed who could cut through the highly organized right wing operation in their state. Heidi Heitkamp, the state's popular former attorney general, would make a better candidate with broader appeal, some believe. She is reportedly considering entering the race.
They echoed concerns voiced last month by Karen Ackerman, the AFL-CIO's political director, who said the labor movement can be effective in an election only when there is a strong progressive candidate who gives clarity to the issues of jobs and opportunities for working people.
This is even more of a concern in North Dakota, where the labor movement is small. In the largely agricultural state, organized labor is centered in a few major industries. Workers in the state's power plants belong to the International Brotherhood of Electrical Workers, by far the state's largest union, while some workers in the state's large coal industry are members of the United Mine Workers.
Republicans, in their push against "big government" and workers' rights in open-shop North Dakota, are fond of claiming that their "business friendly" state is immune to the economic disaster that has swept the country.
But "everything is not so good here," said Mark Froemke, a local AFL-CIO leader whose labor council takes in workers from North Dakota and neighboring Minnesota. "A big chunk of the workers are not getting their 40 hours and for many the pay is very low. Farmers are relying on government agricultural checks and one of the reasons unemployment figures are so low is that when people lose a job there is so little opportunity and the jobless benefits are so small that they just pack up and leave."
Why would a state like this, which hasn't had a Republican senator in 24 years, even conside replacing a liberal populist with a right-wing Republican?
"The tea-baggers and the right were able to cause confusion," Froemke said. "They came in and threw everything into the pot and scared people about the possibility they could lose what they did have, in terms of health care. They were able to tie the administration, in many people's minds, to Wall Street getting everything and Main Street getting nothing.
"You can disagree with them but you have to hand it to them, organization-wise," he added. "Some of the same senior citizens who went out last year to vote for the first time for an African American for president became scared enough so they now opposed the very health care reform that would help them. Some of the farmers who depend on the agricultural checks from the federal government now yell about how bad big government is."
Another labor leader said at least one of the Obama administration's moves was "not at all helpful."
"They were really wrong in opposing Dorgan's fight to let people buy cheap drugs from Canada," he said. "That was really a popular idea here."
Liberals and progressives are hoping the Senate race gets re-charged with a higher-profile Democratic candidate.
Three are as many as nine Senate seats up for grabs in 2010, with control of the Senate hanging in the balance. The AFL-CIO announced last week that at its executive council meeting March 1-4, it will map a coordinated national strategy to meet that challenge.
Photo: North Dakota's Democratic Sen. Byron Dorgan, who announced he will not run for a fourth term. (commons.wikimedia.org)