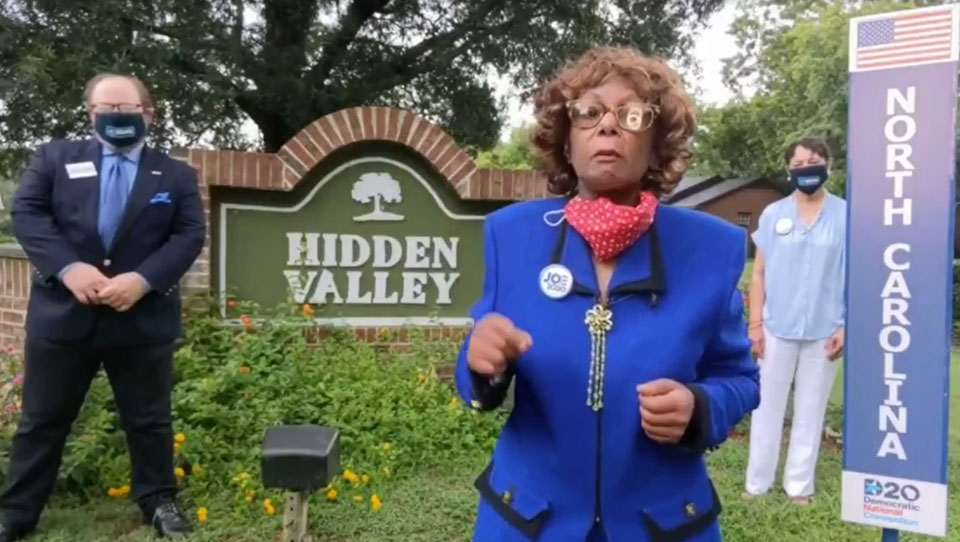 MILWAUKEE—Delegates to the Democratic National Convention formally nominated Joe Biden for president on August 18 in a roll-call that spotlighted a wide variety of working-class people and causes in the U.S., just after Rep. Alexandria Ocasio-Cortez, D-N.Y., and universal health care activist Andy Barkan made their own dramatic presentations.
An unofficial tally disclosed 3,605 votes for Biden, 1,195 for Sen. Bernie Sanders, Ind-Vt., several abstentions, and about a dozen absences, including six of Montana's 25 delegates. But the showcasing of the diversity of the nation's working class stole the show.
So did the remarks, from Ocasio-Cortez, a Democratic Socialist, who nominated Sanders for the top spot while lauding the grass-roots movement he launched "to reclaim our democracy."
Barkan, a longtime ALS (Lou Gehrig's Disease) sufferer, turned spokesman for Medicare For All, pushed universal health coverage without specifically endorsing that specific Sanders-sponsored plan—a plan which enjoys majority support among Democrats in opinion polls. Other speakers included Caroline Kennedy, former Presidents Bill Clinton and Jimmy Carter, and Carter's wife, Rosalynn.
The roll call itself was a moving nationwide tour of states and territories, with working-class voices showcasing themes and causes—a rollcall unlike any other at any convention in U.S. history.
The top highlight came from North Carolina nurse Cozzie Watkins. Her 37-second statement went viral on the web.
"Let me just be plain. Black people, especially Black women, are the backbone of this party, and if we don't show up, Democrats don't get elected. I'm putting on my mask and we're going to every corner of North Carolina to keep organizing because we need to make sure everyone shows up for Joe Biden. He would show up for us."
"North Carolina casts 39 votes for Bernie Sanders and 83 votes for the next president of the United States, Joe Biden!" Cheers from other supporters erupted behind Watkins.
Those Black women's votes are vital. North Carolina is a purple state up for grabs. The latest poll there, from East Carolina University on August 16, is a 47%-47% tie between Biden and GOP Oval Office occupant Donald Trump. Averaging all Tar Heel state polls gives Biden a 0.4% margin.
There were other notable moments in the rollcall show. Puerto Rico cast its votes in Spanish, with English subtitles. A Service Employees 1199 nurse from New York was one of its two announcers. Arizona's came from a union teacher in a RedforEd T-shirt. Two Auto Workers unveiled Michigan's margin: 92, Biden-53, Sanders.
Rep. Terri Sewell, an African American woman, D-Ala., cast the votes from Selma, with the Edmund Pettus bridge, made famous by state troopers severely beating and injuring John Lewis and harming other activists during 1965 voting rights protests, in the background.
There's now a movement to rename the bridge for Lewis, who recently died. Pettus was a Klan leader. Biden won Alabama 52-8.
Fred Guttenberg, whose daughter was one of the 14 students and three teachers, all AFT members, gunned down in the 2018 Marjory Stoneman Douglas High School Valentine's Day massacre there, cast Florida's tally, 192, Biden, 57, Sanders. The massacre set off the national student-led March For Our Lives movement across the U.S. and ousted dozens of right-wing politicians from office.
Biden has always been a strong gun control supporter, helping push gun bans, notably the Brady Bill, through the then-Democratic Senate. One film clip of him speaking during this year's campaign showed his podium with a Biden sign topping an anti-NRA declaration.
Dennis and Judy Shepard, parents of Matthew Shepard, the young gay man tortured and murdered 22 years ago, announced Wyoming's tally. "Joe understands more than most our grief over Matt's death, but we see in Joe so much of what made Matt's life special—his commitment to equality, his passion for social justice and his boundless compassion for others," they said.
Vermont's votes were cast on a green lawn by a local delegate, with others in masks, including Sanders and his wife, in the rear. Sanders won his home state 15-9.
D.C. Mayor Muriel Bowser cast her delegation's votes, 43-1 for Biden, standing above the huge yellow Black Lives Matter lettering painted for two blocks on 16th Street just north of the White House. The sign marks where Trump's troops teargassed and pellet-gunned peaceful protesters demanding racial justice so he could have an infamous photo op outside a historic church. She also called for D.C. statehood. The sign has been seen is visible in photos shot from satellites orbiting the earth.
Before the tally, Ocasio-Cortez shared the nominating honors for Sanders with former United Auto Workers President Bob King. He formally nominated the senator; she seconded it.
Ocasio-Cortez spoke "in fidelity to a mass popular movement to guarantee people's rights, including workers' rights, and to oppose and repel racism and xenophobia" and to Sanders "who organized a historic grass-roots campaign to reclaim our democracy."
And she spoke, "in a time when millions of people…are looking for deep systemic solutions to our crises of mass evictions, unemployment and lack of health care."
"For decades, Joe Biden has led the fight for working families, fighting for workers' rights and collective bargaining," King said. "He believes health care is a human right, and he knows we can rebuild" the nation "with good union jobs while combatting climate change. "He's a great champion of the working class."
Accessible health care was also Barkan's theme, as indeed it was the theme of much of the evening. One extended video clip featured Biden sitting on a stool just talking with people who had health care problems, and whose health—and in more than one case, lives—were saved by the enactment of the Affordable Care Act.
As Barack Obama's vice president, Biden played a key role in lobbying lawmakers whom he had known for years to enact the ACA a decade ago.
"Like so many of you, I have experienced the ways our health care system is fundamentally broken. Enormous costs, denied claims, dehumanizing treatment when we are most in need," Barkan said, talking through a computer. ALS has robbed Barkan of his voice. He's confined to a motorized wheelchair.
"Our loved ones are dying in unsafe nursing homes, our nurses are overwhelmed and unprotected and our essential workers are treated as dispensable," due to the coronavirus pandemic, Barkan said.
That disaster shows "tragic consequences of our failing healthcare system." Now, he added, almost 100 million people lack health coverage they need. Either they have it but it doesn't cover all their costs—as Medicare For All would, Barkan's said in the past—or they don't have it at all.
By contrast, Republicans, especially including Trump, are still trying to kill the ACA. They failed in Congress and have turned to the courts, a point many speakers, including Barkan and those talking with Biden, made. Those GOP efforts, and Trump's malfeasance against the virus, will be a key campaign theme.
Like free stuff? So do we. Here at People's World, we believe strongly in the mission of keeping the labor and democratic movements informed so they are prepared for the struggle. But we need your help. While our content is free for readers (something we are proud of) it takes money — a lot of it — to produce and cover the stories you see in our pages. Only you, our readers and supporters, can keep us going. Only you can make sure we keep the news that matters free of paywalls and advertisements. If you enjoy reading People's World and the stories we bring you, support our work by becoming a $5 monthly sustainer today.