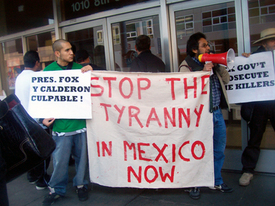 The Mexican Consulate in downtown Sacramento, Calif., locked its doors Dec. 1 when protesters lined up with signs condemning the Mexican government's violence against thousands of strikers in Oaxaca. At least 17 strikers have been killed.
For about seven hours, more than 120 members of North Americans for Democracy in Mexico (NADM), League of United Latin American Citizens, Labor Council for Latin American Advancement, International Longshore and Warehouse Union and other organizations took turns holding signs and banners and chanting in English and Spanish.
Their slogans included "Stop the killing now" and "No to Calderon!"
"We want the Mexican government to understand that we won't tolerate what they are doing in Oaxaca," said Al Rojas of NADM.
The event coincided with a raucous session of Mexico's Parliament, where legislators booed Felipe Calderon as he took the oath of office for president after what many have called a fraudulent election.
— Gail Ryall